Summerhill Conservation Area, Newcastle - information and pictures 17/05/15 Part 2 of a few
Part 2
Follow up to post #5299
On Sunday 17/05/15 took a lunchtime wander around some of the Summerhill Conservation Area, Newcastle and took pictures to show some of the properties, park, bowling greens etc at that time
First
St Anne's Court
- previous coverage on post
http://www.skyscrapercity.com/showpost.php?p=111627153&postcount=4712
, including
St Anne's Court (listed Grade II, 1822 by Ignatius Bonomi, altered 1870s) is very different. Now a residential home (previously a house, convent and school), it has two tall sandstone storeys in a restrained Tudor Gothick style with trefoils, crosses, lancet windows, crested ridge tiles, timber dormers and tall clustered cylindrical chimneys. A tall boundary wall encircles the grounds (which contain a summerhouse and a large statue of Christ), creating a very private property.
From
http://www.britishlistedbuildings.co.uk/en-304886-st-anne-s-convent-and-walls-attached-#.VVneRblViko
St Anne's Convent and Walls Attached, Newcastle upon Tyne -
now St Anne's Court
Description: St Anne's Convent and Walls Attached
Grade: II
Date Listed: 30 March 1987
English Heritage Building ID: 304886
OS Grid Reference: NZ2392063992
OS Grid Coordinates: 423920, 563992
Latitude/Longitude: 54.9700, -1.6279
Location: 8 Summerhill Grove, Newcastle Upon Tyne NE4 6EE
Locality: Newcastle upon Tyne, County: Newcastle upon Tyne, Country: England, Postcode: NE4 6EE
NZ 26 SW and NZ 2364 SE NEWCASTLE UPON TYNE SUMMERHILL GROVE
(south side) 11/538 and 18/538 St. Anne's Convent and Walls attached
GV II
House, later convent. Circa 1826 by Bonomi for Cuthbert Rippon of Stanhope Castle; addition of second floor and chapel and other alterations 1878 by Dunn and Hansom for St. Anne's Convent. Coursed squared sandstone with ashlar dressings; roofs of Welsh slate. Irregular plan, with roughly U-shaped ranges around a small yard.
Tudor style. Front to street: 2 storeys; 2 gable ends enclosing high wall; further wall at left. 4-bay range at rear of central yard; 2 boarded doors in wall, at left for pedestrians, and at left of yard for vehicles, have 2-centred arches with drip moulds. House entrance at right of yard has ledged boarded door in shouldered surround under stepped wall with stone cross finial. Irregular fenstration in left gable with square-headed stone-mullioned windows of one and 2 segment-headed lights, and gable peak with tall chimney. Right gable has 2 small rectangular chamfered lights at ground level and 6 lancets above. Roll-moulded copings to gables and walls. Rear yard range has windows similar to those in left gable in 3 bays; fourth bay an extruded staircase wing in similar style. 3 bargeboarded dormers. All chimneys stone with conjoined rounded shafts and steep coping.
Listing NGR: NZ2392063992
My pictures from17/05/15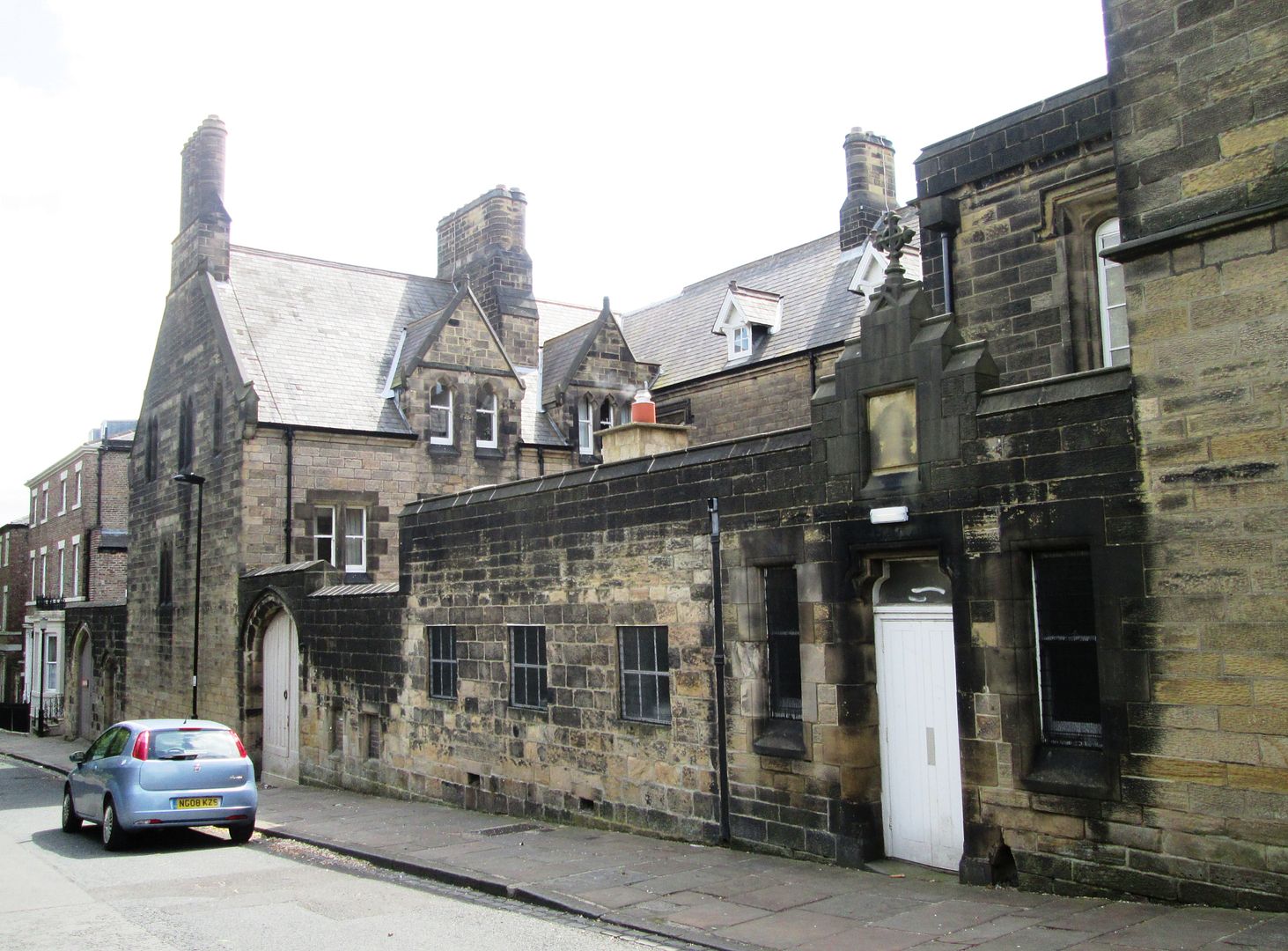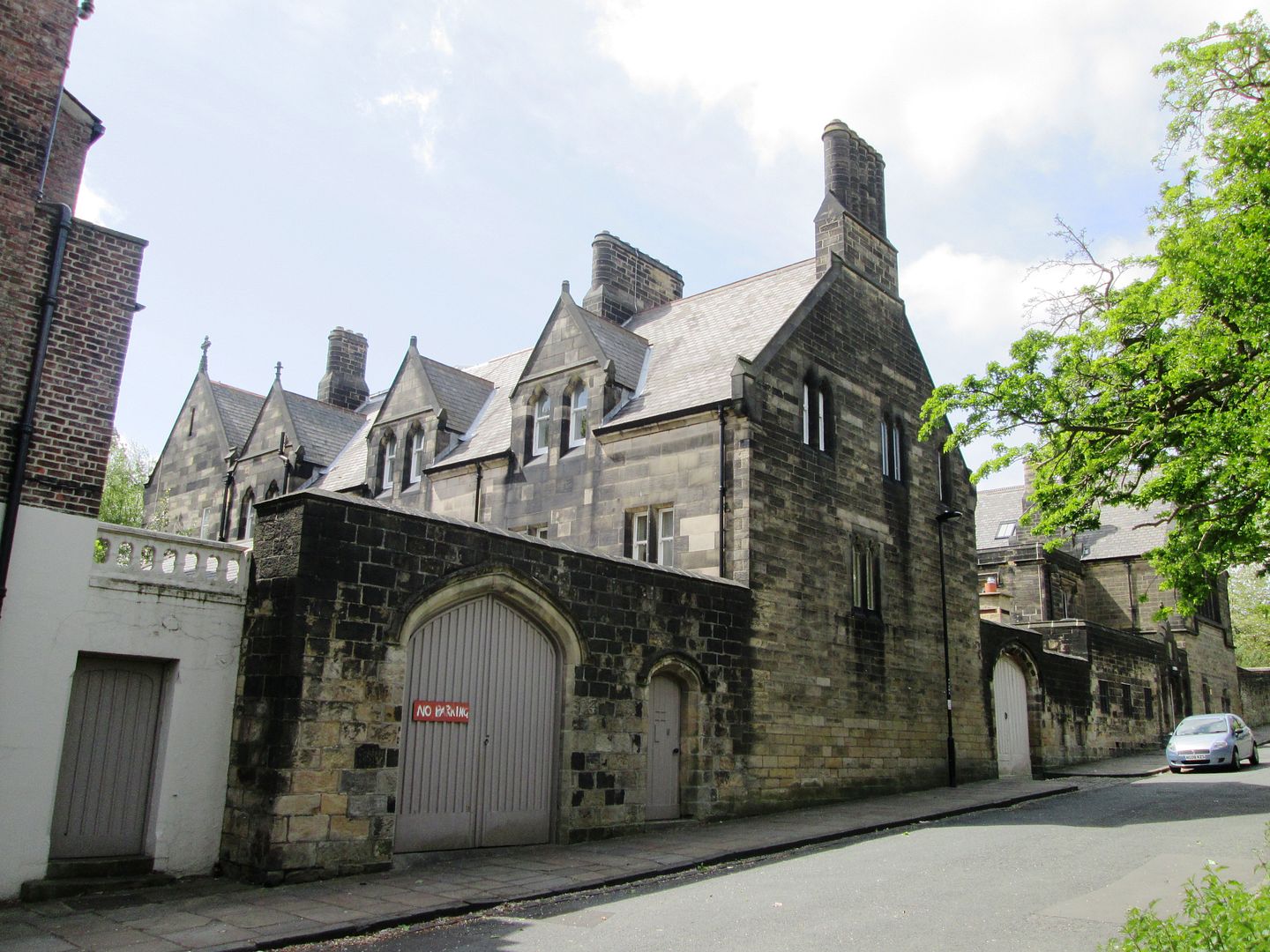 this one from 2nd floor of one of the Winchester Terrace properties - thanks for the access Hugh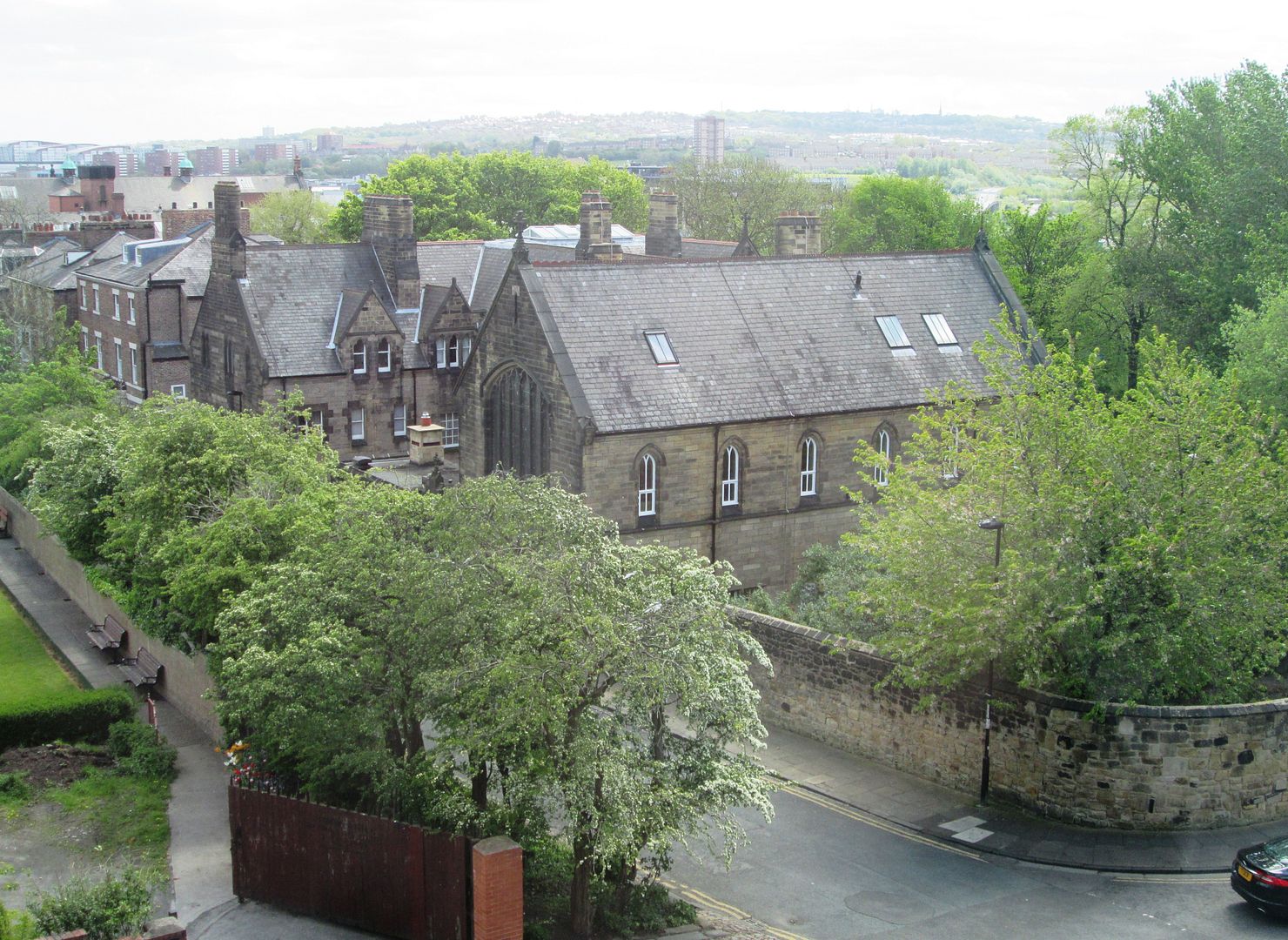 Images hosted on Photobucket
KEN