Discussion Starter
·
#1
·


The Cheaper Alternative

A couple of years ago, I had plenty of choices for a cheap direct flight from Hong Kong to London. As the global economy recovered, those choices dwindled, and for a time, I chose Qatar Airways and suffered the Doha airport experience. Nevertheless, the in-flight service and entertainment were superb. This time, not even Qatar Airways could provide that cheap alternative. Air China came to the rescue, and with a stop in Beijing, flying with them to Europe became very affordable, and not as time-consuming as going through Doha. So I was off to Beijing for my connecting flight to Europe.

The Korean Air A380 is a new feature to the local plane spotting scene. I was lucky to see the same aircraft type in Seoul just a couple of weeks earlier.




There were nevertheless some other interesting aircraft around today, including this visitor from the Maldives, but with a Chinese ad on its livery.




I booked this early afternoon flight believing the infamous delays for mainland carriers and Beijing airport would emerge, which could jeopardize my onward European connection had I flown the most efficient transit route. Strangely, today's flight departed on time.




Soon, we took off towards the east. With a right side window, I anticipated the skyline shots coming ahead.




After passing the harbour, we turned north and crossed into Shenzhen.




I suspect this is the Pearl River somewhere near Guangzhou.




I had little expectations for Air China's meals. To keep costs and fares low, mainland carriers usually don't cater from Hong Kong, but fly their meals from their origin in China instead. The mushroom salad was not good but the dessert tasted all right. The rest was acceptable.




Strangely, Air China did not have its own in-flight magazine. Instead, they provide the generic publication which is used by other Chinese carriers as well. It was a little odd looking at a China Southern ad while flying on an Air China plane.




Today's flight would take less than 3 hours, and soon we descended under a decent sky.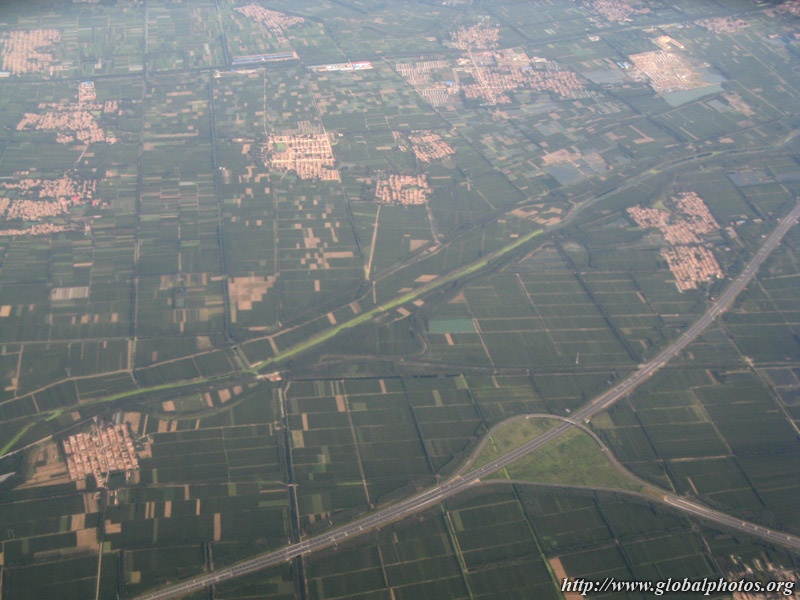 Of all my previous trips to Beijing, I didn't recall seeing these kinds of long field plots. It was quite an interesting sight!




Passengers exited to the top level for the long walk to the immigration counters.




The immigration hall was a reasonably big space, but it was already full of people when we started arriving. The lines could no longer be seen as the mass of people became one giant glob. The transfer desk was unmanned, and it took a bit of chasing to find out there was another transfer desk on the other side of immigration that was open. However, that meant trying to cross that glob of humanity. While the airport's hardware looked good, they really need to work on the software - the people who work inside - as the airport experience was still quite terrible.