Discussion Starter
·
#1
·
Today's lunch-time flight meant there was still some time left to sightsee before hopping onto the Tube for the 40-minute ride to Heathrow.




There was no line at the check-in counter, and in no time I had my boarding pass and was ready to go. Terminal 1 has been renovated but will never be as bright as the new terminals.




There is a big project to renovate Heathrow and bring it to the modern age. It's one of my least-liked big airports to use although the plane spotting is great.




I was a bit surprised when the A380 appeared. It slowly taxied in front of me and then turned around the corner.




Passengers were stopped at this gate and a line soon backed up. This part of the terminal is shared between incoming and departing passengers. Once the arrivals have cleared, workers will then open the glass doors to let the departing passengers pass to reach their gates. Bad design.




Today's flight would be operated by a 757. Just after the door closed, flight attendants gave a brief description of the volcano that the plane was named after.




Boarding and push-back were uneventful and soon we were heading towards the runway for the westbound flight to Keflavik.




I should've done more research beforehand to confirm which window seats would be blocked by the wing. I forgot this was a 757.




There were PTV's for every seat, although the entertainment selection was not too extensive. For a 3-hour flight it was acceptable.




I was surprised for a full-service carrier, meals did not come free. I wasn't expecting Icelandair to offer Cathay-style catering on short flights though, but I didn't realize they wouldn't even give a bag of chips.




The seat-pocket folder also had lots of tourism literature to help plan an unforgettable vacation.




The cabin has been renovated into a smart combination of white and black. They've kept this plane well.




Unfortunately, I sat on the wrong side of the plane. I could've gotten a far better view of Iceland on the right since we skirted just south of the island all the way to the final approach.




Deciding not to get gouged on the plane, I started looking for food at the airport. It was only mid-afternoon but all the shops were closed, and only started to open as we arrived. I guess this airport doesn't see too many movements during the day. I was gouged in the end - by the airport instead.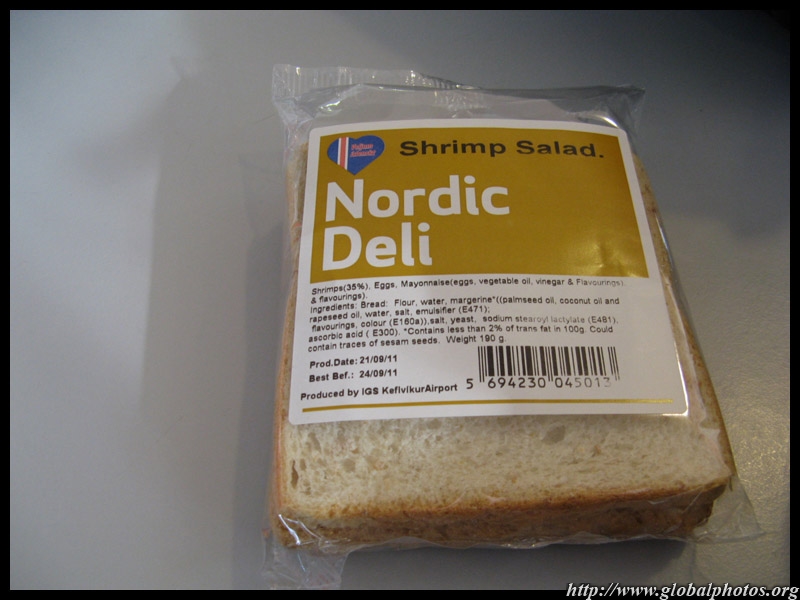 Service overall was decent, although the younger flight attendants had a far better smile than the grandmothers, who seemed to have lost the ability to make facial expressions. I liked the redesigned cabin, which gave a modern feel and it was not overdone. Icelandair was a little better than I expected. However, the original ticket price of 175 pounds was quickly overrun by 370 pounds of taxes and fees.

My Reykjavik Gallery : http://www.globalphotos.org/reykjavik.htm