Discussion Starter
·
#1
·
1.
CX : Hong Kong - Taipei
With the cabin reconfiguration looming, these very old Economy Class cabins will soon be history, so I was quite delighted to ride on this A330 to capture the moment.
5.
QR : Hong Kong - Doha

This was my second roundtrip with Qatar Airways to Europe. Considering it was shoulder season, I got an extraordinary deal to fly to Paris to justify the extra flight and transit time. However, I wasn't expecting check-in to close 60 minutes before the flight. I've always been used to Cathay's 40-minute cutoff and came very close to missing this one.
6. The red-eye flight was full with many seats taken by packaged tours. Upon arrival in Doha in the early morning, passengers had to take to the stairs to board buses for the terminal.
7. Doha is actually a very boring airport for plane spotting. First of all, the planes don't park right at the terminal, but somewhere on the tarmac that may be a long bus ride away. Second, it's pretty much almost all QR.
9.
QR : Doha - Paris Charles de Gaulle

Boarding for the next leg of my European journey started an hour before departure, which is quite typical in Doha due to the bus ride to the plane.
12. I purposedly chose a left window seat hoping to see Doha's skyline. I was not disappointed.
14. I've had terrible experiences with sandwiches, especially after suffering through them on my trips to Manila and Taipei. However, this one tasted very good, and had meat inside to fill me up.
15. Looks like someone else just passed through this piece of European airspace as well.
16. The Paris experience got to an awful start, albeit expected, because of inadequate staffing at immigration. There were two people to greet the plane on arrival at the airbridge, which caused a big lineup once the Y passengers started disembarking. Then only a few counters were available at the immigration counters in the main terminal building. A long line even formed at the EU-dedicated lane.
17.
U2 : Paris Charles de Gaulle - Porto
The Paris experience also had an awful end. Due to a stolen cable incident, all trains on the airport-bound RER line came to a screeching halt early in the morning. I had to rush to the airport on an expensive taxi, which costed more than the airplane fare.
18. Luckily I made it, and passed the gate check for excessive baggage. The agents did a selective check hoping to charge someone extra.
19. Food was expensive, as expected, but not too far beyond the reasonable realm.
22. Porto's airport looked new, and the walk on the tarmac to the terminal was pleasant on this sunny morning.
25. The public transport connection to the city was light years ahead of Paris.
26.
U2 : Porto - Barcelona
The 25 euro plane ticket came with another price - a taxi ride to the airport since at that hour, the metro has not yet started service for the day. Luckily, this flight goes to Barcelona's main airport. I recall the long commute from Girona on my first visit to the city.
33. Meal cards were distributed along with the Ryanair in-flight magazine. With no seat pockets, many eventually ended up scattered across the cabin floor.
35. Unfortunately, I sat on the wrong side of the plane today. The left side had spectacular views of Barcelona on approach.
38.
FR : Barcelona - Malaga
Barcelona's airport is a quick 20-minute bus ride from the centre of town. Unfortunately, the bus driver didn't bother to stop the vehicle to check whether any passengers were heading to Terminal 2. There was a crowd of passengers with luggage waiting, and not everyone was waiting for the Terminal 1 bus. Nevertheless, I made the flight albeit a bit annoyed.
The weather was good and Valencia came into view about a half hour after take-off.
39. The natural scenery was a mix of plains, short mountains, and then snow-capped mountains.
42. The sea was the last to make an appearance and that was a sign that landing was imminent.
45. Spain's airport infrastructure is impressive. Malaga's airport is directly connected to the city centre by light rail, with a journey time of less than 15 minutes.
47.
FR : Malaga - Valencia
Malaga's airport is a mix of old and new buildings. Ryanair's check-in area is old but they used the new part's gate.
49. Not a drop of rain came down during my visit to Andalucia. The sun was still gleaming as I headed north towards Valencia.
50. I wasn't expecting snow in the mountains in mid-June.
51. My right-side window seat paid off. We had to make a few turns to land and Valencia's full view was at my fingertips.
53.
CX : Hong Kong - Seoul
Breakfast at The Wing was not particularly satisfying. It filled up and that was it.
54. What I liked about the lounge was the luggage storage area, which resembled a designer shop's display.
55. The old regional Business Class is adequate for a short daytime flight; I've given Cathay a piece of my mind for using this product on long-haul overnight flights though.
56. The summer's red tides got quite bad, scarring the ocean for miles.
57. Two types of salmon with salad dressing and lemon made my day.
58. The herringbone design is great for a good night's sleep since the seat can turn completely flat into a bed. But their new Business Class looks even better, hopefully solving the window access problem as well.
59.
CX : Seoul - Hong Kong
I was lucky my 37 kg worth of luggage wasn't rejected despite a likely full load today on a 747.
60. Surprise surprise! Korean Air's new A380 was parked at the gate.
61. There was also an Emirates A380 nearby.
62. Cathay has its own lounge at Incheon. The interiors looked standardized from their older Hong Kong lounge. There was food available, ranging from small sandwiches to salads and dim sum.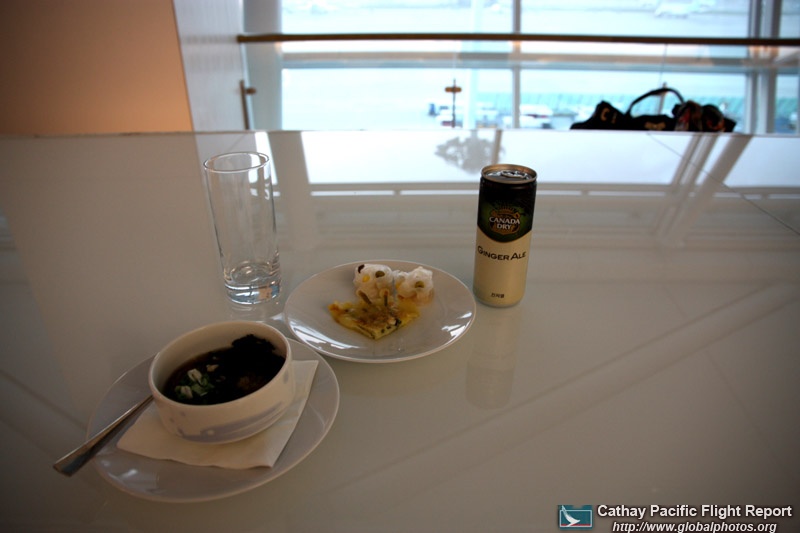 65. By the time I got to the gate, I could barely figure out which line was for Business and First Class passengers. This was the worst line I've ever experienced for J!
66. I settled into my upper deck seat with a welcome drink on hand. The herringbone configuration meant that it was hard to access the window, and the shoulder strap could not buckle tightly as they've made it lighter and more flexible. Good that these seats are going away.
67. Dinner was served shortly after take-off. The seared tuna tasted really good and I picked the spicy shrimp and crab main dish.
70. After landing, I requested to stay behind to photograph this soon-to-be-outdated Business Class.
59.
CA : Hong Kong - Beijing - Munich

A couple of years ago, I had plenty of choices for a cheap direct flight from Hong Kong to London. As the global economy recovered, those choices dwindled, and for a time, I chose Qatar Airways and suffered the Doha airport experience. This time, not even Qatar Airways could provide that cheap alternative. Air China came to the rescue, and with a stop in Beijing, flying with them to Europe became very affordable, and not as time-consuming as going through Doha.
I met the Korean Air A380 again in Hong Kong 2 weeks after my first spotting in Seoul.
60. I booked this early afternoon flight believing the infamous delays for mainland carriers and Beijing airport would emerge, which could jeopardize my onward European connection had I flown the most efficient transit route. Strangely, today's flight departed on time, and I spotted a few other interesting birds along the way.
62. Thanks to an eastward departure, my right window seat paid off.
63. After passing the harbour, we turned north and crossed into Shenzhen.
64. Strangely, Air China did not have its own in-flight magazine. Instead, they provide the generic publication which is used by other Chinese carriers as well. It was a little odd looking at a China Southern ad while flying on an Air China plane.
65. Beijing seemed to be enjoying a smog-free day!
68. With an on-time arrival, I wandered around the new terminal for some plane spotting. But with so many hours to kill, I ended up checking into the filthy transit hotel air-side for a few hours of sleep before my overnight connection into Munich. That flight was quite an ordeal, beginning with a staircase climb to the plane, followed by annoying passengers trying to change their seats even though they could have done so at check-in, and on top of that, a passenger's smelly body part(s) that should have soaked in a bath years ago.
71.
FI : London Heathrow - Keflavik - Toronto
There is a big project to renovate Heathrow and bring it to the modern age. It's one of my least-liked big airports to use although the plane spotting is great.
72. Passengers were stopped at this gate and a line soon backed up. This part of the terminal is shared between incoming and departing passengers. Once the arrivals have cleared, workers will then open the glass doors to let the departing passengers pass to reach their gates. Bad design.
73. My first flight on Icelandair. Exciting! Today's flight would be operated by a 757. Just after the door closed, flight attendants gave a brief description of the volcano that the plane was named after.
74. I should've done more research beforehand to confirm which window seats would be blocked by the wing. I forgot this was a 757.
75. I was surprised for a full-service carrier, meals did not come free. I wasn't expecting Icelandair to offer Cathay-style catering on short flights though, but I didn't realize they wouldn't even give a bag of chips.
76. The seat-pocket folder also had lots of tourism literature to help plan an unforgettable vacation.
80. The cabin has been renovated into a smart combination of white and black. They've kept this plane well.
84. Deciding not to get gouged on the plane, I started looking for food at the airport. It was only mid-afternoon but all the shops were closed, and only started to open as we arrived. I guess this airport doesn't see too many movements during the day. I was gouged in the end - by the airport instead.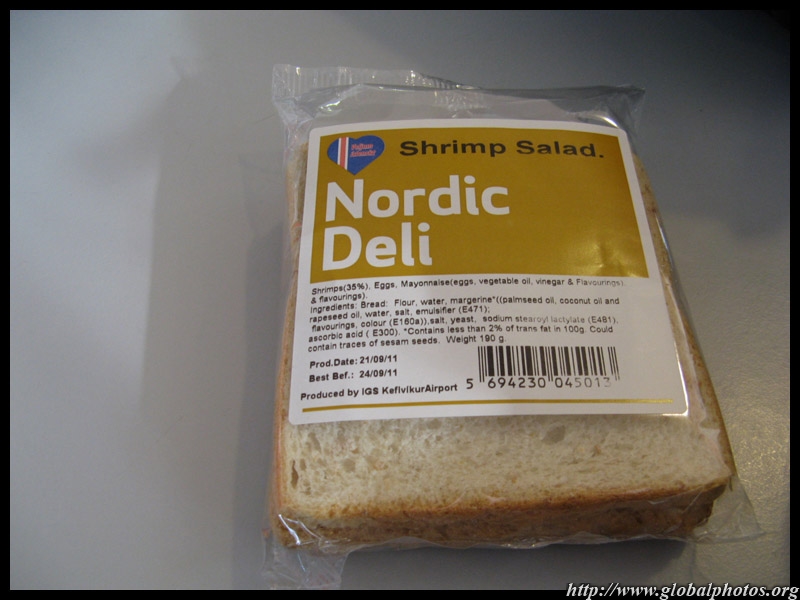 85. I had a 2-hour transit in Keflavik before my connection to Toronto. The airport is small, and only started receiving more planes after my flight's arrival. Many of those arriving passengers seemed to be connecting as well. Soon, the terminal's seats were virtually filled up.
87. It appears the European flights all arrived at around the same time, while the North American flights all departed around the same time 2 hours later.
90. I watched the flight map on my PTV closely with anticipation. A few hours into the flight, we reached Greenland. It was my first time flying over this vast wilderness. Past transatlantic flights skirted further south.
100.
FI : Keflavik - London Heathrow
What those passengers didn't realize is you can check-in using the automated machine and then head straight to the empty baggage drop counter to drop off the luggage.
108.
CX : Tokyo Haneda - Hong Kong
I was able to secure a last-minute redemption to Tokyo for Christmas. Knowing how far Narita is from the city, I opted for a return from Haneda. It only takes 20 minutes to get here from Shinagawa.
110. The new terminal isn't crowded at all, and not big enough to get lost amidst the rows of check-in desks.
113. Observation decks are quite a popular feature at Japanese airports.
116. In addition to providing an observation deck, they go the extra mile to add displays like this one to improve the spotting experience.
The Master List (in chronological order)
HKG-TPE
TPE-HKG
HKG-BLR
BLR-HKG
HKG-DOH
DOH-CDG
CDG-OPO
OPO-BCN
BCN-AGP
AGP-VLC
MAD-DOH
DOH-HKG
HKG-TPE
TPE-HKG
HKG-ICN
ICN-HKG
HKG-PEK
PEK-MUC
MUC-LHR
LHR-KEF
KEF-YYZ
YYZ-KEF
KEF-LHR
LHR-HKG
HKG-NRT
HND-HKG
HKG-DXB