The Lahore Fort, locally referred to as Shahi Qila (شاهى قلعه) is the citadel of the city of Lahore, in modern day Pakistan. It is located in the northwestern corner of Lahore, adjacent to the Walled City. Some of the famous sites within the fort are: Sheesh Mahal, Alamgiri Gate, Naulakha pavilion, and Moti Masjid. The fort is 1400 feet long and 1115 feet wide. In 1981, the fort was added to the UNESCO World Heritage List of culturally important sites.
According to available historical information, the origin of Lahore Fort is obscure. Traditionally the foundation of Lahore and its fort is attributed to Loh, the son of Rama, Avatara of Lord Vishnu of Hinduism, and hero of the Ramayana of epic age (1200-800 B.C.). However, during the execution done in the year 1959 A.D. by the Department of Archaelogy, in front of Diwan-e-Am, a gold coin of Mahmood of Ghazni dated A.H. 146 (1025 A.D.) was found at a depth of 25 feet from the level of the lawns. Cultural layers continued to a further depth of 15 feet, giving strong indications that people had lived here, long before the conquest of Lahore by Mahmud in 1021 A.D. Further mention of the fort is traceable in connection with Shahab-ud-Din Ghori's successive invasions of Lahore from 1180 to 1186 A.D.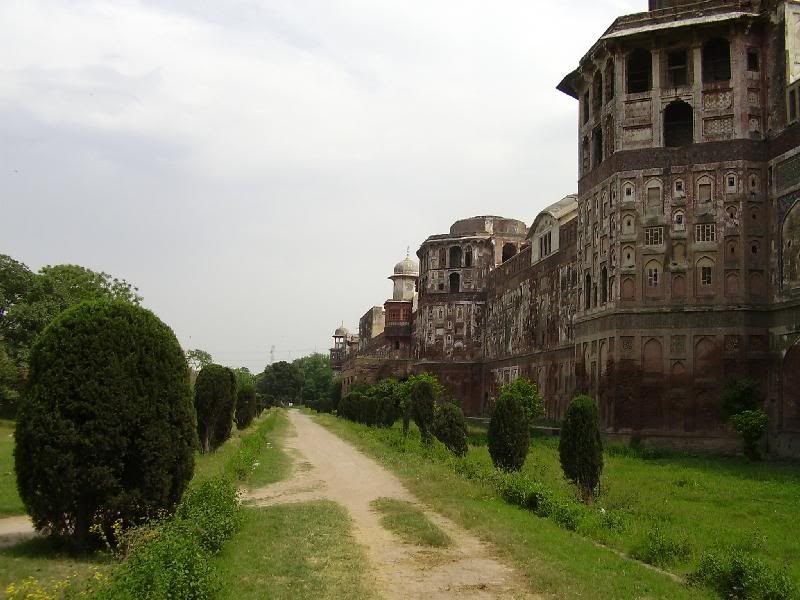 Lahore Fort - Moti Mosque Courtyard
Lahore Fort - Naulakha Pavillion
Lahore Fort - In Shah Jehans quadrangle - The Red Fort on the left and Diwan-i-Khas (Hall of private audience) in the middle.