Discussion Starter
·
#1
·
wow, faster then Asafa.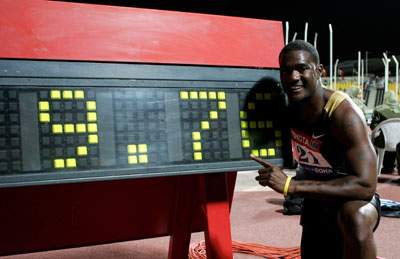 Gatlin breaks 100m record
:runaway:
From correspondents in Doha
May 13, 2006
AMERICA'S Justin Gatlin set a new 100m world record at the Qatar Super Grand Prix overnight with a time of 9.76sec.
The Olympic champion bettered the old mark of 9.77sec held by Jamaica's Asafa Powell which was set in Athens last year.
The 24-year-old American, who clocked 9.85sec in the semi-final, was overjoyed by his record.
"I am very happy to have broken the world record," said Gatlin who is also world champion.
"I knew it was coming. This is my third time in Doha and it has proved to be third time lucky."
The record sets up what could be a fascinating season of sprinting.
Gatlin announced his intentions in his first race of the campaign when he clocked 9.95sec in Osaka in Japan.
He and Powell are due to meet at the Gateshead Grand Prix in England on June 11. Their last meeting was in London last July when Gatlin cruised to victory as Powell pulled up with a groin injury.
Powell was also forced to miss the world championships in Helsinki as a result of the injury.
100m - World record times since 1968
9.95 - Jim Hines (USA) 14/10/68 at Mexico
9.93 - Calvin Smith (USA) 03/07/83 at Colorado Springs (USA)
9.92 - Carl Lewis (USA) 24/09/88 at Seoul
9.90 - Leroy Burrell (USA) 14/06/91 at New York
9.86 - Carl Lewis (USA) 25/08/91 at Tokyo
9.85 - Leroy Burrell (USA) 06/07/94 at Lausanne (SUI)
9.84 - Donovan Bailey (CAN) 27/07/96 at Atlanta (USA)
9.79 - Maurice Greene (USA) 16/06/99 at Athens
9.78 - Tim Montgomery (USA) 14/09/02 at Paris
9.77 - Asafa Powell (JAM) 14/06/05 at Athens
9.76 - Justin Gatlin (USA) 12/05/0