Saint Helena | Air Access Project
St Helena, a mountainous volcanic outcrop just 10 miles by six, has always been celebrated for its remoteness. It is 1,200 miles from Africa, 1,800 miles from South America and 700 miles from Ascension Island, the next nearest land. The island is the deeply eroded summit of a composite volcano, which lends St Helena its extraordinarily dramatic topography.
Long in decline, with no industry or resources and a dwindling population, the island receives more than £13m a year in support from the British Government, making its citizens among the most heavily subsidised of the UK dependants. The majority of this subsidy is spent on maintaining and operating the RMS St Helena which is the only regular ship to call at Saint Helena and its dependants (Ascension and Tristan Da Cunha). It is the islands lifeline to the outside world and can cause considerable concern to islanders if it is delayed or breaks down as the vast majority of food is imported.
In an attempt to remedy the socio-economic difficulties on the island the British government plans to build an airport costing at least £40million which, it hopes, will boost the prosperity of islanders through tourism and help stop the exodus of its already small population to Britain looking for work.
The airport is designed to cater for aircraft up to the size of an Airbus A320 and Boeing 737-800 and will have a total runway length of 2250meters. It will be built on the largest piece of flat land on the island - Prosperous Bay Plain - a rocky desert like area high up on the eastern cost of the island.
In order to build an airport of this size on what is such a remote and undeveloped island will require a new 14 km access road which will be by a long way the longest road on the island, and a new permanent wharf in Ruperts Bay near to the islands capital Jamestown. Also new bulk fuel storage facilities in Ruperts valley, a temporary quarry site in Ruperts valley and a new water supply to cater for the airports needs.
After a considerable wait by islanders the application for Development Permission was formally submitted to the Governor in Council on 5 May 2008. It is being designed and project managed by Atkins and the contract tender for construction has identified Basil Read and Impregilo as the primary contenders a period of competitive negotiations with both of these companies is to determine the preferred contractor.
http://www.sainthelenaaccess.com/
http://www.sainthelena.gov.sh/
Overview showing location of all the various aspects of the project:
View of runway and terminal buildings from the old telegraph signal station:
View of airside facilities and terminal buildings:
View of terminal entrance:
Internal view of terminal entrance area, check-in on right hand side in the distance:
Internal view of terminal departure lounge: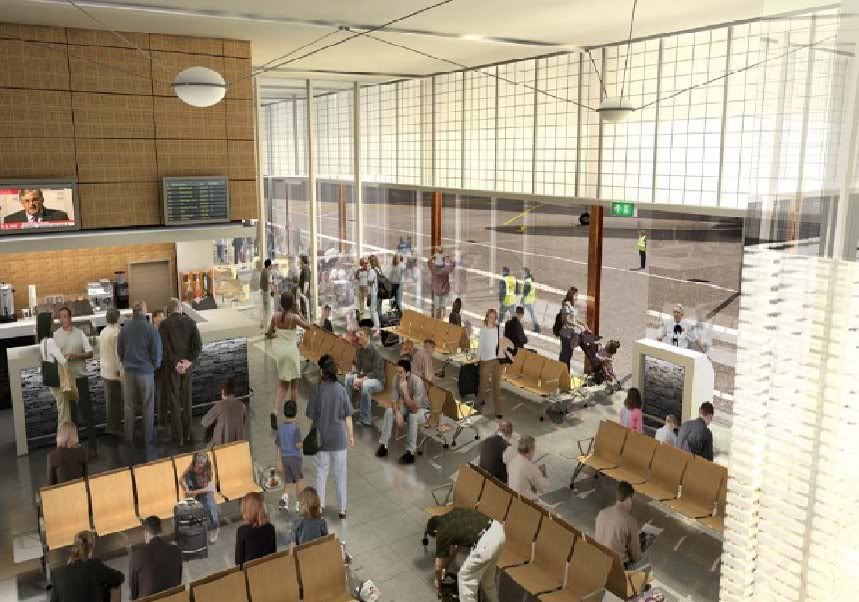 View of proposed wharf in Ruperts Bay, shaded area shows location of temporary wharf. On the far left just up from the sea wall is the existing bulk fuel store which is to be replaced with a new facility further up the valley: