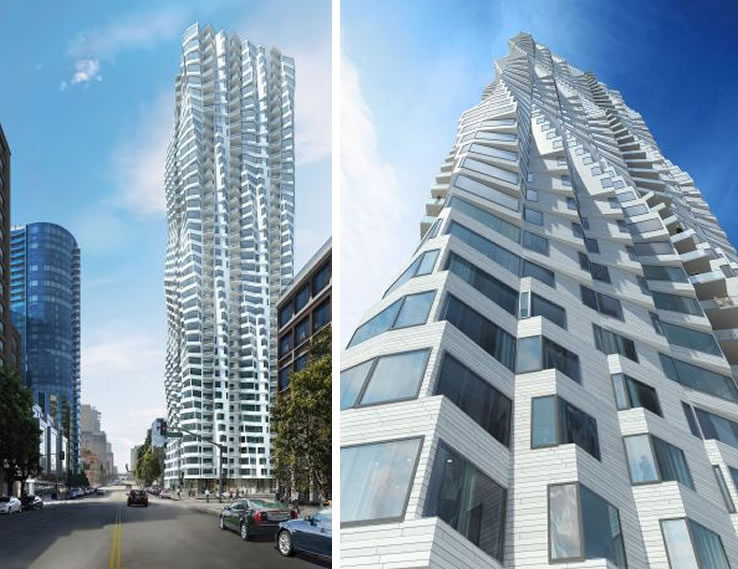 http://www.socketsite.com/archives/...00-foot-transbay-district-tower-unveiled.html
Famed Chicago architect Jeanne Gang unveils rippled S.F. tower

John King

Updated 7:51 am, Friday, July 11, 2014

San Francisco's newest tower proposal was unveiled Thursday evening - a rippled, 400-foot shaft that is Chicago architect Jeanne Gang's reinterpretation of the city's fabled bay windows.

The residential tower would rise on the north side of Folsom Street at Spear Street, one block inland from the Embarcadero. It would be clad in masonry tiles, with stacks of 45-degree-angle bays and balconies snaking back and forth across the tall, relatively slender shaft . . . .

The 40-story tower would share a block with eight stories of affordable housing, also designed by Gang. The proposal by developer Tishman Speyer calls for 139 of the block's proposed 390 condominiums to be reserved for lower-income buyers.

While a 400-foot tower is modest compared with other towers approved or under construction nearby - such as the 1,070-foot high-rise being built for Salesforce at First and Mission streets - it exceeds current zoning for the block by 100 feet. Because of this, a change would need Planning Commission and Board of Supervisors approval . . . .

Unlike other Transbay parcels being redeveloped with towers, this one involves only one slice of publicly owned land, a parking lot. Allowing a 400-foot high-rise would increase the sales price to Tishman Speyer from $14.6 million to $19 million, enough to subsidize all 75 affordable units in the lower building.

Mike Grisso, the city's project manager for the district, also suggested that the extra height "makes for a nicer design" than a 300-foot version. This sentiment was echoed by several members of the advisory committee, which voted 7-1 to support continued study of both alternatives . . . .

In addition to housing, the proposed complex includes shops along Folsom, Spear and Main streets. Town house-style units along the north edge would be entered from an extension of pedestrian-scaled Clementina Street.

Details are certain to evolve as the proposal moves forward; Gang, for instance, said Thursday that material for the skin is still being researched.

"We want something light in color, whether it's terra-cotta or something else," Gang said. "I've been coming through the Bay Area for years, and it's so light and colorful. That's the feel I wanted."

The earliest start to construction, if approved, would be 2016.
http://www.sfgate.com/bayarea/place...t-s-plan-for-rippled-S-F-building-5614053.php