Discussion Starter
•
#1
•
Hello,
Saudi Arabia is embarking in a huge expansion of it's railway infrastructure. This expansion comes in the form of three major railway projects, one public, the other two public-private. Below I'll give a brief outline of each project with a route map.
I hope you enjoy.
North South Railway (NSR)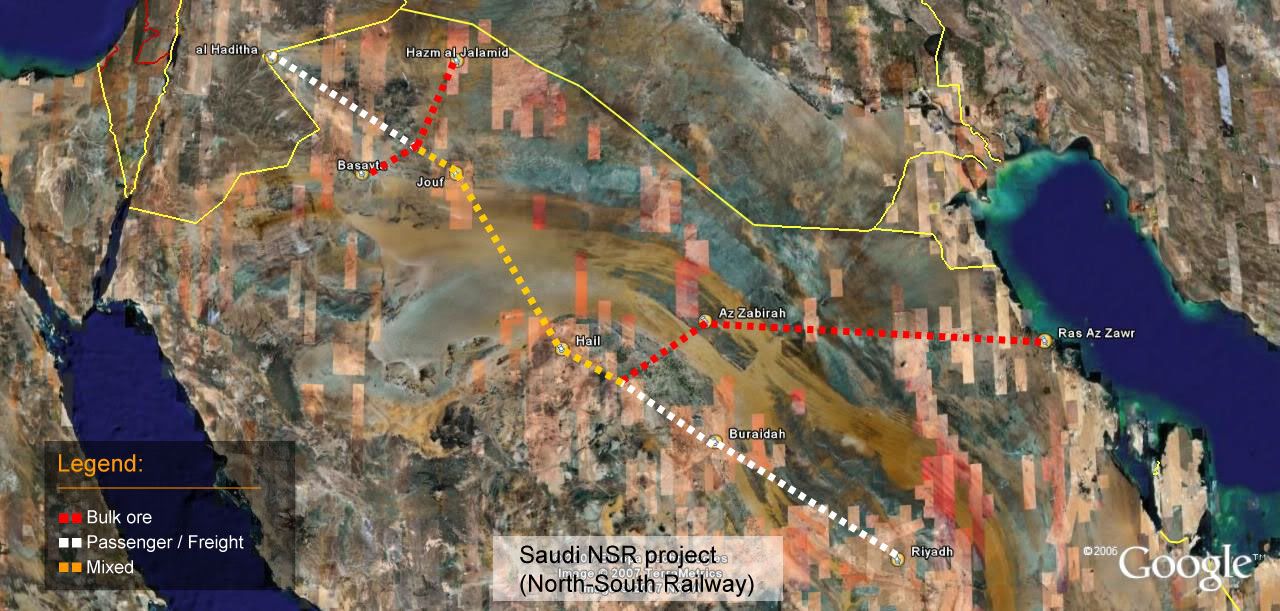 This is a public project to build a heavy duty railway to serve the mining industry. It's funded by the Ministry of Finance and the Saudi Public Investment Fund (PIF). It's main focus is the transport of mineral ore from the mines of north (Bauxite from Zabirah, Phosphate from Jalamid and Basayta) to a new integrated mineral industrial city at Ras az Zawr on the gulf coast. It will also cater for general passenger and freight traffic with spurs going to Riyadh and also to the Jordanian border. In total, 2,400km of track will be laid, done in 4 phases:
Phase 1: 650km Ras az-Zawr - Zabirah
Phase 2: 782km Zabirah - Hail - Jouf - Jalamid
Phase 3: 530km Zabirah junction - Buraidah - Riyadh
Phase 4: 438km Spurs to Basayta and Haditha (border town)
----
Saudi Landbridge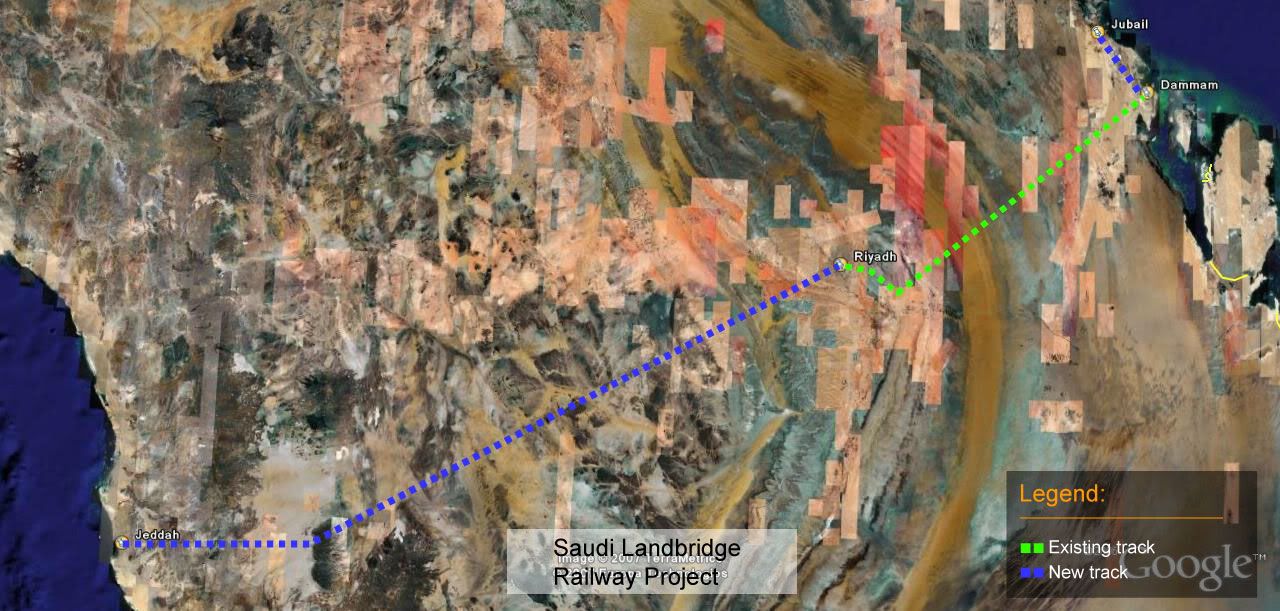 This is a 1,500km project to link Saudi Arabia's east and west coasts. The project entails the building of over 1000km of new track as well as the upgrade of current railway infrastructure. The main focus of the project is the transport of containerised freight, for either local consumption or more importantly trans-shipment. The project is expected to dramatically alter shipping patterns in the region. It will also offer a fast passenger service, linking Saudi Arabia's 3 main population centres (Jeddah-Riyadh-Dammam), with a specified operating speed of 220km/h. This project is offered as a BOT concession. Prequalification is complete, we're now at the RFP stage.
Mecca Medina Rail Link
This is a 450km high speed rail project. It links the holy cities of Mecca and Medina via the commercial port city of Jeddah (and also Rabigh). It is offered as a DBOT concession. 7 consortia have submitted for prequalification. The concession is technology neutral and there's no interlinking requirement in the specification, giving the opportunity for non steel rail technologies, such as Maglev.