Discussion Starter
·
#1
·
article by saudicaves.com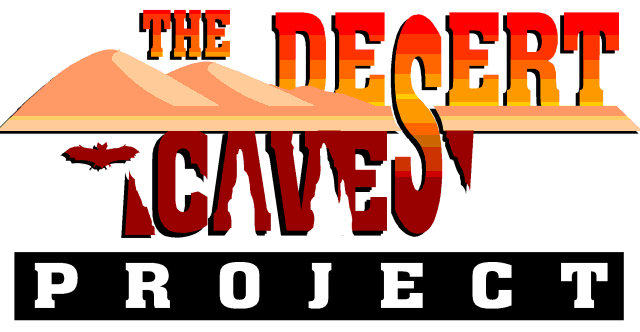 enjoy with team's stores
Sixty million years ago, a thick layer of limestone was slowly formed at the bottom of a shallow sea. Today, that same rock formation lies beneath the vast deserts of Saudi Arabia. Alongside the Dahna sand dunes, not far from Riyadh, the Umm-Er-Radhuma limestone is riddled with countless holes known locally as Dahls.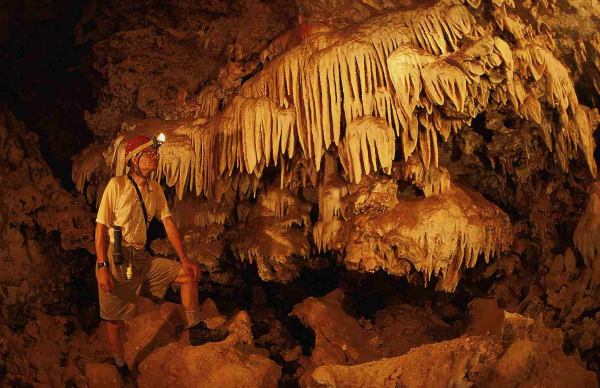 Organ Pipe formation in Mossy Cave
Since the 1980's a number of beautiful and sometimes curious caves have been found in this area and reports on them have appeared in various publications. The SaudiCaves website hopes to bring such cave reports, maps pictures and other information together in one location for the benefit of researchers, explorers in Saudi Arabia and, of course, the general public. If you're looking for something related to the caves of Saudi Arabia, you'll find it here!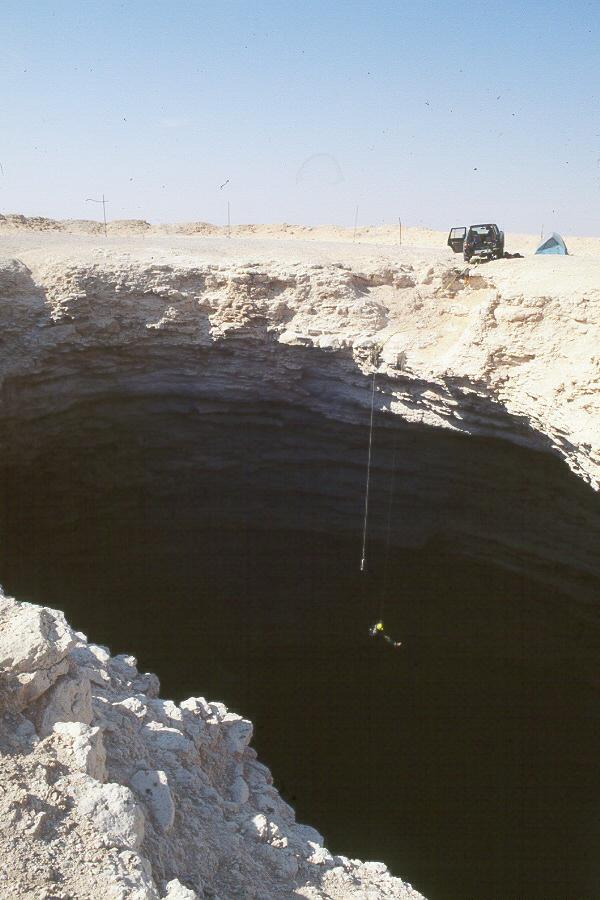 Mike Gibson descending into the throat of The Sphinx (Dahl Abulhol).
The goal of the project is to assist in the protection and preservation of Saudi Arabia's caves by informing visitors to the caves, as well as the general public, about the extraordinary fragility of that marvelous world underneath the desert and the various dangers threatening it.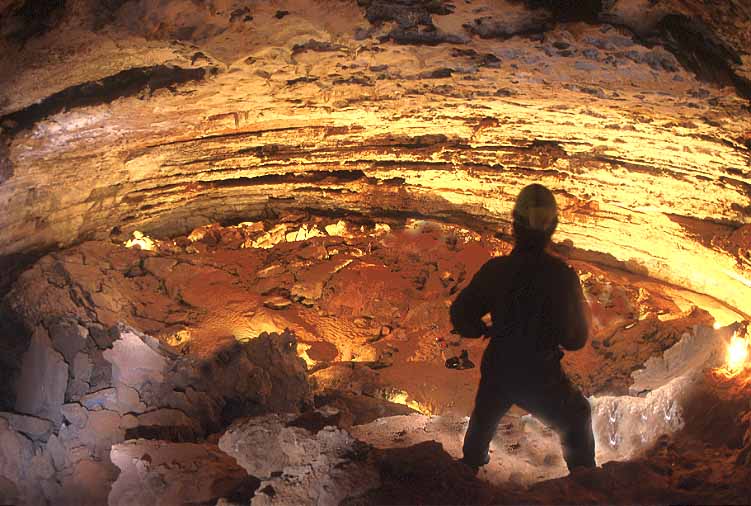 Dabbagh Hall in UPM Cave. This room is 45x80x17 meters! Photo: L. Bjurstrom
To this end we are producing and disseminating articles, books, videos and presentations in the cave areas as well as in the principal cities of the Kingdom of Saudi Arabia.
John and Susana Pint.
----------------------
quote
Ghostly Cave
Gecko Cave
Black Scorpion Cave
That's a Good-Name Cave
Surprise Cave
Murubbeh Cave
Um Qaradi Cave
Ain Hit
Hibashi Cave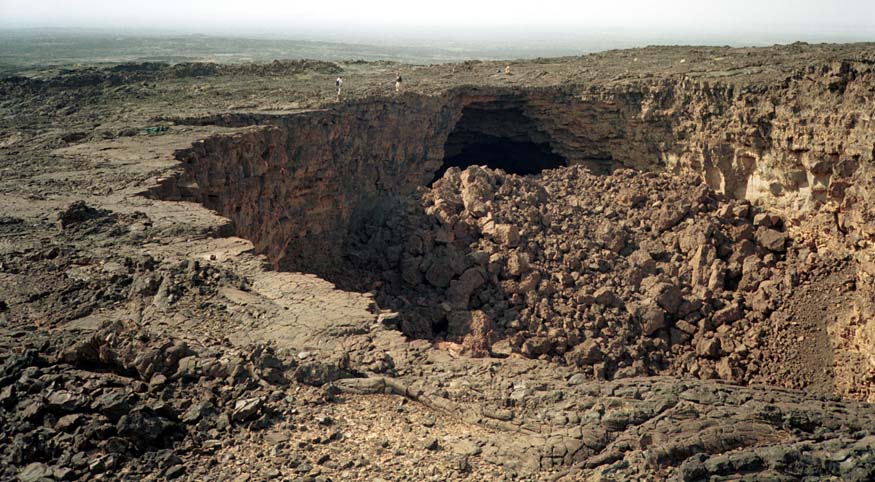 The team discovered that Jebel Hil Lava Tube is at the very least three kms long. As they drew closer to the volcano, the diameter of the tube grew, topping out at 42.5 meters deep.
هذا ما كان يدور في عقل كل من أعضاء الفريق ونحن نسير بإتجاه تلك المناطق الثى تكثر بها القصص عن تلك السراديب والتي تبدو شيقة لبعضنا من حيث المغامرة وحب الكشف عن ماتحتوية بداخلها من أسرار وعجائب، وطول الطريق كنا نقابل و نقف عند رعاة الأغنام ونستفسر عن وجود هذه الكهوف وكانوا يشيرون علينا بأن نتقدم إلى الأمام الى أن نصل الى القرية ، ولاحظنا وجود الأعداد الكبيرة والضخمة من الكلاب التى تحرس أغنامهم والتي يبدو عليها الشراسة، وكان تعليقهم على ذلك بأن تلك الكلاب تحرس الأغنام من الذئاب والضباع المفترسة (والتى تسكن في تلك السراديب والدحول) نظرنا إلى بعضنا البعض وبدأ هنا التحدي لمعرفة أسرار تلك الكهوف.
-Mahmoud Ahmed Alshanti-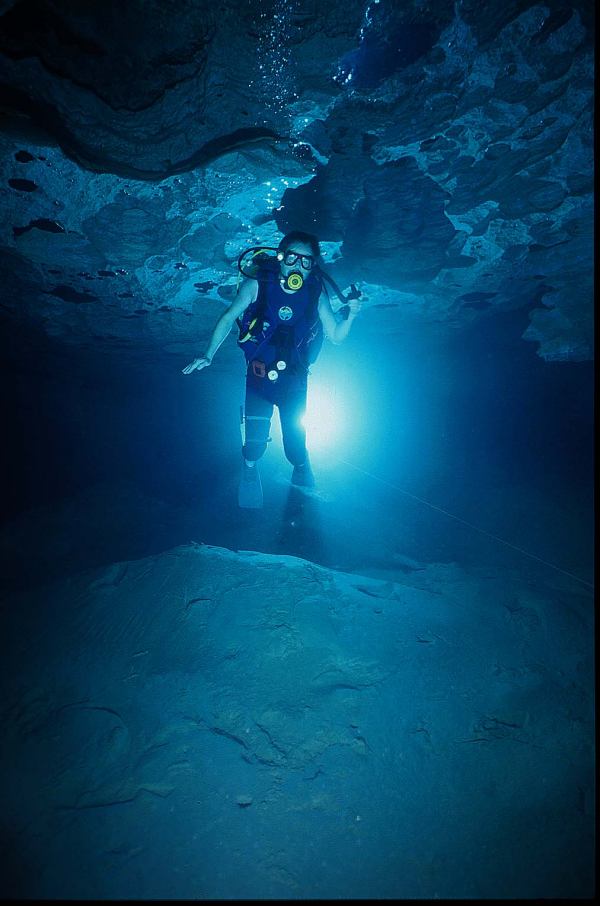 View of the rock ledges descending from the cave ceiling, near the entrance to the first large room, at a depth of 25 ft (7.6m). The silt has settled, and the water is fairly clear.
Upon the scene came Henri de St. Pierre, a French geologist with whom we had caved in Arabia. Henri, Susy and I headed up to the mesa above the abulhol cave. This was a wide, flat area planted with corn and other crops. Here we located the collapse, which, on the surface appeared to be a hole twelve meters around and filled almost to the top with loose jal. We started to walk away from the collapse and to our amazement, we found a string of small holes, at first perfectly aligned and approximately 11 to 12 meters apart. We immediately began surveying and by the end of the day counted 75 holes forming a gigantic Y on the mesa.
-John J. Pint-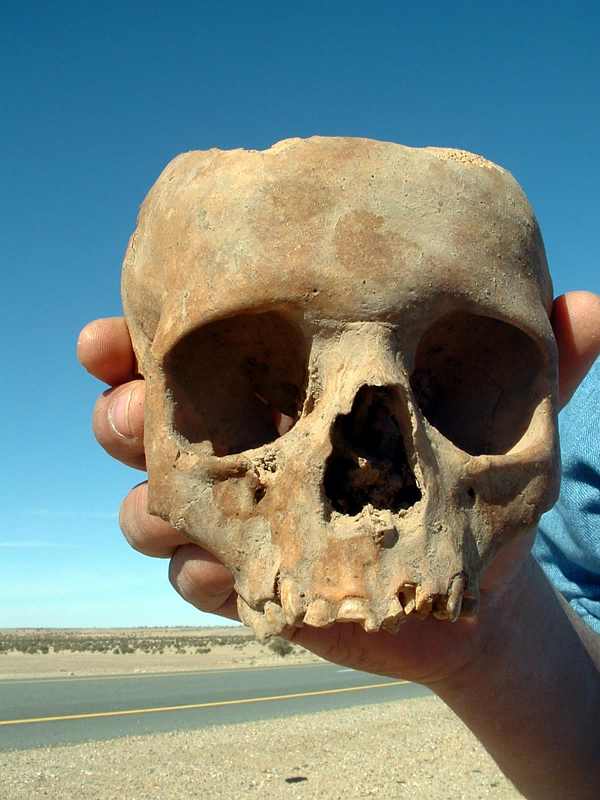 Skull of a young woman, found in Hibashi Cave.
في أحد الرحلات الاستكشافية لفريق استكشاف الكهوف والتي يقوم بها في الصحراء المترامية الأطراف بتاريخ 25 فبراير 2003 ، وعلى بعد حوالي 150كيلومتر شمال شرق المدينة المنورة في حرة خيبر ، حيث الغرض من هذه الرحلة هو استكشاف الكهوف في حرة خيبر والتي تسمى ا ( الدحول ) ، وهي عبارة عن أنابيب طولية تحت سطح الأرض، تكونت بفعل خروج الصهارة(حمم) من فوهة البركان و انسيابها على سطح الأرض، وتسير على شكل انهار من الحمم إلى المنحدرات والمناطق المنخفضة نسبيا، و تدفع هذه الحمم بعضها البعض، متزاحمة بسبب قلة لزوجتها، وخروج كميات هائلة من الصهارة من خلال الفوهات البركانية والشقوق ، وسرعة اندفاعها في جميع الاتجاهات ، وتتصادم مع بعضها البعض ، وتتلاحم وتكون قبب وأقواس(أنابيب) طولية تمتد أحيانا إلى الكيلو مترات ، وتأخذ هذه الأنابيب أشكال الأنفاق تحت سطحية، و تكون في الغالب متعامدة على اتجاه اندفاع الحمم.
هذه الكهوف أو الدحول المكونة بفعل البراكين يعتبرها العلماء بأن لها أهمية من الناحية الجيولوجية، والتاريخية والسياحية، و علماء الآثار أيضا يبدون اهتمامهم بها لوجود العديد من بقايا آثار وأدوات ورسومات قديمة تم اكتشافها ودراستها داخل مثل هذه الكهوف .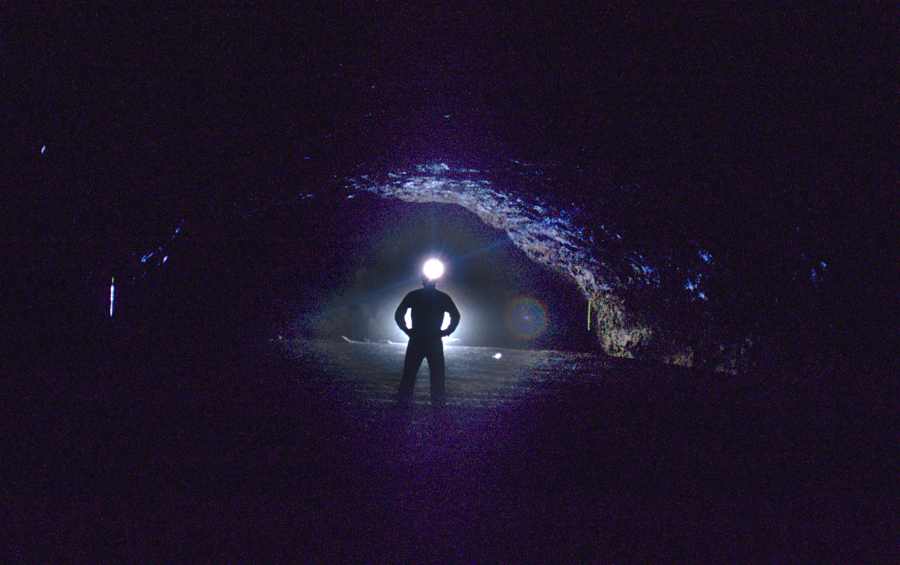 Is Hibashi Cave really 17 kms long?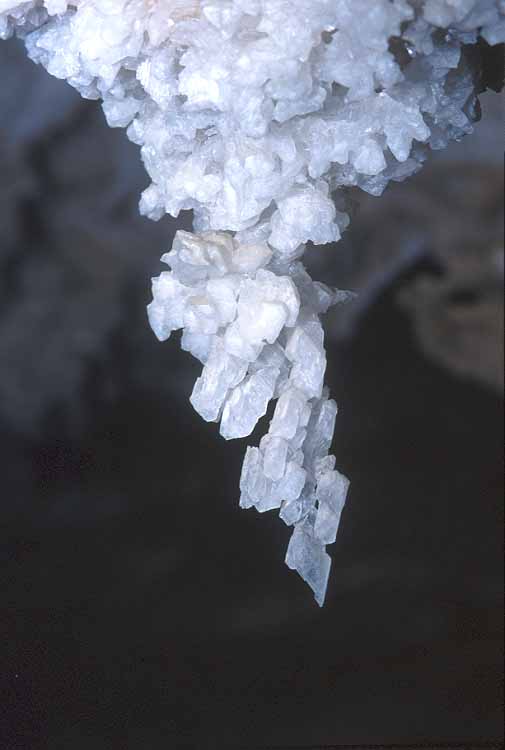 Crystal formation in Surprise Cave. Photo: L. Bjurstrom