Discussion Starter
·
#1
·
As Senegal is still a country that is pretty unknown to people from the non-francophone world. I would like to introduce it to this forum.
General information:
Area: 196,190 square kilometres (land; 192,000 sq km, water; 4,190 sq km)
Coastline: 531 km
Population: 10,5 million
Capital city: Dakar (population; 2 million)
People: Wolof (36%), Fulani (17%), Sérèr (17%), Toucouleur (9%), Diola (9%), Mandingo (9%), around 200 000 Lebanese and 38 000 French.
Languages: French (official), Wolof, Pulaar, Diola and Mandingo.
Religion: 94% Islam, 1% indiginous beliefs and 5% Christian.
Government: Republic under multi-party democratic rule.
President: Aboulaye Wade
Visas: Visas are not needed by citizens of the France, Canada, Norway, South Africa, Japan, Israel, USA and several other African countries.
Map of Senegal:
Presidents of Senegal:
Senegal has had three presidents in its post-independant history
The one that left a heavy imprint on the country´s history and was even well-known beyond French-speaking countries was Léopold sédar Sehghor.
The founding father of independent Senegal, Leopold Sedar Senghor, has died at the age of 95. He was a literary genius and wrote a great collection of very fine poetry. And his poems are studied in universities in a lot of French-speaking countries. He was one of the first African leaders to allow democracy and a free press, Mr Senghor was a pioneer.
He was also one of the first African presidents to retire gracefully. In 1981 after 20 years in power he handed over peacefully to his prime minister.
Mr Senghor lived long enough to see one remarkable result of his political liberalism. In the year 2000 in a thoroughly democratic election in Senegal, the long standing opposition leader Abdoulaye Wade, who had been a thorn in Senghor's side for many years, won the presidency.
Senghor entertained very strong French links throughout his life
Leopold Sedar Senghor achieved other firsts as well:
Leopold Sedar Sengho was a respected poet
A poet and scholar when not being a politician, he was the first African to join the highly prestigiuos elite French literary institute as one of its key figures, the "Academie Francaise" in Paris. In Senegal and or other African french speaking countries a lot of places, universities and streets were named after him but also streets, a boulevard and a public park has been named after him in France.
Leopold Sedar Senghor left a legacy of free thinking and free debate in Senegal - a legacy which still marks it out as a very unusual African state.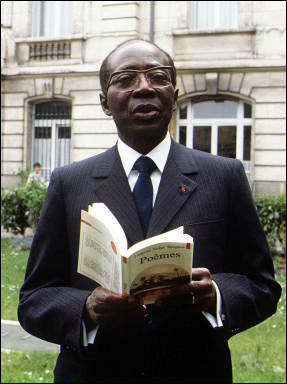 Léopold Sehghor with his French wife Collette
SECOND PRESIDENT OF SENEGAL, Abou Diouf (1981-2000): He currently lives in France after stepping down. He is currently the head of "la Francophonie".
his beautiful Senegalse wife Elisabeth Diouf (by the way Jacques Chirac is the godfather of one of the kids of Elisabeth´s Diouf daughters. It simply shows how personal the relationship even between the elites of the two countries is)
THIRD PRESIDENT WHO IS A TECHNOCRAT: HIS NAME IS WADE (from 2000)
And his French wife Viviane Wade:
.....history will tell who comes next.....
Dakar
Porte_du_Millenaire.
this is "ile de la Gorée" many tourist come to this island which is very close to Dakar. It is very pituresque although it had a dark past: