There doesn't seem to be a thread for Sheffield yet, and there is a phenomenal amount of construction going on in the city (as there is in most large cities in the UK).
For those who don't know anything about Sheffield, have a check here:
http://en.wikipedia.org/wiki/Sheffield
So here goes...
I'll start with the talls:
Velocity Tower
36 storeys | 108m | U/C & Pro
This one is a bit mad TBH. There were plans for a 23 storey tower on the site a couple of years ago. This fell through, but we noticed Velocity (a local developer) start building foundations last year. They proceeded to build a tower on the site,
without planning permission
. The council ordered them to stop work unless they built the tower that was originally planned for the site. So of course they went ahead with the building. After getting a couple of storeys into the built they got permission for a 22 storey tower of the same shape but different materials. This wasn't enough for them, so now they have applied for permission to extend this up to
36 storeys
or
108m (121 to top of wind turbines)
. The tower will be mixed use with office, residential, a hotel and a two storey skybar & restaurant on the 35/36th floors.
This is the 36 storey design:
So far: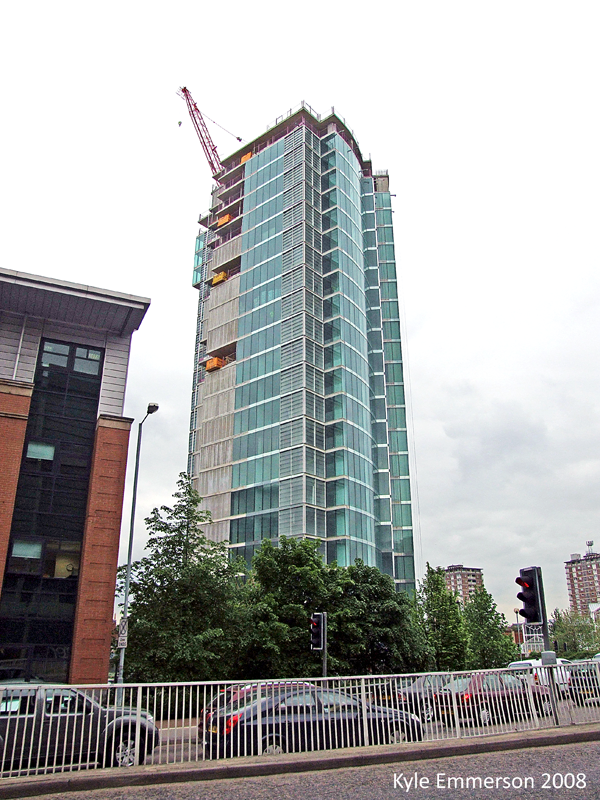 City Lofts
32 storeys | 101m | U/C
Luxury residential tower with retail around the ground floor.
Render:
Current progress: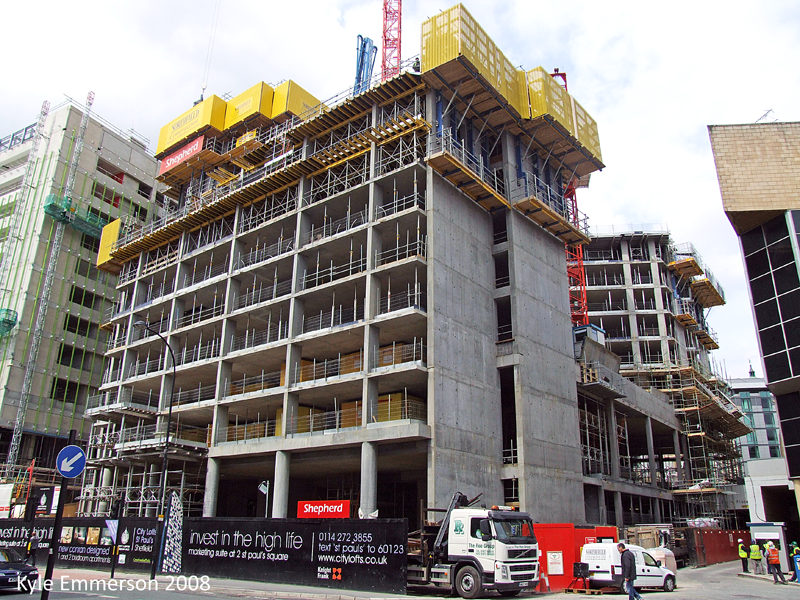 Sevenstone Tower
27 storeys | ~100m | Pre
This is a landmark Residential tower in Sheffield's flagship retail development 'Sevenstone'.
Render: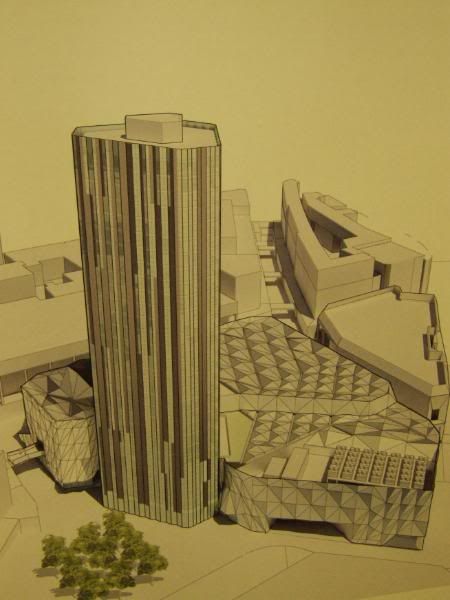 Close-up: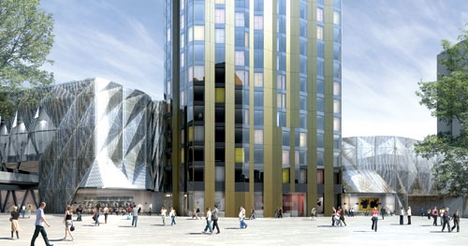 Block 10 West Bar
26 floors | 90m | Pre
Part of a large mixed use masterplan. Tower is residential with retail around the base.
Block 9 West Bar
26 storeys | 85m | Pre
Part of the same development as above. Again, Residential with retail around base.
(Hopefully some of the crap around it will be demolished soon...
Pennine House
23 storeys | ~80m | Pre
This is part of an office master plan giving high tech office space for creative industries. The tower will consist of a large atrium area with retail, continuing the square it fronts onto. Above will be 220,000 sqft of office space and 16 floors of apartments. The landmark design is supposed to represent the rock formations in the nearby peak district.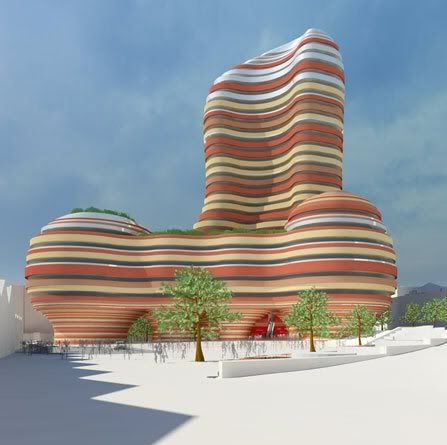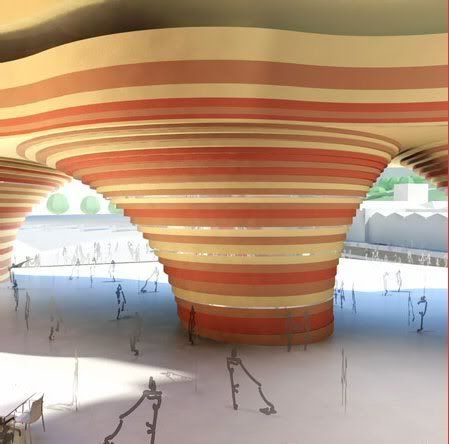 Chesham House
27 storeys | 76m | App
Part of a 3 million sqft mixed use development. This will contain three storeys of retail, followed by office space and residential. There are 3 stepped towers and this will be clad in glass and portland-style stone.
There's not really any renders of the latest design i'm afraid as it's gone through about 3 design changes
Hannover House
22 storeys | 72m | Canc
This development never got off the ground, however I though I would add it in as we have recently seen a tower shown on the site of it in the 3D graphics for Velocity Tower. We know Velocity expressed an interest in the site with a view to developing a tower, so hopefully this could be teasers of what is to come. The tower shown in the models looks at least as tall as Velocity Tower (108m)
1 Furnival Square
17 storeys | 68m | U/C
An office tower with hotel next to it. Currently on the 8th floor
Render: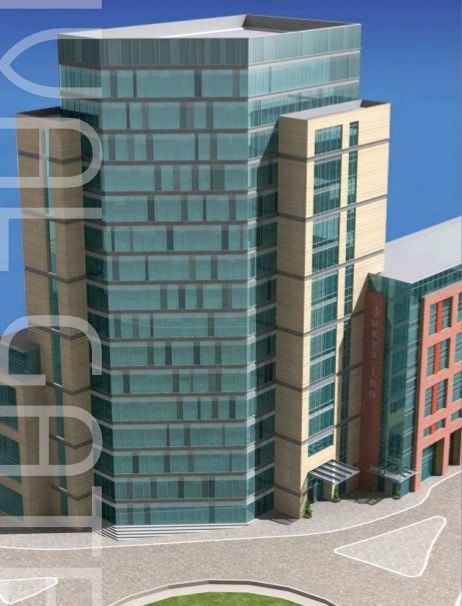 Close Up: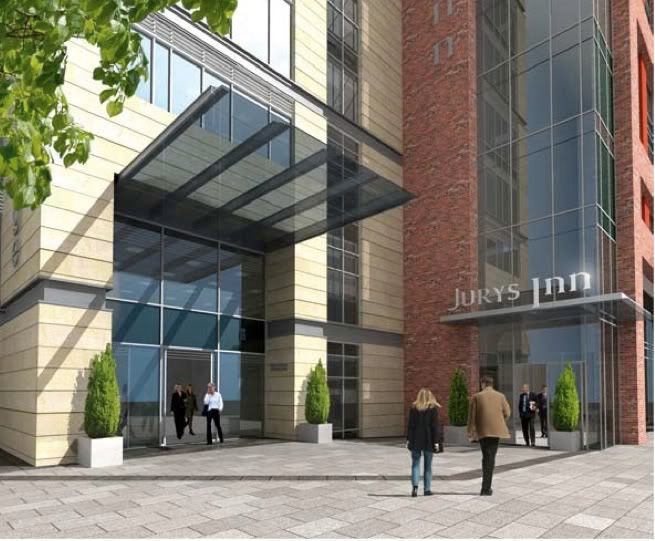 Block 1 West Bar
14 storeys
Office building as part of previously described development
That's probably as low as I can stoop and get away with calling them mid/highrise...
I'll post up the masterplans in a while.