Right, here we go for the masterplans:
Sevenstone
860,000 sqft retail development,
260,000 sqft flagship John Lewis store,
Apartments,
Possible hotel,
This is Sheffield's main retail masterplan. It's right in the core of the city and will bring 860,000 sqft of high quality retails space to the city centre. It will not be built like a standard mall as it will be made up of open streets which will integrate into the surrounding area. This should help bring Sheffield's city centre retail offering up to a level at which it should be (as it has suffered since the opening of the 1.4 million sqft Meadowhall complex n the outskirts). The tower posted above is also part of this scheme. So far enabling works have taken place (moving sewers/electricity etc), two blocks have put in for planning permission (two more should soon) and the project is due to start on site this year.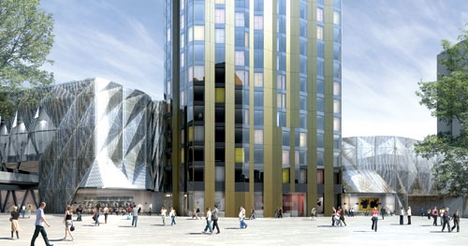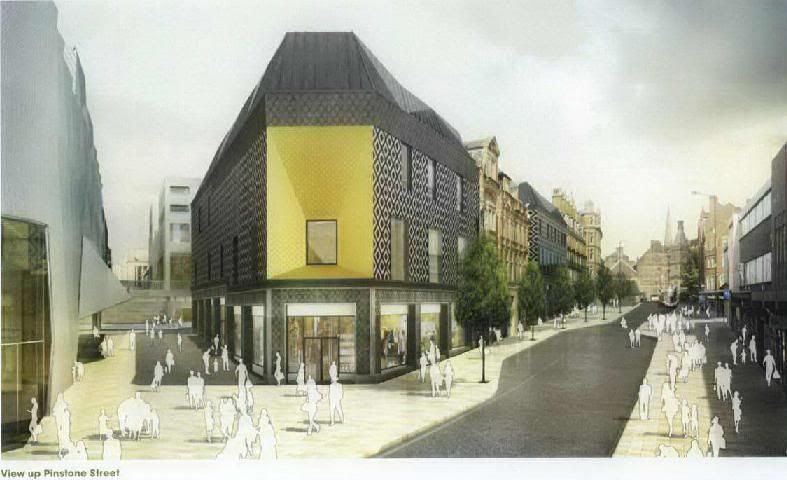 [imghttp://i205.photobucket.com/albums/bb264/Daveb_design/NRQ/P3080097.jpg[/img]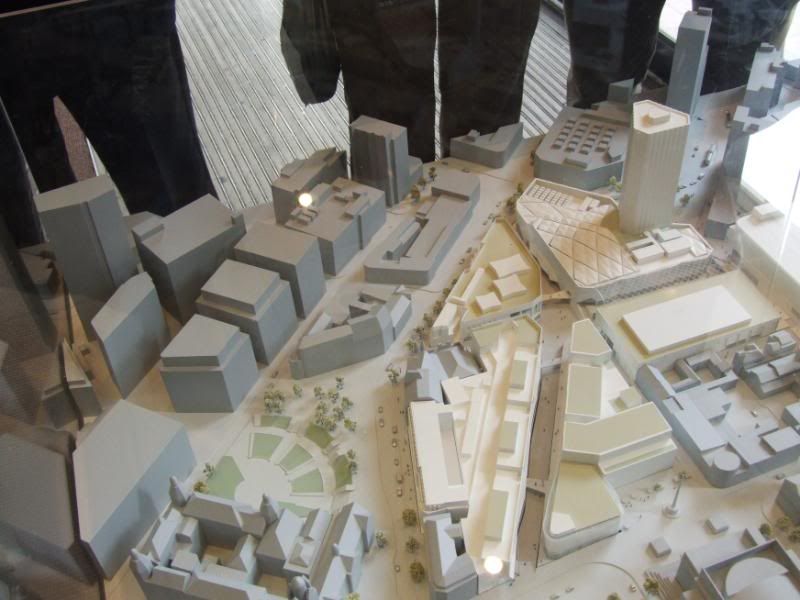 West Bar Masterplan
1.9 million sqft mixed use,
1 million sqft of office,
700 apartments,
500 student flats,
170,000 sqft Retail,
Hotel,
The Moor
3 Million sqft,
1 Million sqft retail,
Office,
Residential,
This masterplan is odd in that it's being done on a building-by-building basis. The first two blocks have planning permission and one of them is under construction.
This block is under construction:
The other block is the tower I talked about earlier which has gone through many design changes.
This is another building design which we have seen floating about. Hope it gets built with the 3 big screens!
E-Campus
600,000 sqft of high-tech office space for digital and creative industries
The first phase of this is already well into construction:
This phase will have two more similar buildings to the left of the photo, both stepping up a storey.
We don't know much about phase two yet,
Phase 3 is the oddly shaped 'stone' tower posted above.
St. Pauls Place
200,000 sqft of office space,
135,000 sqft retail space,
316 apartments,
4* hotel,
This was part of the 'Heart of the City' masterplan of which much has been completed already. It included the building of an art gallery,
the winter gardens
,
the peace gardens
and is in turn part of the councils multi-award winning 'Gold Route' masterplan which has linked up the station to the city core with world class public spaces. The hotel and first office building have already been completed and the rest is currently under construction. The masterplan includes the 32 storey City Lofts pictured in the above post.
So far:
Renders:
Sculpture for in square:
Under Construction:
Right, that'll do for now. I'll post a couple of the more interesting smaller scale projects at some time in the future...