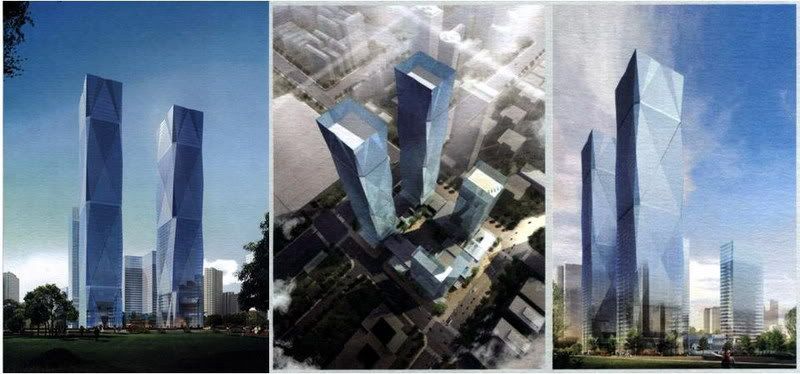 卓越•世紀中心項目由東西兩塊地合並而成,總佔地面積30168.18平米,兩塊地之間有規劃的南北方向的市政路,地塊方正。
本項目位於深圳CBD南區東南部;西接會展中心,北隔福華三路與財富大廈相望,南為皇崗中學,東有辛城花園和港麗豪園,是CBD最大的單一業權的商務旗艦項目。
本項目規劃總建築面積43萬平米是集寫字樓、商業、酒店多種業態為一體的大型綜合項目。卓越集團致力於打造 "深圳CBD超級商務航母群",深圳這個國際化都市最具活力的商務會所,引領深圳全新的"集約式"商務模式。
項目2006年9月奠基,預計2009年開發完畢
The Washington, D.C. office of international architecture, planning, engineering and interior design firm LEO A DALY is serving as design architect for four soaring towers and an expansive retail podium that comprise the Excellence Huanggang Century Center in Shenzhen, China. When complete, the large-scale mixed-use project will total approximately 4.5 million square feet. Groundbreaking is expected to occur in late 2007.
LEO A DALY designers created striking, faceted exteriors for the project's four high-rise buildings. Reaching to 60 and 57 stories respectively, the tallest two towers will feature glass curtain walls, chamfered corners and large-scale diamond-shaped facades that extend and recede from the typical floorplate. With their jewel-like skins, the towers will create a singular, harmonious identity for the project within Shenzhen.
The tallest tower, at approximately 920 feet tall (280 meters) with 60 stories, will be dedicated exclusively to office space. The second tower will be 850 feet (260 meters) tall with 57 stories and will consist of a mix of office, hotel and service apartment space and will feature a top-floor restaurant. The project's podium, which anchors the four towers, will be enveloped in glass and feature a mix of retail, restaurant and entertainment areas. Unlike typical indoor malls of Shenzhen, the Excellence Huanggang Century Center will feature an open-air central courtyard that connects visitors, workers and residents to the outdoor environment. LEO A DALY also designed the facades for the two high-rise towers to be complementary to the tallest two super high-rise towers.
LEO A DALY won the invited design competition for the project, which included three other firms, at the end of 2006.
The project is prominently located on the southeast corner of Shenzhen Central Business District's "two flying dragons" master plan and is adjacent to the Shenzhen Convention Center.
The Excellence Huanggang Century Center project is a collaboration between the Excellence Property Group Company, Ltd., which has the development expertise to realize the project, and the Huanggang Industrial Company, Ltd., which owns the land. It is the vision of collaboration between the organizations that forms the harmonious metaphor for the overall design concept.
LEO A DALY
Established in 1915, LEO A DALY is an internationally renowned architecture, planning, engineering and interior design firm. The company's portfolio includes award-winning projects in 50 countries, all 50 states, and the District of Columbia. The firm currently employs more than 1,200 architects, planners, engineers and interior designers in 22 offices worldwide. It consistently ranks in the top ten largest architecture/engineering and interior design firms in the U.S., and is listed in BD World Architecture's top 20 global practices