[SLO] Slovenia | road infrastructure • Slovenske avtoceste
CONTENTS
A1 Ljubljana–Maribor–Austria (A9)
A1 Ljubljana–Koper (H5)
&
Nanos (H4)–Postojna–Ljubljana
A2, H1 Ljubljana–Austria (A11):
2007
&
2009
A2, H1
Ljubljana–Croatia (A3)
&
Croatia–Ljubljana
A3 Divača (A1)–Italy (RA14)
A4
Maribor–Ptuj (video)
&
Ptuj–Maribor (photos)
A5 Maribor–Hungary (M70)
G1-3, A5 Maribor–Hungary (86)
H2 Expressway through Maribor
H3 Northern Ljubljana bypass:
eastbound
&
westbound
H4 Nanos (A1)–Nova Gorica–Italy (RA17/A34)
&
Nova Gorica–Nanos
H5 Italy (SS15/NSA326)–Koper (H6)

H6, G2-111 Koper (H5)–Izola–Portorož–Croatia (D200)
H7 Lendava (A5)–Hungary (86)
G2-104 Ljubljana Tomačevo (H3)–Ljubljana Črnuče
Ljubljana Ring (A1, A2, H3):
clockwise
&
counterclockwise
G1-6 Croatia (A7)–Postojna (A1)
G1-7 Rijeka, Croatia (D8)–Kozina (A1)–Trieste, Italy (SS14)
G1-9 Croatia (A2)–Ptuj
G1-11 Koper–Croatia (D21)
G2-106 Ljubljana–Kočevje
Let's take a ride on Slovenian highways!
The Slovenian road network consists of 543 km (338 mi) of motorways/freeways and 83 km (52 mi) of 4-lane expressways:
You can find more information on
http://www.dars.si/Default.aspx?lang=2
.
For a more "local" thread about Slovenian motorways click
Avtoceste ARHIV/Motorways ARCHIVE
.
I'll start with the
Ljubljana Ring
, a 4-lane ringroad, surrounding the Slovenian capital Ljubljana, a city of 260,000 inhabitants and my hometown.
Its length is almost 30 km (18 mi), of which 20 km (12 mi) is motorway/freeway (general speed limit 130 km/h (80 mph)), and the remaining 10 km (6 mi) is expressway (general speed limit 100 km/h (62 mph)). The first part of it was put in traffic in 1981, and it was finished in 1999. The photos of it were all taken today by me.
Thanks for this map to our forumer Chire!
A1 and A2 are motorways/freeways ("A" stands for "
a
vtocesta" = motorway/freeway in Slovenian), H3 is the 4-lane expressway ("H" stands for "
h
itra cesta" = expressway in Slovenian). The A2 motorway/freeway between the Ring and Šentvid (5.5 km) will be put in traffic next year. With its completion the expressway network of Ljubljana will be finished.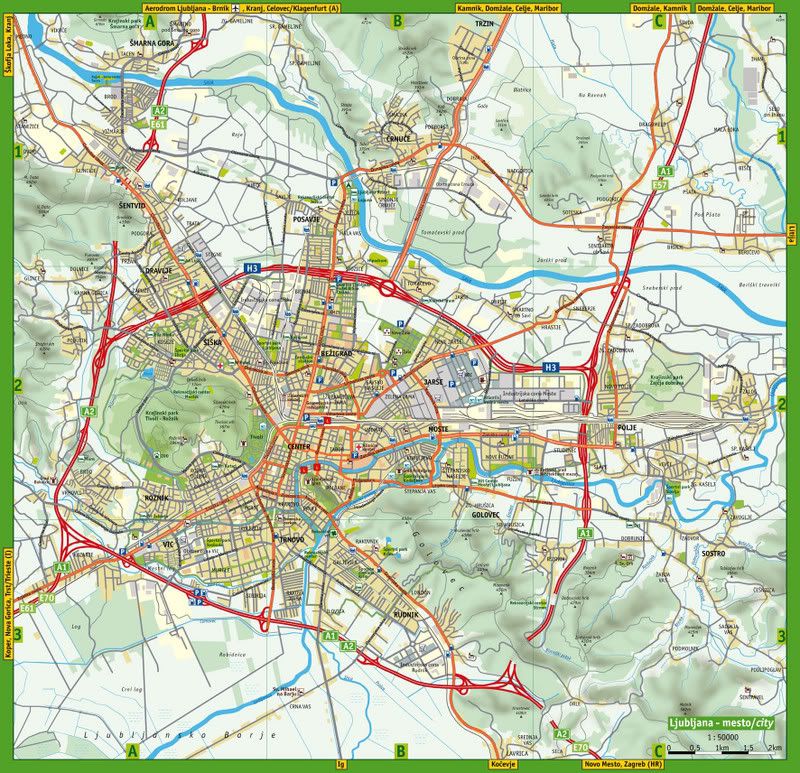 Let's go... Sorry for the bad picture, they will improve, I just wanted to show you where I started. I started in the northeastern corner of the Ljubljana Ring, at the interchange Zadobrova, between H3 and A1, heading to the A1 (also E57 and the V. (5th) Pan-European Transport Corridor), and starting on the eastern bypass.
Joining A1 from Maribor and Graz.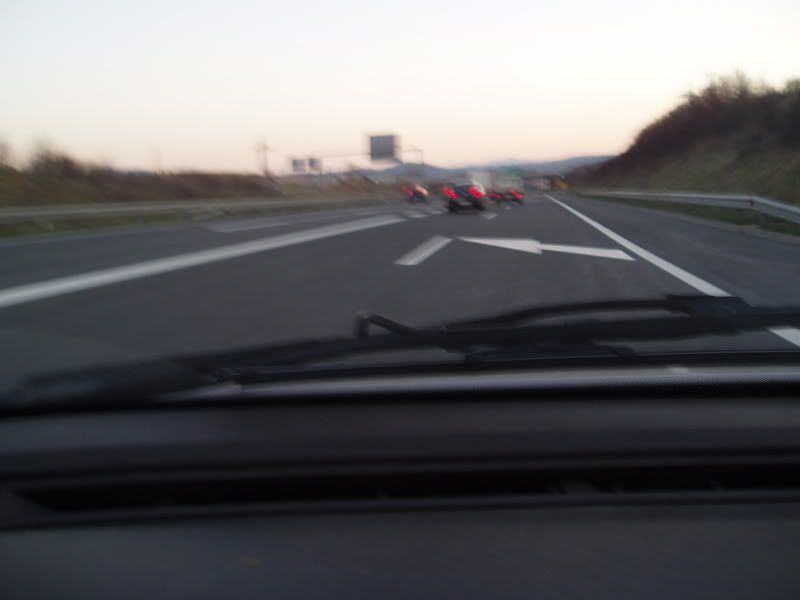 ...
Sorry for the unclear picture, just wanna show you sign, pointing to my neighborhood - Ljubljana-Moste.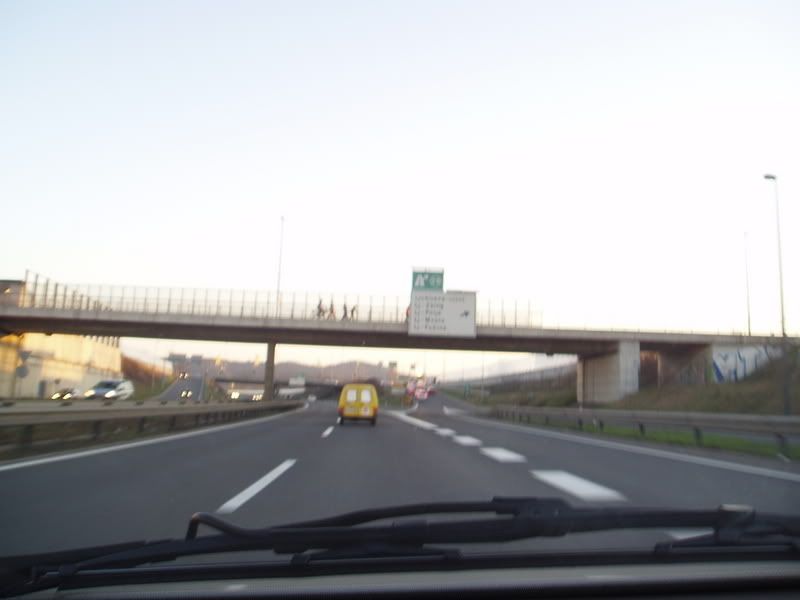 A nice, short bridge over the Ljubljanica River.
2 km to interchange Malence ("razcep" = interchange). Watch out for the radar, no more than 100 km/h.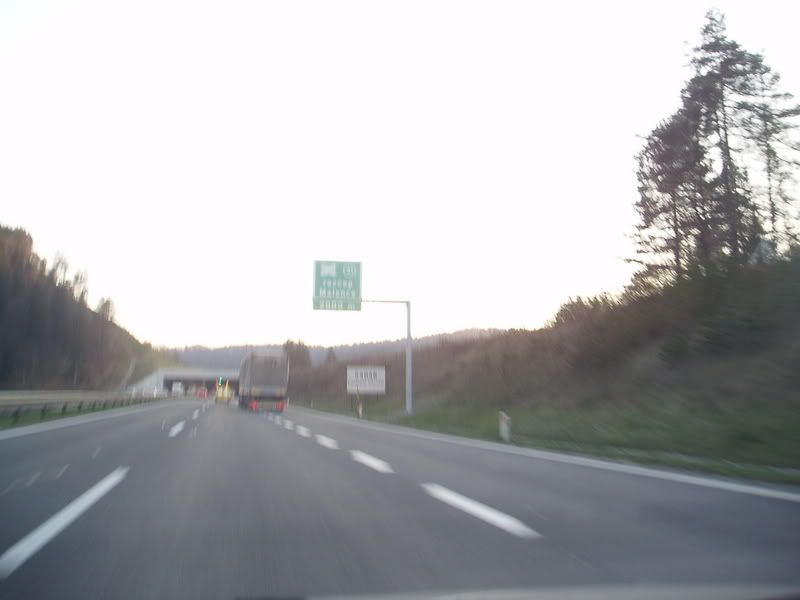 We're turning right, to the southern bypass (A1, A2, E70, Corridors V and X (10)).
We joined A2 from Novo mesto and Zagreb and are heading towards west. Note a mistake: we're not on E61 yet.
90 km (56 mi) to the Karavanke Tunnel, linking Slovenia with Austria and Germany.
2200 m to interchange Kozarje, 1500 m to Ljubljana-zahod ("zahod" = west in Slovenian, and toilet in Croatian
).
Rest area Barje.
No, we're not going to toilet.
We're going right (obviously
).
We joined highway from Koper and Trieste, and are now on the western bypass (A2, E61, Corridor X).
Sorry...
The Alps...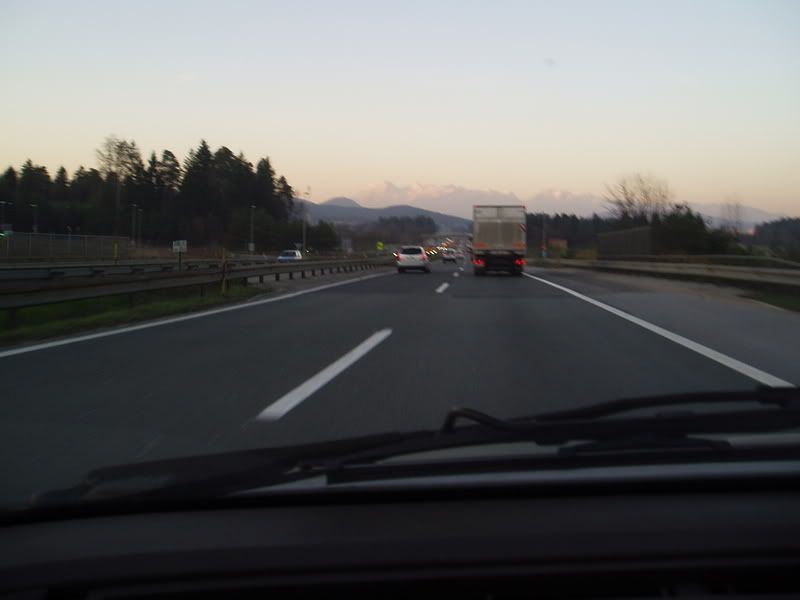 A construction site because of building the remaining part of A2 between the Ring and the motorway for Austria and Germany.
If the motorway was already finished, we would turn left for Austria.
We left the A2 motorway and are continuing on the H3 expressway. As there was no sign for its beginning :crazy: (only "H3"), I'm showing you sign for its end.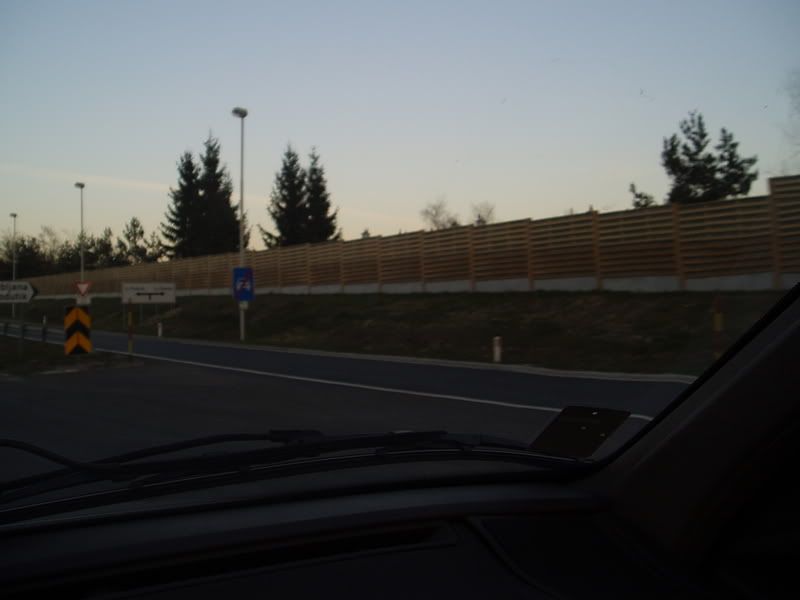 The color of signs turned from green to blue.
This part of the Ring is from 1981, and there are some eyesores.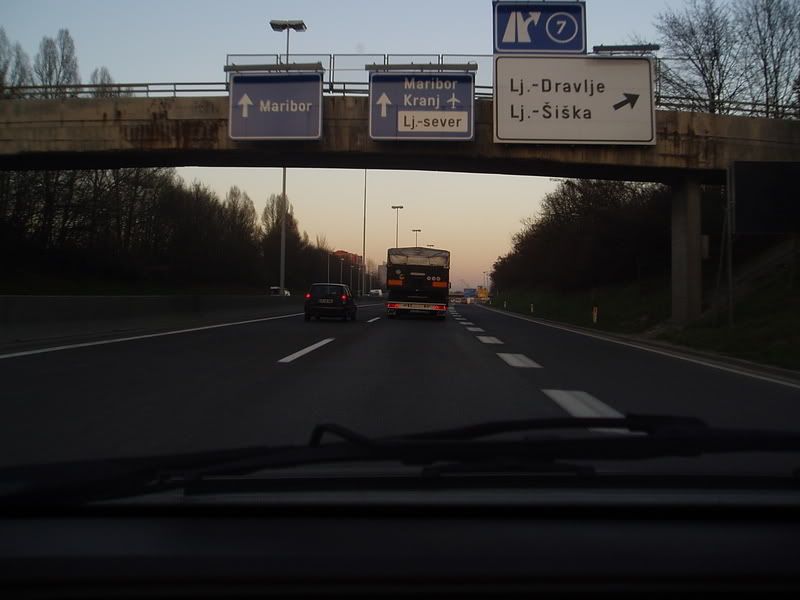 Exit for Kranj and Villach, 3 km of 4-lane road with intersections through the city, until you reach motorway. We're continuing straight forward on the northern bypass (still H3), and therefore leaving the E61 and Corridor X. These were the last 2 km of the H3 expressway, still transit (until the new motorway is completed).
...
Camp Ježica.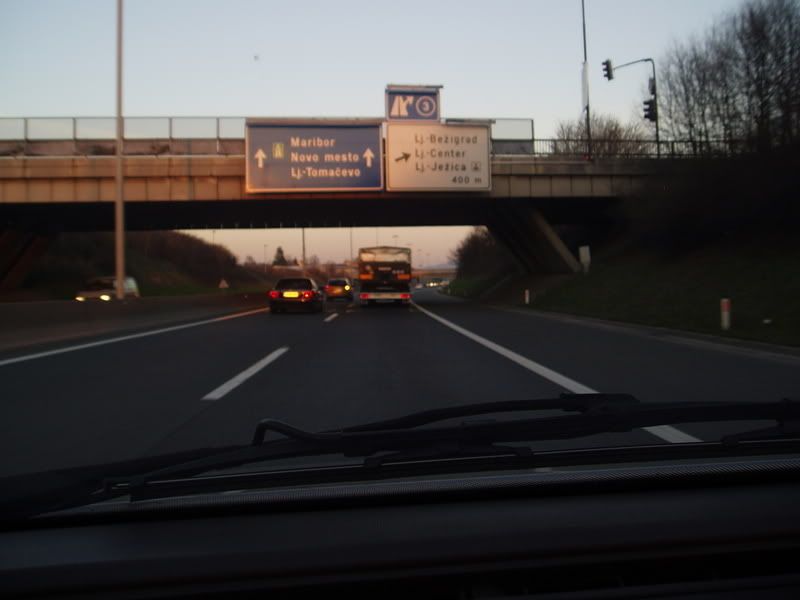 Say hello to Slovenia's tallest building, World Trade Center, built in 1993 (72 m
).
WTC...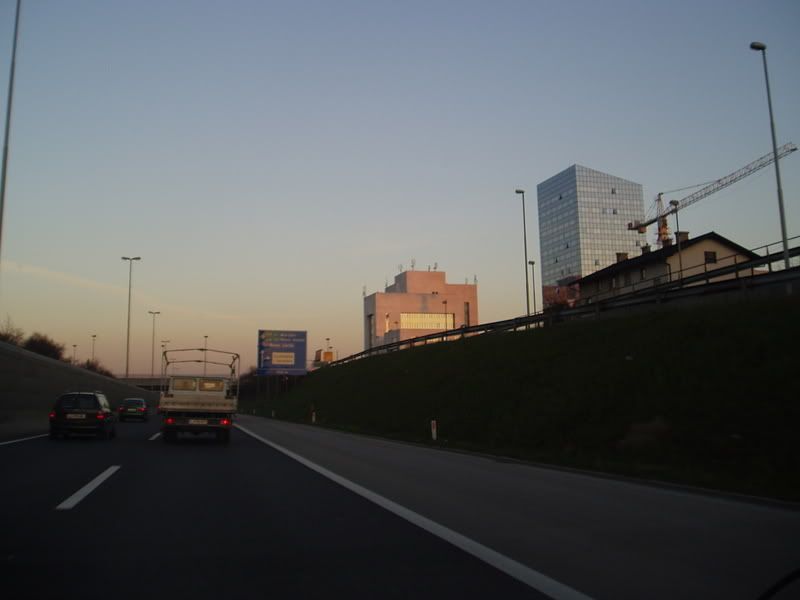 ...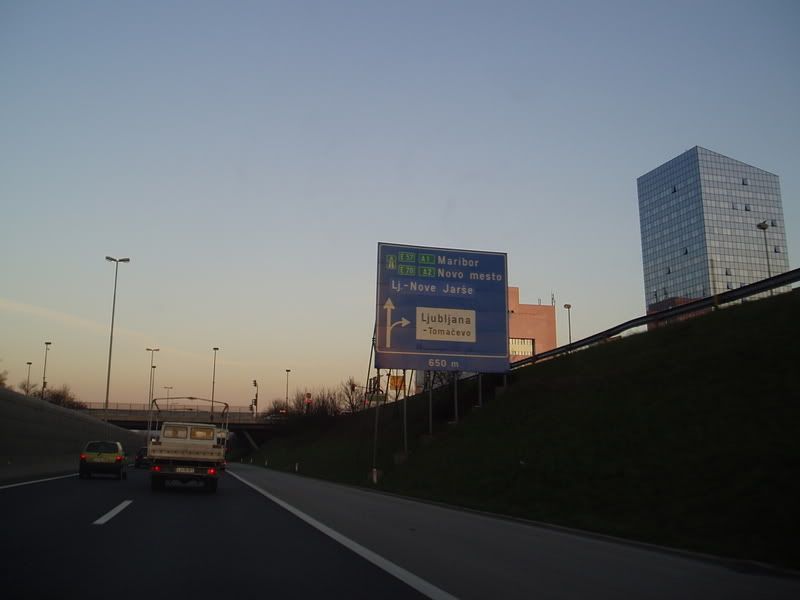 Exit for a 2-km 4-lane expressway for Trzin.
Under the Tomačevo Roundabout.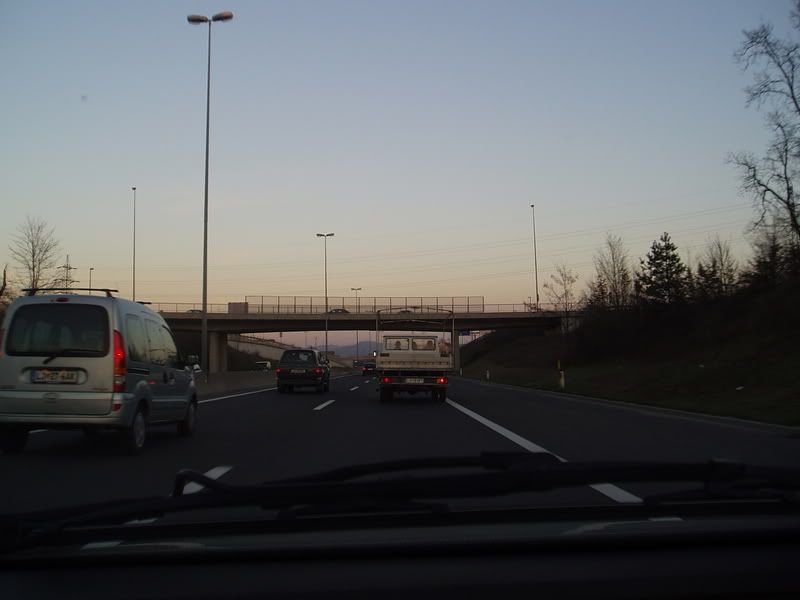 ...
These three loonies in front of me were pissing me off with their 80 km/h, but I didn't wanna overtake them, too occupied with taking photos...
A Hungarian trucker pissed off.
1500 m to interchange Zadobrova.
We're turning right...
...and ending our journey where we started (not particularly better picture though
).
This is it.