Discussion Starter
·
#1
·
Centurion Symbio-City, near Johannesburg, could catapult continent into world's skyscraper big league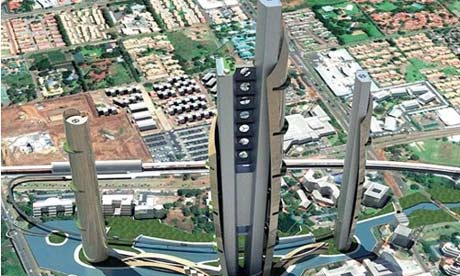 An illustration of Centurion Symbio-City, which will soar to 447 metres – higher than the Empire State Building
Visitors to the "Top of Africa" have been known to feel a little let down. The observation deck, just 50 floors up, at the top of the continent's tallest building, the Carlton Centre in Johannesburg, South Africa, is somewhat threadbare, with a quaint tuckshop and old photos on the wall.
But plans have been announced for a tower that by 2018 could catapult Africa into the world's skyscraper big league.
The structure, part of a development known as Centurion Symbio-City, will soar to 447 metres, or 110 storeys, more than double the Carlton Centre – and higher than the Empire State Building. It is set to become the 14th-tallest freestanding structure on the planet.
Located in Centurion – between South Africa's administrative capital, Pretoria, and its commercial capital, Johannesburg – the development will have one residential and two office towers. It will include hotels, shops and a convention centre and span 10 hectares of land and lake. Perhaps most strikingly, the preliminary design shows a vertical column of wind turbines embedded in the tallest tower, which includes a rooftop garden with trees and swimming pool. It will be flanked by two others of 80 and 60 floors each.
Wikipedia has a page devoted to the tallest buildings in Africa, a continent better known in tourist brochures for "big skies" and vast, flat savannas. The Carlton Centre has held the title for nearly 40 years. In second place, according to the site, is the Hassan II mosque in Casablanca, Morocco, followed by Johannesburg's Ponte City, Algeria's Bahia Centre and the Nitel Building in Nigeria.
Guy Trango, a Johannesburg-based architect and writer, said: "Historically South Africa has been quite an active skyscraper building nation, particularly in boom periods such as the 30s, 70s and 80s. The country's tallest building is still the Carlton Centre, which while tall when built (at 50 storeys) is now dwarfed by skyscrapers globally."
But he criticised the concept for Centurion Symbio-City. "I feel the plan is ill-conceived, initially because the building in no way falls into an urban context of any form. Should enormous skyscrapers be constructed in Johannesburg or Pretoria, they should ideally be the result of property constraints within dense urban environments, where up is really the only option.
"It is worrisome when developers use verticality as a development model where it isn't required, as our landscapes become blotted with random iconic structures."
The development was announced by Kgosientso Ramokgopa, mayor of the City of Tshwane, a muncipality that contains Centurion. "The availability of a variety of effective and efficiently provided public services, as well as affordable and green commuting options and amenities are all-important factors in creating a high-quality living experience," he said. "The construction of this development will also assist towards job creation, by generating in excess of 10,000 jobs during construction and in excess of 4,000 sustainable jobs post-construction."
The Johannesburg-based architect @126 has published the plans on its website but on Thursday declined to comment or confirm specifications.
The project has also reportedly been criticised by local businesses, which bemoan a lack of consultation. The Pretoria News said: "Businesses around the Centurion lakeside mall, where it is expected to be built, said Centurion was going through an economic slump and would not be able to handle the influx a project of this nature could bring."
http://www.guardian.co.uk/artanddesign/2012/may/31/africa-tallest-building-centurion-symbiocity