Old Stock Exchange

Close to the Town Square lies the 'Hofstraat'. In the middle of the street an alley leads to a small inner yard. The house which occupies a large part of the yard is called 'Den Rhijn', better known as the 'Old Stock Exchange'.
It was here that the Antwerp Stock Exchange was situated until 1533. Architect Domien de Waghemakere renovated it in 1515. The circle in the stones of the yard indicates the diameter of the clockwork of the cathedral.

New Stock Exchange

In 1531 a new Stock Exchange was built in Antwerp (again by Domien de Waghemakere). This building is located off the Meir street (Israëlietenstraat, or Twaalfmaandenstraat).
It was the first building in the world designed as stock exchange and trade exchange. The entire complex burned down in 1858. The present construction is the 19th century neo-gothic renovation. The original gothic building was greatly admired by everyone. Even Queen Elisabeth I had it copied by architect Gresham and called it the Royal Exchange of London.
The present (splendid) building has a typical late 19th century metal roof with beautiful decorations.
The focus of this building lies in the interior. The Stock Exchange is closed since 2003 due to fire regulations - till then it was used for several indoor markets and other activities.
In the meantime it is a very popular urbex location. Since 2007 plans exist to renovate this building and create a public city lounge and 5-star hotel but financial problems have kept this project from progressing. The latest news is that it would start this year.. let's hope.
We'll start with the exterior and location, on a crossroad of 4 streets in the historic centre of Antwerp.
Aerial view
Exterior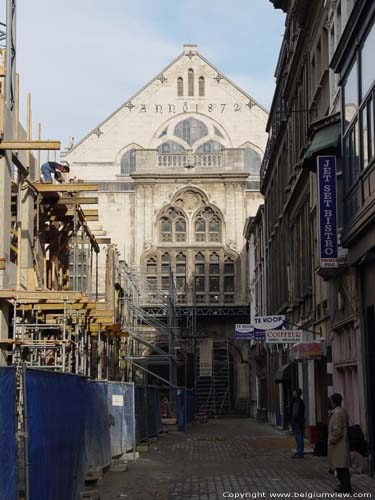 Interior