Discussion Starter
·
#1
·
Some call it the most beautiful main train station of the world, others call it a bad copy of star wars. Stuttgart plans to build a new train staion. The project is called Stuttgart 21. The project got the Mipim
Architectural Review Future Project Award 2005 and the Best-of-show overall prize.
This is the main station today. The building will be the home of some shops, restaurants and so on... (pic by
www.ilexikon.com
)
These are the rails of Stuttgart main station. After Stuttgart 21 they will be underground and on the new area there will be a new district of the town with offices, a mall, flats, bars,.... *
This is the desing of the Area A1 with its 3 skyscrapers. The construction at this area has already begun and the first buildings are finished. *
*
For this picture you can see the old main station on the left and the new Straßburger Plaza with its charakteristic 25 Lichtaugen (eyes of light). The new main station will be placed under the eyes of light.
*
*
*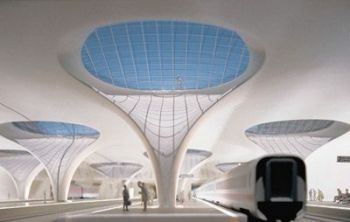 (pic by
www.archimagazine.com
)
That is going to be the view you have when you arrive at Stuttgart.
Facts:
Name: Stuttgart 21
Costs: 2.6 mrd. Euro
Construction start: 2006-2008
Construction finished: around 2013
I really hope you like it
if you have any questions just ask
* pics by
www.schips.org