Discussion Starter
·
#1
·
Giant metal "scribble" fills London's Tate gallery
29 June 2009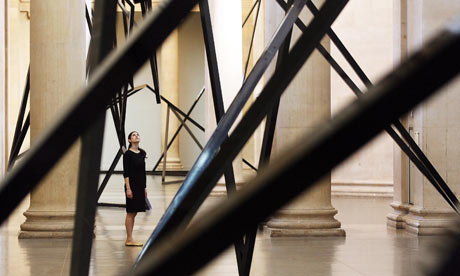 Eva Rothschild's Cold Corners zigzags through the sculpture galleries at Tate Britain, in central London. Photograph: Lewis Whyld/PA
Web :
http://www.tate.org.uk/britain/exhibitions/evarothschild/default.shtm
LONDON, (Reuters) - Last year it was a runner sprinting the length of the neo-Classical Duveen Galleries every minute at London's Tate Britain museum.
This year's Duveens Commission, by Irish-born artist Eva Rothschild, takes the form of a giant, 80-metre (263 ft) long tangle of black metal triangles which move across the gallery floor and soars above its stone columns.
Likened variously to a giant spider, bolt of lightning and angular scribble, viewers can walk around, through and under the 26 towering triangles, which barely touch the floor and are connected to each other with minimal contact.
"I wanted to produce something elevated and open that would not block the space, but would offer an alternative experience of these stately galleries," Rothschild said of her biggest work to date, called "Cold Corners."
"I want the piece to have a presence that combines clarity and confusion. It should offer itself to the eye as both whole and disparate, its skinny blackness agitating the architecture with a spidering sense of activity and strength."
Stephen Deuchar, director of Tate Britain, said the work was "monumental in scale, yet light in form" and contrasted with the "solidity" of the Duveen Galleries.
The Duveens Commission, a contemporary sculpture series, is sponsored by auctioneer Sotheby's. It was launched in 2000 and became an annual event in 2008.
"Cold Corners" will be open to the public for free from June 30 to Nov. 29.