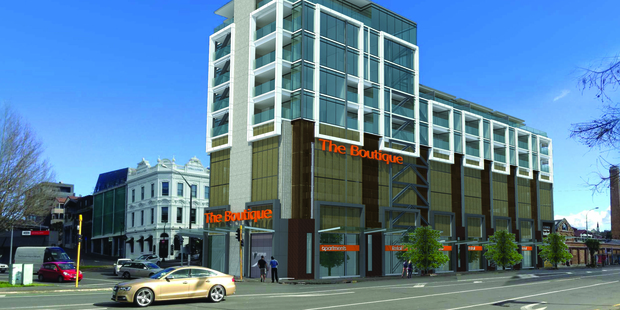 'Eyesore' carpark to get new look

5:00 AM Saturday May 17, 2014
One of Auckland's ugliest carparking buildings which its owner describes as "an eyesore" is to get a makeover and have apartments built on top.
Luke Manson of rich-list family developer Mansons TCLM, said the Auckland Council had granted resource consent for the project at 206 Victoria St West, opposite Victoria Park and next to the Victoria Park Markets.
Mansons will develop 39 two and three-bedroom 80sq m to 115sq m apartments, and instead of selling them, will rent them.
"We'll be retaining ownership and putting them into our investment portfolio," Manson said.
The project will take 15 to 18 months so the units could be available late next year.
Manson said the site was bought from Victoria Quarter No 1 by Manson's and CMP Construction.
Mansons TCLM was the majority owner and was taking the lead role in the construction, with design input and expertise from CMP Construction.
"We have named the development The Boutique," he said. "At this stage it is too early to confirm rents, but we will be looking for long-term leases for each unit."
The carpark has 200 spaces. Mansons will add an extra 30, but will disguise the building with an aluminium wrap.
"The car park, which is an eyesore, will be removed from view and beautified with screening and planting of trees," Manson said.
Steel beams would be lifted on to the top of the existing building to create an extra three levels at one point and five levels at another point.
"Because the site is a gateway corner location, we are getting extra levels," he said.
Mansons built the Lumley Centre on Shortland St and Telecom's four-building campus further up Victoria St West.
It is now developing a 20,000sq m office block on the corner of Graham St and Victoria St West, to be finished by late next year.
- NZ Herald
____________