Discussion Starter
•
#1
•
I thought it was worth starting a thread for the Edinburgh 12 strategy. Some individual sites already have there own threads but this can be a place to discuss the others and the project in general.
______________________________________
The Edinburgh 12 initiative was launched by the City of Edinburgh Council in 2013, to help progress development on a dozen strategically important sites across the city, with completion targeted by 2018.
According to CEC, it is anticipated that the combined development of the sites will deliver:
• Total gross development value in excess of £2.14 billion.
• Approx 28,000 construction & 20,000 FTE jobs created
• 1.5 million sq ft Grade A office space
• 1.3 million sq ft of retail & leisure space
• 1600 hotel rooms
• 1650 residential units (including approx. 570 affordable homes)
City Centre Opportunities: 2013 - 2020 Development Calendar
1. New Waverley (Caltongate)
A £150 million leisure, retail and office development, covering a total area of 20,500 sqm.
Project thread
Current Status:
A revised planning application by Artisan Real Estate Investors was approved in January 2014. Construction to commence in August 2014 with anticipated completion by 2017.
2. Dewar Place (Exchange 2)
A soon-to-be decommissioned substation in the heart of the Exchange District. The masterplan proposes a leisure, retail and office development, covering a total area of around 30,000 sqm.
Project thread
Current Status:
From CEC:
February 2017 is the potential review date for the Dewar Place masterplan (originally produced by London developer Hines), leading to an updated design and eventual development of the site. This is dependant on whether Iberdola/Scottish Power are interested in considering future prospects for the site, after the decommissioning of the current electricity sub-station and completion of their Glasgow HQ.
3. Donaldson's College
A historic A-listed former school with potential for high-quality residential or hotel uses.
Current Status:
Has full planning permission for the refurbishment of the existing Playfair Building to form 49 bespoke apartments, 2 gate lodges and the formation of a new build crescent offering an additional 64 apartments. A detailed design has also been developed for a five-star hotel conversion of approximately 500 rooms with associated restaurant, conference and spa facilities. The site is currently on the market for around £15 - £20 million.
4. Fountainbridge
A brownfield site bordering the Union Canal. Three sites totalling 13 acres with three landowners each proposing mixed-use developments.
Project thread
Current Status:
Fountain North (Springside) is being developed by Grosvenor, with phase 1 complete and construction commencing on phase 2. The eastern portion of Fountain South, (previously known as Freer Street) is being developed by West Register (RBS) and the first development on this site - an apartment hotel - is targeted to open in 2016. The remainder of Fountain South is being developed by the council's arms-length development company, EDI. The western end has seen the completion of student residences for Napier University and construction is commencing on the adjacent replacement Boroughmuir High School. A mixed-use masterplan for the rest of the EDI site was submitted to the council in July 2014.
5. The Haymarket
A £200 million development by Interserve and Tiger Developments next to Haymarket rail station that will deliver over 43,000 sqm of new commercial and leisure space.
Project thread
Current Status:
Construction underway - reinforcing railway tunnels beneath the site before above ground works commence. Pre-lets agreed with a number of tenants, with the first phase due for completion in 2016.
6. India Buildings
A site on the bohemian Victoria Street with potential for hotel development.
Current Status:
Site purchased in July by Jansons Property to create a £45 million, 220-room four-star hotel. The new development will incorporate the India Buildings, Cowgatehead Church and new build elements on land between Victoria Street and the Cowgate. Targeted completion date of 2017.
7. King's Stables Road
A prime location next to Edinburgh Castle suitable for mixed-use development.
Current Status:
Marketed by CEC at MIPIM 2014. Presently unclear if the Council is including Argyle House as part of a wider redevelopment or focusing entirely on the 5,300 sqm site currently on the market.
8. Quartermile
An 8 hectare scheme overlooking the Meadows that will ultimately deliver 900 apartments, 22,300 sqm of office space and 6,500 sqm of shops and leisure space.
Project thread
Current Status:
Mixed-use redevelopment of former hospital site well underway. Remaining residential, office and leisure development expected to be complete by 2018.
9. Royal High School
A neoclassical former school occupying a prominent position on Regent Road with potential to be brought into new use as a hotel or art gallery.
Current Status:
A detailed design was developed by Duddingston House Properties for a £55 million five-star hotel conversion of approximately 150 rooms with associated restaurant, conference and spa facilities. The project was known to be seeking a suitable hotel operator and additional investment but the lack of recent progress suggest it may have stalled.
10. 3-8 St Andrew Square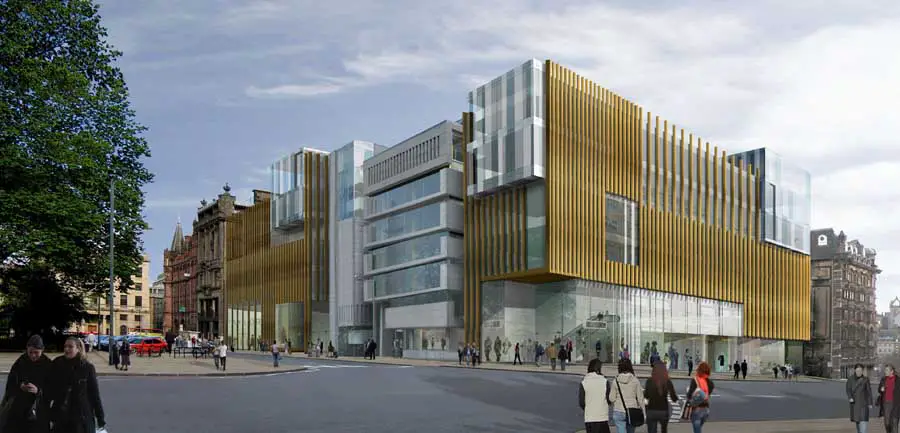 A £100 million development by Standard Life Investments and Peveril Securities that will deliver prime office suites, new retail units and rooftop apartments.
Project thread
Current Status:
Demolition underway, with the new development anticipated for completion by 2016.
11. Edinburgh St James (St James Quarter)
An £850 million project to redevelop the St James Shopping Centre and New St Andrew's House, creating a landmark development delivering a world-class shopping offer, new homes, two new hotels, leisure facilities and a wide selection of cafés and restaurants.
Project thread
Current Status:
In April, 2014, a £61 million RAM funding agreement with the Scottish Government kick-started the stalled development. Construction to commence in 2015, with anticipated completion by 2019.
12. Shrubhill
Two development sites alongside Leith Walk, one of the city's most vibrant thoroughfares.
Current Status:
The demolition of Shrubhill House is nearly complete and construction will soon commence on a new development on the site by Zigguarat Sudent Living for 260 student bedrooms and ground floor retail units. Recent plans for 340 homes on the adjacent Shrub Place site have fallen through. The site was allegedly sold to a new developer in late June 2014.