Discussion Starter
·
#1
·
.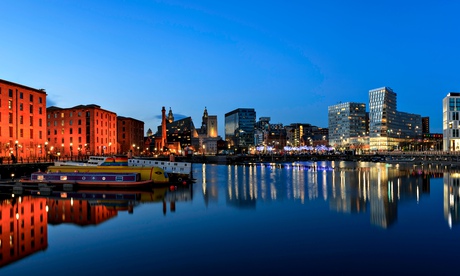 Liverpool reflected in the Mersey: "Collaborating with other cities
and other countries is the future, and it helps to be able to shape
much of that future ourselves," says elected mayor Joe Anderson.
Will the north follow Scotland and search for greater power?
The most remarkable thing about the fast train between Liverpool and Leeds is that it doesn't exist. Sure, some trains move more swiftly than others, but there's none that even the most hucksterish rail operative would call fast. Not in 2014, between two of England's leading cities, both with aspirations to have futures as well as pasts.

So it is that an hour and three-quarters after setting off from Liverpool Lime Street, you arrive in Leeds, 60-odd miles away. A London train leaving Liverpool at the same time for the 210-mile journey would arrive only 20 minutes later. And that train would be full of people doing business, preparing for meetings. The Leeds train is not full of anyone much at all.

"Yep, not the greatest of journeys," says Keith Wakefield, leader of Leeds city council when I fetch up in his office, "but I've got a better illustration." A better illustration, that is, of how the northern cities fail to connect. Manchester, Leeds's neighbour across the Pennines, is 35 miles away or an hour by train. "But only half a per cent of Leeds people ever go to Manchester; and it's the same the other way round."

Wakefield's "half per cent" statistic might seem arcane but it says plenty about how England operates. Open a map and you can draw a neat, relatively short line linking Liverpool, Manchester and Leeds, moving across country. But people and businesses, tend not to move this way, as Wakefield suggests. Northerners who leave home, whether for the day or for good, tend to head south. All roads – and fast trains – lead to London.​
http://www.theguardian.com/cities/2014/aug/31/one-north-regeneration-railways-jobs-cities
'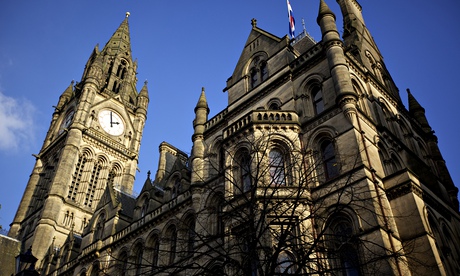 Manchester town hall: northern leaders have overcome past divisions
to bring forward a coherent plan for investment.
Whichever way Scotland votes, more power must be devolved in England
Even if the people of Scotland vote against independence, all of the mainstream political parties have promised Holyrood greater powers and responsibilities. If the nation avoids separation, this could still precipitate a constitutional conundrum south of the border as England – led by its core cities – asks "What about us?" The upcoming conference season will be a good time for politicians to offer some answers.

IPPR North has long argued that greater English devolution can both unlock national economic prosperity and drive a new wave of public service reform.​
http://www.theguardian.com/commentisfree/2014/aug/31/however-scotland-votes-england-must-change
'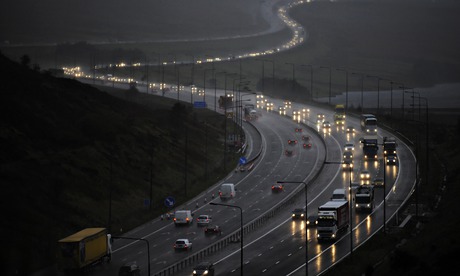 Why the 'One North' transport proposals make my heart sink
According to a popular online journey planner, I could at this moment leave my front door in south Manchester and, using public transport, be in the centre of Leeds in an hour and a quarter. I could travel to the centre of Liverpool in one hour and two minutes. Getting to the large Sharston industrial estate, in south Manchester, would also take me exactly one hour and two minutes.

As a proud resident of the north of England, I am not lacking in visions of how life here could be improved. Strangely, these have never included taking a diagonal sash stretching from Newcastle to Liverpool and transforming it into an ersatz imitation of the south-east commuter belt. Economic investment and regeneration are desperately needed, of course, and perhaps I should be cheering the proposals announced today by the civic leaders of five big cities to improve transport infrastructure to the tune of £15bn and create an economic powerhouse under the banner One North.

In truth, the plans and their paucity of imagination makes my heart sink. Who will really benefit from these developments? It is unlikely to be the poorest, the jobless, those on the merry-go-round of insecure, low-paid employment. People in poverty need employment opportunities close to home, not because they do not have the time to travel, but because they do not have the money. Despite being the most densely populated major country in Europe, England has longer and more expensive commutes than any competing country, with train passengers in particular paying up to three times as much in real terms to get to and from work each day. I can only shrug at proposals to make public transport faster, when the real need is to make them cheaper.​
http://www.theguardian.com/commenti...h-transport-proposals-england-northern-cities
.