Hello all,
I have been seeing all sorts of one photo of a day for this country and that country and I've got to say each of those threads have been astounding. I decided to start a thread on the USA and show a couple bits of each state. They may be urban pictures or nature pictures and I hope they are of an area that you may not have seen before.
Here is what I will do: I will post five photos of the day's state with a brief description. The majority of the shots will not be mine so they will also have the photographers name at the bottom.
Today we will start with the state of
Maine
: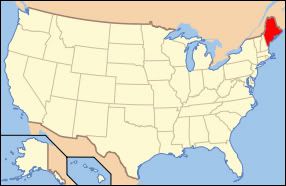 The State of Maine (IPA: /ˈmeɪn/) is a state in the New England region of the northeastern United States of America. The territory that is now Maine was at one time a part of Massachusetts. Maine is the northernmost portion of New England. It is known for its scenery — its jagged, mostly rocky coastline, its low, rolling mountains, and its heavily forested interior — as well as for its seafood cuisine, especially lobsters and clams.

The original inhabitants of the territory that is now Maine were Algonquian-speaking peoples. The first European settlement in Maine was in 1604 by a French party. The first English settlement in Maine, the short-lived Popham Colony, was established by the Plymouth Company in 1607. A number of English settlements were established along the coast of Maine in the 1620s, although the rugged climate, deprivations, and Indian attacks wiped out many of them over the years. As Maine entered the 18th century only a half dozen settlements still survived. American and British forces contended for Maine's territory during the American Revolution and the War of 1812. Because it was physically separated from the rest of Massachusetts (properly speaking, the Department of Maine was an exclave of Massachusetts) and because it was growing in population at a rapid rate, Maine became the 23rd state on March 15, 1820 as a component of the Missouri Compromise.
(From Wikipedia)
Leonard's Mills, in Bradley, Maine
By
shrike1964

Set on 400 acres in the Penobscot County town of Bradley, Leonard's Mills is a reconstructed logging and milling community of the 1790s.
Portland Head Lighthouse, Fort Williams, Cape Elizabeth, Maine.
By
Ed Karjala

Portland Head Lighthouse was built in 1791. Commissioned by George Washington and dedicated by the Marquis de Lafayette, it is the state's oldest lighthouse and one of its most beloved, with a well-appointed museum in the former keeper's house. It sits in Fort Williams Park, off Shore Road in Cape Elizabeth.
Union street from Maine street downtown Bangor.
By
Lawrence Whittemore
The British-American settlement which became Bangor was started in 1769 by Jacob Buswell, and was originally known as Condeskeag Plantation. It later became known as the Lumber Capital of America and still is exporting lumber throughout the United States of America and even to the United Kingdom.

Just one of the many churches in Bangor
By
Lawrence Whittemore
Acadia National Park
By
shrike1964

Acadia National Park preserves much of Mount Desert Island, and associated smaller islands, off the Atlantic coast of Maine. The area includes mountains, an ocean shoreline, woodlands, and lakes. In addition to Mount Desert Island, the park comprises much of the Isle au Haut, a small island to the southwest of Mount Desert Island and parts of Baker Island, also nearby.