These little projects don't get much attention on a site like this but I still think they're interesting.
Tibetan Canadian Cultural Centre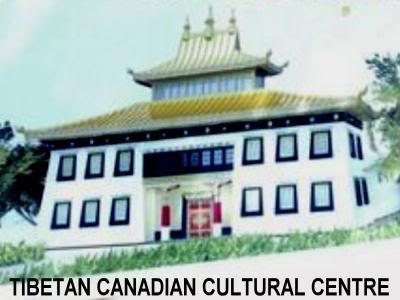 JEFF HAYWARD|Jul 28, 2010 - 4:14 PM| 1
New Tibetan centre faces time constraints
Dalai Lama to attend grand opening in October
Inside, it doesn't look like much now.
But the Tibetan Canadian Cultural Centre (TCCC) on Titan Road in south Etobicoke is undergoing major renovations. The centre's officials have big plans for the facility, $6.6 million plans to be exact, that include a revamped front entrance, gymnasium, assembly hall and "multi-purpose" room, said Lhakpa Tsering, the centre's administrative manager.
Despite a federal government funding announcement in April, work only began in early July, because of "permit issues", said Tsering.
Work had stopped July 28, with no signs of construction crews on site. But Norbu Tsering, president of the TCCC, assured in an email, "Work will resume from tomorrow", making reference to the front entrance and main hall.
However, time is running out, with a planned visit from the Dalai Lama to the centre on Oct. 23 for the grand opening.
Lhakpa is well aware of the tight timeline. He anticipates 80 per cent of the work will be done by Oct. 23, with work on "details" to continue following the religious leader's visit.
Aside from time constraints, there could also be cash restraints, he acknowledged. The federal government announced it would pay for half of the project. But, "the government promised to give us $3.3 million provided we can match that amount," he said.
Lhakpa didn't have the current fundraising numbers available, but said, "It is challenging to raise (money) ... fundraising is still going on."
The centre is not only to serve the Tibetan community, he added. "As this becomes a better place, more people will use it," he said.
The building isn't getting bigger to accommodate the project, he explained. "We are not extending, we are staying within the walls," he said, noting other upgrades could be coming. "A museum is still in the business plan."
The centre has between 5,000 to 6,000 members, he said. But centre users are not out of a gathering place during the construction; the administrative manager said the TCCC has secured space within nearby Queen Victoria Junior Public School in the meantime. "All our programs are organized there," he said.
For more information about the centre or to make a donation, visit
www.tcccgc.org
. For information about the visit of the Dalai Lama to Toronto this fall, visit
www.dalailamatoronto2010.org
More about it's giant Buddah in the Toronto Star.
http://www.thestar.com/news/article/876426--giant-buddha-set-to-greet-dalai-lama