Melbourne's busiest tram-line wasn't working this weekend: at least across Princes Bridge and past the "Arts Centre":
Trams from the CBD & the north terminated at Federation Square: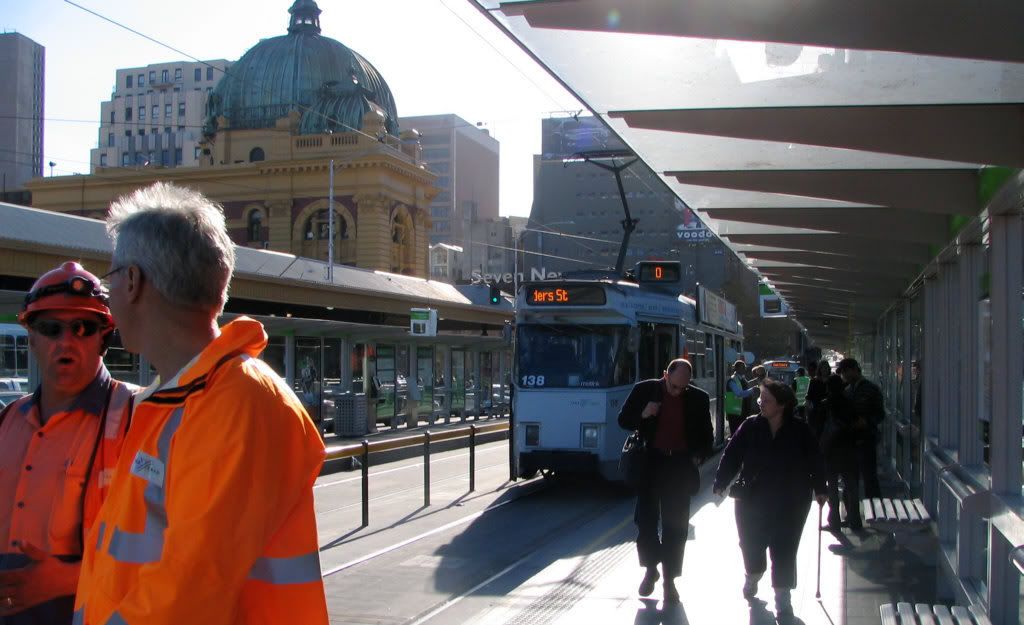 The essential cause of the problem: no. 1 trams (seen here below) which turn right out of St. Kilda Road at Southbank Boulevard:
These trams, crossing oncoming traffic, hold up the other eight routes, while they wait for the lights on what is allegedly the busiest tram route in the world. I haven't watched the performance at this intersection myself, but a little thought suggests that even a No. 1 tram well back in the queue could cause considerable delay if it missed the right-turn phase of the lights.
The solution: some triple track, providing somewhere for No.1 trams to wait (on the left as viewed here) without blocking the other eight lines. Note the new platforms being constructed here, just beyond the new junction in the foreground: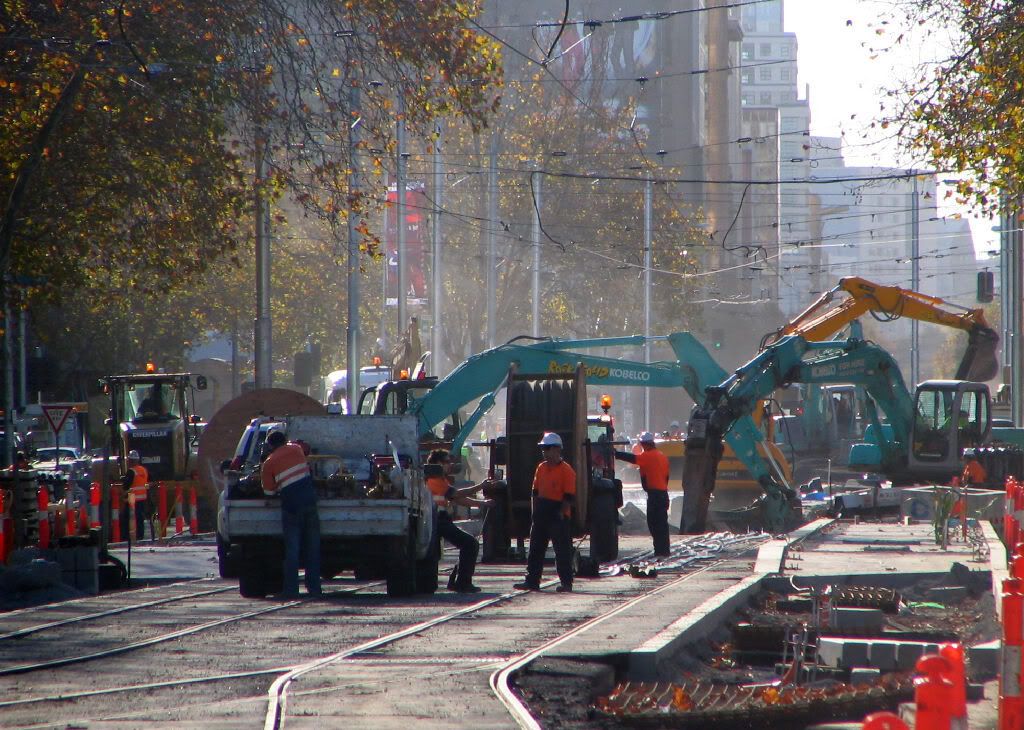 I visited this work-site this afternoon: here's that junction again, from the other side of the street in the photo above: the truck on the right below is one of two there that was waiting to place pre-constructed track-junctions in, from what you can see above, was a very busy construction site: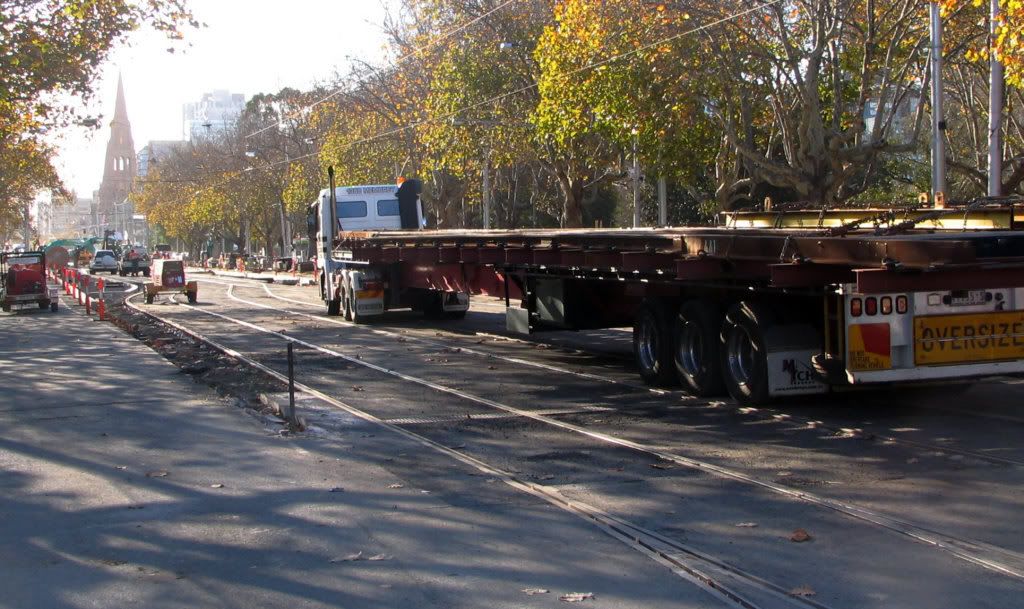 I was told by one of the guys in bright orange that they were installing a "double crossover". While this may be an acceptable explanation for a general enquiry, it doesn't seem to be quite accurate.
South of Southbank Boulevard five Plunkett crane-trucks were parked: with someone's sedan in front, apparently just to make sure they didn't move until the right time (I say this because there was another obvious example on the site). Hadn't noticed this procedure before, but I guess it makes sense: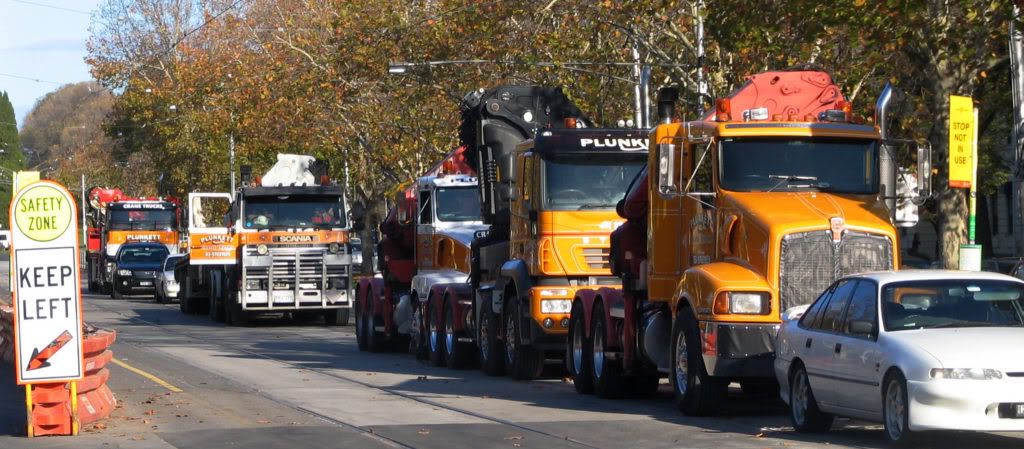 The main action was coming from half a dozen excavators out front of the NGV (International):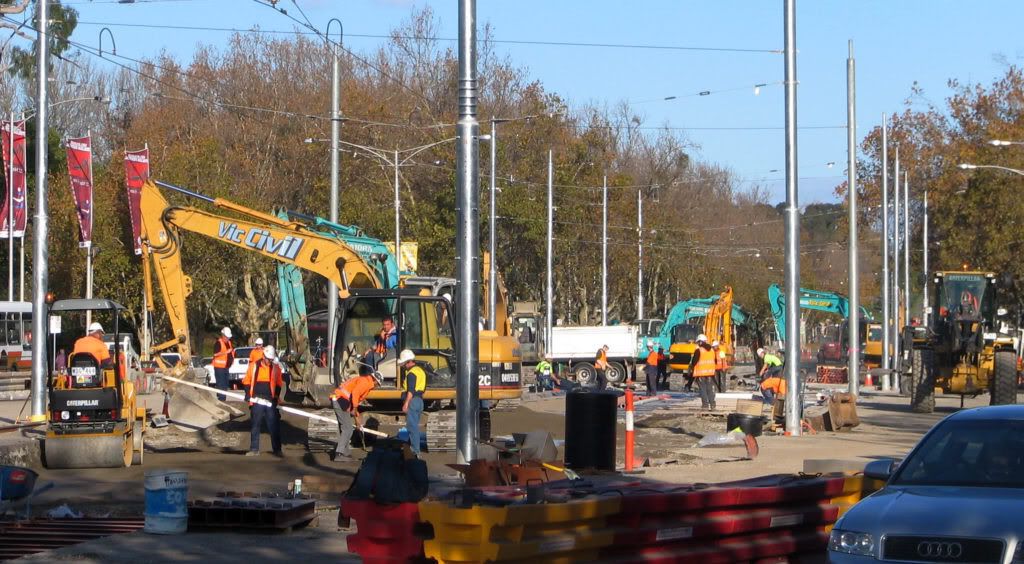 But there were sundry other works going on as well. For instance, replacement of all the traffic lights by LED signals:
I suspect there might have to be a bit of overhead wiring redone by Monday morning as well.
I'm not such a construction-site junkie that I was going to hang around all afternoon watching this, but one of the men in orange told me it would be about half an hour till they moved this truck ...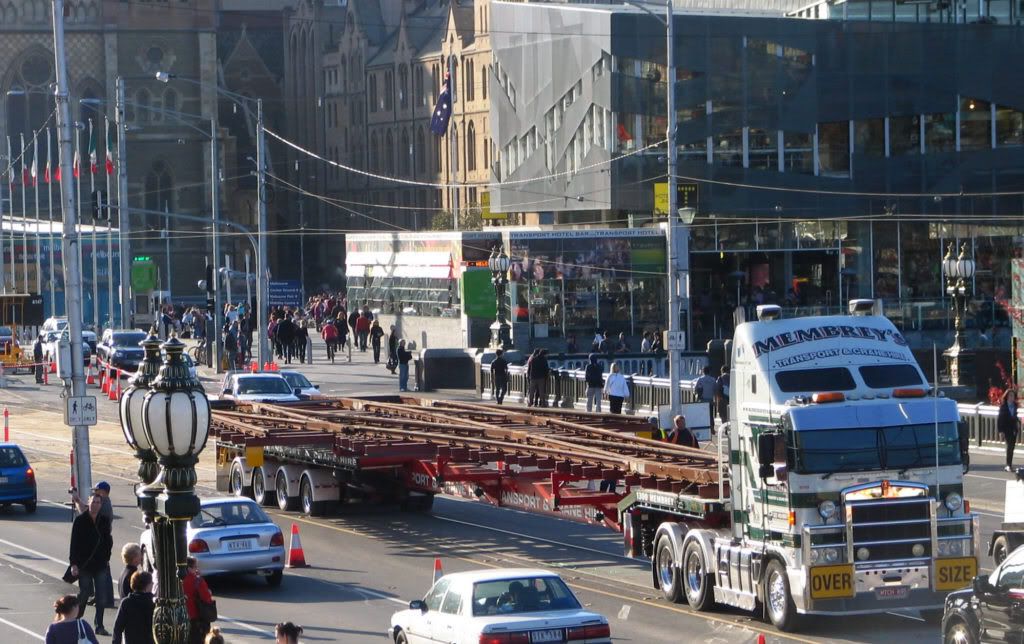 It was waiting, at that stage, just past Federation Square, on the nothern span of Princes Bridge, so I thought I'd like to see the mass of tram-track on its back lifted into place.
"My pride and joy!" said its owner, as he sidled up beside me with his camera. He was talking about his truck. Well, one of them, anyway.
The truck was not alone: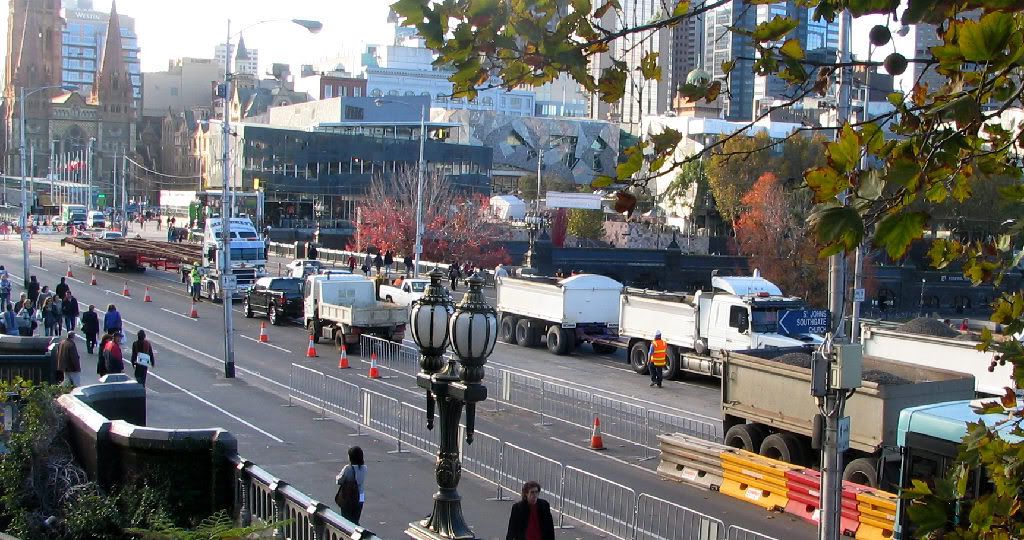 If I read things correctly, these other trucks were positioned in order to bury those sleepers pretty quickly ...
Eventually the truck moved forward.
It moved slowly south, and then backed into the excavated road-surface in front of the concert hall: you can see that it's a Y-junction. There'll be a central "stub" to turn trams round in the middle of the road here ... and the trip up or down St. Kilda Road is going to have a few kinks in it.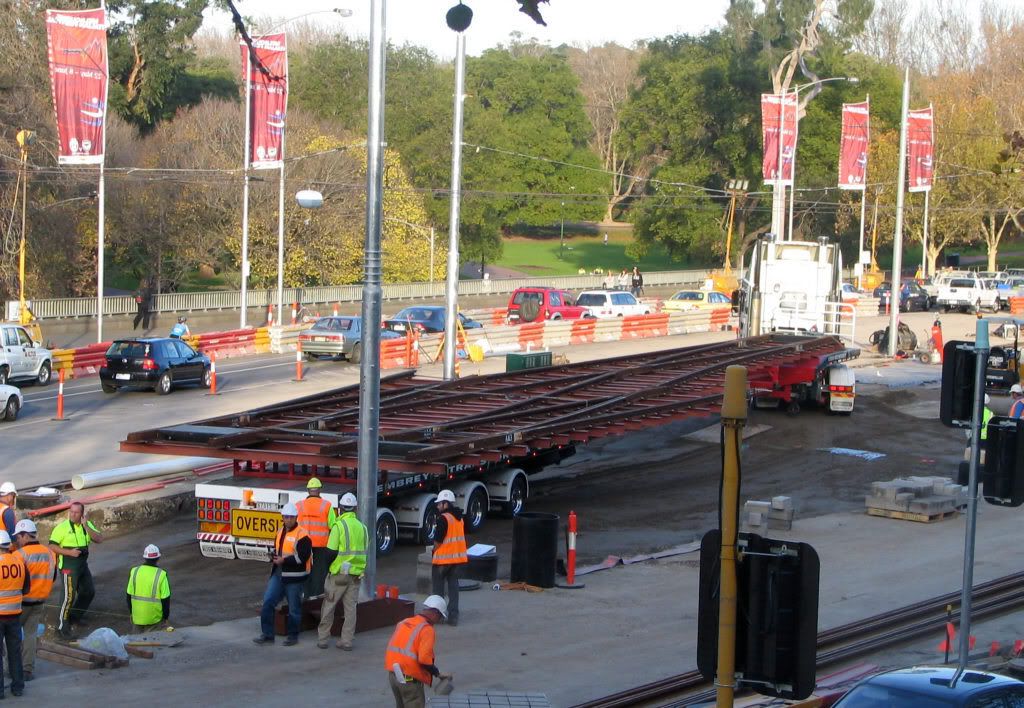 Meanwhile, the five crane-trucks had moved from south of Southbank Boulevard to Federation Square: I was surprised that they hadn't done U-turns, but they must have subsequently done that while I was watching the big truck.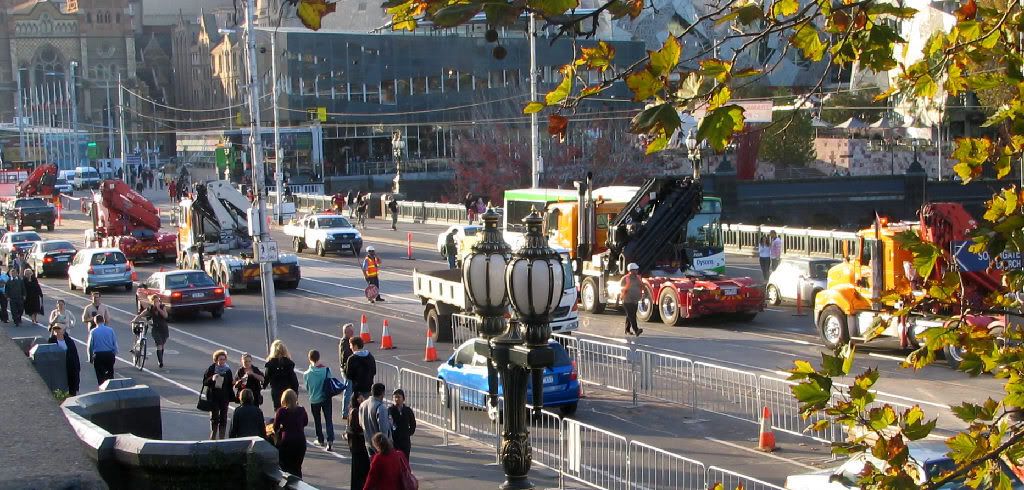 Preparing to lift:

The truck pulls out ...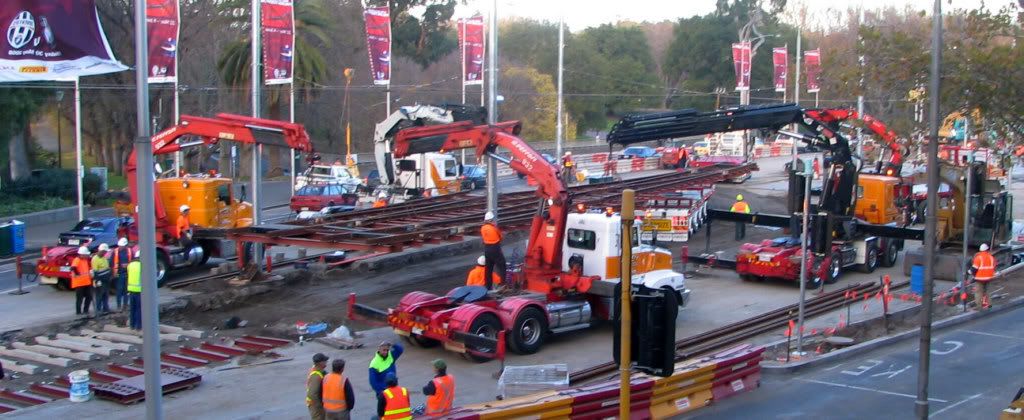 And the track is (almost) placed ...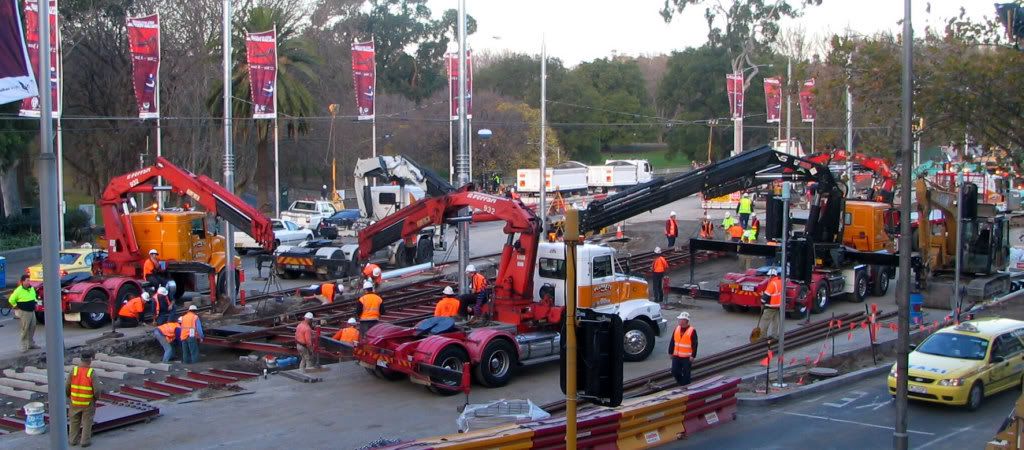 I wasn't the only person photographing this, and another guy commented that that they were taking their time: they were obviously trying to place this very accurately, since moving it once it was on the ground- moreso after those five cranes had moved on- would be very difficult.
A lot of work to do to get a functioning tramline in operation by Monday: including placing the junction on the second truck: and joining all that track up!
There was a bus-service ferrying passengers around the construction site ... lots of different companies. I was going to post a photo of a Dysons bus here with "Tram Replacement" showing as its destination: but it wasn't a particularly interesting photo, unless you don't know what a bus looks like, or you really get off on buses.