Discussion Starter
·
#1
·
Al Maabar International Investments Company announced its plans to build one of its biggest projects in the African Continent. This project is Bled El Ward on the northern rives of the capital Tunis on a total area of 5 Thousands Hectares,
with a total costs that reaches $ 10 billions.
Yousef Al Nowis, the Managing Director and member of the Board, declared, in Tunis after having presented the project before President Zine Alabidine Ben Ali on Monday February 04th 2008, and in the presence of Sheikh Abdullah bin Zayed Al-Nahyen, Minister of Foreign Affaires of United Arab Emirates, that Bled El Ward presents a one-of-a-kind achievement in the Mediterranean southern part region.
In fact, it developed a modern city made up with many components such as the International Health city, water channels in addition to tourist resorts, residencies, sport facilities, Golf fields, and areas for shopping, entertainments and open space in a complete synergy between "Live, Work, and Play".
Al Nowis also clarified that the project of Bled El Ward is derived from the old name of the Tunisian city, Ariana, which is known for its beautiful roses and flowers and its soft breeze. Its design gets its name from the old architecture history. It is based on the most modernized architecture styles. Furthermore, it gives priority to the environment and nature as whole, with its sea and forests sides. It also provides 50 Km of beaches through its water channels.
On the other hand Ahmad Al Sayegh, Chairman of the Board, unveiled that a Memorandum of Understanding was signed with the Tunisian Government last December 2007 and that Zine Al Alabidine Ben Ali salutes the high standard of the project's design. This gives way, today, to start the implementation of studies to complete with all the procedures and starting the execution.
Al Sayegh declared that the realisation of Bled El Ward project will be on many phases. The first is Diar El Fel zone that covers 300 hectares, 190 Hectares will be devoted to building. The development period of this project will be 5 years.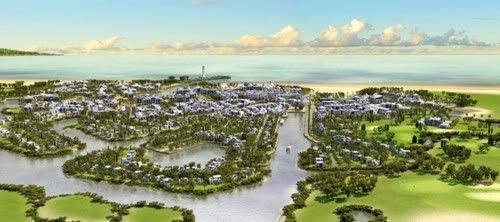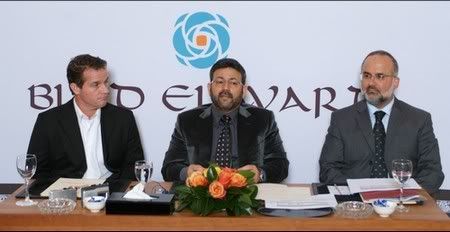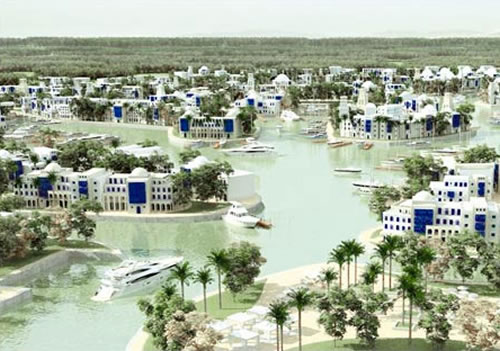 Aerial view of the site :