#U/C: World Trade centre complex New York 541.3m to spire/417m to roof
I think this development deserved its own thread.
The former World Trade Centre site is a beehive of activity.
The project is expected to be completed by 2012.
The project involves building three towers over 300m and one that is 288m,
200 Greenwich street, a 411m tower and the second tallest of the WTC site towers.
Then there's 175 Greenwich Street, a 352m tall office building(383m with Spires)
The 288m 150 Greenwich street office tower
And the tallest of the lot, the 541.3m to spire, 417m to roof Freedom tower.
Here are some rnders of the finished site-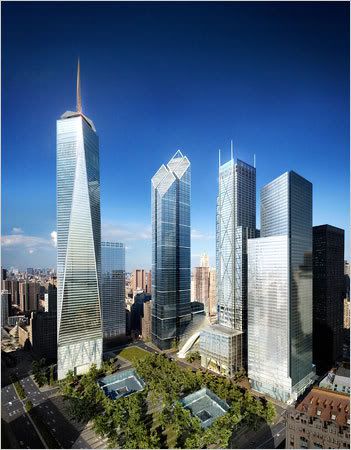 This is an interesting article regarding the project-
Homeless man finds secret Freedom Tower plans in rubbish
Article from: AAP
April 19, 2008 08:48am
THE US Government is investigating how the top secret plans for a skyscraper at the World Trade Centre site were found by a homeless man in the rubbish.
The schematic documents for the 102-storey Freedom Tower, under construction at Ground Zero, were marked "Secure Document - Confidential," the New York Post reported today.
The documents, dated October 5, 2007, contain plans for each floor, the thickness of the concrete-core wall, and the location of air ducts, elevators, electrical systems and support columns, the Post reported.
Michael Fleming told the newspaper he found the documents on top of a public garbage bin in downtown Manhattan, with written warnings on it to "properly destroy if discarded".
The Port Authority of New York and New Jersey, which owned the World Trade Centre and is building the 1,776-foot (540-metre) Freedom Tower, has protocols requiring contractors and architects with secure and non-secure documents to shred them, spokeswoman Candace McAdams said.
The agency's inspector general is investigating the disposal of the documents, which McAdams said are bidding documents given out to contractors, agency staff and selected companies bidding on work.
Mishandling the blueprints would be "cause for serious disciplinary action - up to termination for employees and breach of contract and legal action for contractors," she said, although she added the plans have been updated many times since October.
Police were not investigating the disposal; Tishman Construction Corp, the main contractor building the tower, declined to comment and a spokesman for the building's architect, Skidmore Owings & Merrill, did not return a message seeking comment.
If you have any comments on the project, or any pictures feel free to post them here.