Discussion Starter
·
#1
·
Just put together a few of my favourite projects that unfortunately were never started/finished. Slightly depressing to see all this ambitious architecture that has been cast aside.
One Berkeley Court
Architect: Henning Larsen Architects
Landmark 37 storey tower standing 132 metres, sculpted like a diamond. It would have had at its base, a cultural quarter and would have been positioned at the entrance to the former Jurys Hotel and been centred on the median of Pembroke Road.
North Wall Quay
Architect: Zaha Hadid
Landmark flowing tower at North Wall Quay. Designed by Zaha Hadid, it would have faced the proposed U2 Tower.
U2 Tower
Architect: Foster and Partners
The original proposal for the Capital Docks site. The Norman Foster design was a tilted triangle. It had mainly luxury apartments, with a public viewing platform at 100m, just below an acoustically-insulated egg-shaped pod containing the U2 recording studio. Above this was to be an "energy centre" containing wind turbines and a large solar panel. The east and west facades were crinkled in the manner of fish scales, with concealed balconies. The north facade would have been sleek, while the south facade had further solar panels. The building would have straddled the end of Sir John Rogerson's quay, allowing traffic to pass through its base.
Fruit and Vegetable Market
Architect: HKR Architects
Along with the redevelopment of the Smithfield Fruit and Vegetable Market there was to be a new mixed use development designed by make architects.
Bifrost
Architect: 3XN
Speculative design for an eco-living development in Dublin called Bifrost. Arranged as a continuous unbroken building, the building is split up into a series of different areas that offer a total of 186,000 square meters of high density mixed-use space. Inside the figures of 8 are two large areas, one of which is accessible to the public and the other that will be for occupiers of the scheme, criss-crossed by a series of sky-bridges. The blocks were arranged so that the direct sunlight penetration can be the maximum so it can reach the full height without completely overshadowing the interior.
City Quay Proposal
Architect: Scott Tallon Walker
The scheme presented achieved 51 apartments and 16,000m2 of commercial space, representing a plot ratio of 9:1.
Drury Street
Architect: FKL Architects
A invited-competition entry by FKL for a commercial development in Drury Street in Dublin's south city centre. Currently the site of a multilevel carpark. A mixed use building with several floors of apartments, three floors of offices, and five floors each of retail and parking. The various uses within the building are all accessed through a central twisting atrium.
Docklands Baths
Architect: Julien de Smedt Architects
The Dublin Docklands Open Air Bath sought to create a new and open public space that would have energize the newly developed surrounding area. A catalyst for growth of new social activity, this public bath also would have served as a link across the Grand Canal, consolidating the Docklands Area and continuing an important passage through the city of Dublin. Consisting of a children's pool, diving pool, semi-Olympic pool, changing facilities, and a café, this addition to the Dublin Docklands would have maximized the potential for social development and land development.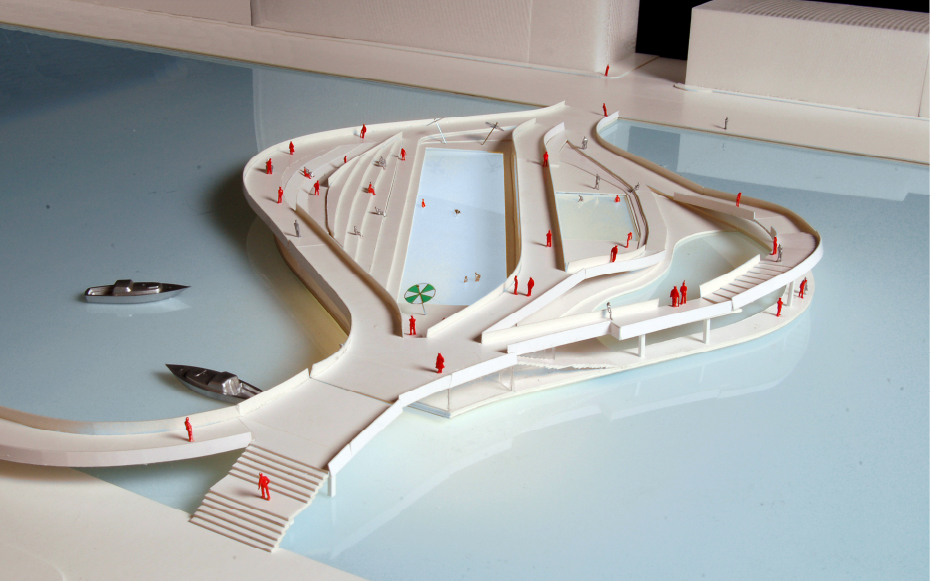 National Concert Hall Redevelopment
Architect: 3XN
3XNs proposal for the hall was a sculptural showcase which created a new architecture for music and provided a framework for the historical context upon which the new concert hall would have sat. The Concert Hall would have been composed of three sculptural volumes, each of which contained its own individual concert hall.
The Watchtower
Architect: Scott Tallon Walker
There were plans to build a 120-metre skyscraper, which would have included apartments, office space, a miniature TV and radio studio, and rooftop bar and restaurant with panoramic views over Dublin Bay. Although the developer invested circa €15 in underground works, the project was abandoned due to the difficult economic climate faced by the developer.
Clarence Hotel
Architect: Foster and Partners
Costly development (possibly up to 150million) planned to revamp the Clarence Hotel on Wellington Quay, by rebuilding adjacent buildings, and adding several floors. The design got bogged down in the planning permission and appeals process, and eventually seems to have died.
VHI HQ, Abbey Street
Architect: McCauley Daye O'Connell
In 2004, VHI appointed McCauley Daye O'Connell to prepare a design to create a new high quality contemporary extension to its existing VHI Headquarters which incorporated Scot's Church and also provides much needed additional office floor space.
Dublin Airport Control Tower
Architect: Scott Tallon Walker
Proposal to build an 87m control tower for Dublin Airport in conjunction with the construction of the parallel runway.
Dublin Central (Original)
Architect: BKD, McGarry Ni Eanaigh and Donnelly Turpin
The proposed Dublin Central development, encompassed shops, apartments, restaurants and an art gallery. The centrepiece of the plan was a 50-metre-high roof garden called the 'Park in the Sky' which would have offered panoramic views over the city.
National Convention Centre Hotel
Architect: Shay Cleary Architects
A proposal for a hotel which would have completed the new National Conference Centre. A pool, fitness centre and spa were to be located in a double height space on the eighteenth level, for the use of hotel guests. Above and below this were residential suites and hotel bedrooms, with multi-purpose business, recreational and guest's amenities located at the top of the building approximately from levels thirty one to thirty six.
Liberty Hall Redevelopment
Architect: Giltoy McMahon Architects
The new Liberty Hall rebuilt on its historic site sought to be Dublin's premier contemporary urban landmark. Situated downriver from the central O'Connell bridge its glass clad slender form rose in dramatic crystalline formation marking the transition of city to port. The building proposed a range of public facilities including theatre and conference facilities positioned just off a welcoming public hall at ground level with a dramatically accessed skydeck, exhibition and café at rooftop levels.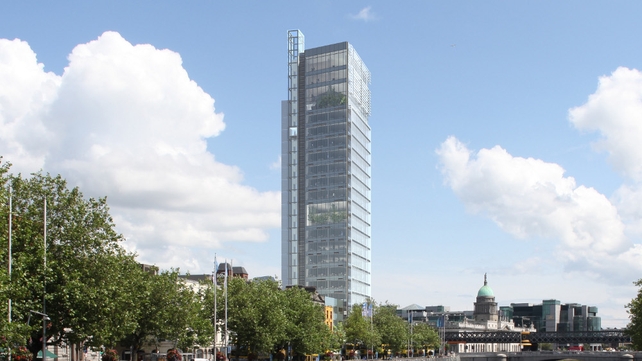 I realise a lot of these are quite controversial but I think collectively they would have improved the architecture of Dublin.
I'd love to hear which other proposals you wished had been built.
Credit for most of the information and photos has to go to Archiseek.