Al Abadiyah Hills
Bhamdoun, Lebanon
A luxurious mountainside retreat in Bhamdoun, overlooking Beirut. This 7.5 hectare project will comprise of high end residential villas, town houses, apartments, in addition to a world renowned spa and beauty clinic, which will be managed by Kempinski Hotels.
www.abadiyahhills.com
​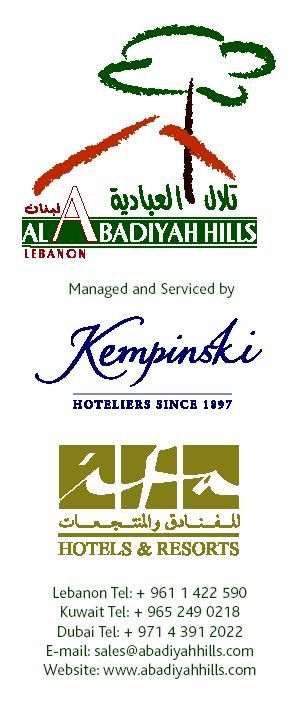 From IFA Hotels & Resorts:
Alabadiyah Hills will consist of private villas, townhouses, and apartments with two distinctive design styles creating the Village Residence and the Tower Residence. Most of the villas and townhouses will have their own private gardens and swimming pools with spacious layouts serving the needs of the highest individual requirements. The Tower Residence is designed around an inner courtyard on the pinnacle of the resort and the Village Residence is nestled around the gardens and water features.

The resort will be managed by Kempinski, Europe's oldest luxury hotel group, which acquired its first property in 1897.

The resort will offer state-of-the-art facilities including a members-only health club, gymnasium, swimming pool, tennis court and other facilities. One of the features of the resort will be its world-renowned spa and beauty clinic where visitors can experience the latest treatments in one of the most picturesque settings in the world.

The exclusive townhouses will start from US$ 750 000 and residences from US$ 280 000 for the one bedroom unit to over US$ 500 000 for the deluxe five bedroom unit and villas are priced on their specific layout and location. The above prices reflect the highest quality used in building the apartments as well as the service and facilities provided by Kempinski and the unique location of Alabadiyah Hills.
Renders:
Map: