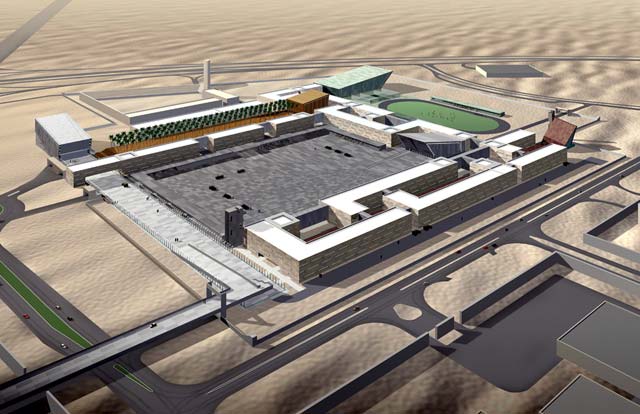 The project total value:US$ 121 million
Execution period: 1278 days.
The project is located on Al Raqaay area, beside the 4th ring road.
The project scope of work:
The construction of:
• 5 residential and dormitory buildings
• 4 educational academic buildings
• 4 administrative buildings
• 5 recreational and sports buildings, a restaurant, a library, a theatre and a mosque.
• 5 training buildings
• Central air-conditioning station, an entrance, Wood Court, Pistol Range, roads, fences and landscaping.
The project owner: Ministry of Public Works in Kuwait
Designer: The International American Office (SOM) Skidmore Owings & Merrill LLP with Kuwaiti Gulf Consulting Office.
-----------------------------------------------
The estimated costs of establishing, constructing and maintaining the new police academy compound ـ to be built over
304,284 square meters at AlـMubarakia military camps in the Gـ1 Area
ـ is expected to reach up to
45.5 million Kuwaiti dinars
, official said.
Speaking to Kuwait News Agency (KUNA), the project''s engineer Saeed AlـAmir said that the new police academy would include an Olympicـsize swimming pool,a mosque, sports courts, towers, training centers, chambers, a library, cafeterias, a theatre hall, and a showground to hold the annual graduation ceremonies.
The project reflects the tactical, traditional and Islamic architecture lines, he said, and was designed to endure the harsh weather conditions here.
The police academy building is designed to embrace 1,200 officers and 165 training crew.
The latest technology is to be implemented in the new project, AlـAmir added.
To save energy and time, bridges will be constructed to link the project''s buildings, he said.
The project also includes an external parking lot with a capacity of 993 cars, plus an inner parking lot enough for 1,006 vehicles, he added.
The project''s construction is
expected to be completed by November 2011
-
Al-watan daily
------------------------------------------------------------
Skidmore, Owings & Merrill
Kuwait Police Academy, Kuwait City
There's nothing predictable about the design for the Kuwait Police Academy. It's the product of an intriguing collaboration between SOM and artist James Turrell. Boardroom SOM and sky-gazing Turrell somehow make an unlikely pair, though Turrell also likes to operate on a grand scale and is no stranger to the nuances of desert light. In any event, it is probably fair to assume that light installations and such sophisticated design have never met in a police training facility. One can understand Kuwaitis wanting to bolster confidence and security following the Gulf War, and one would expect money to be no object, but the academy still has an embarrassment-of-riches feel. It reminds one that inspired architecture can be found in the most unexpected places.
The thoughtfulness of the design can be seen in the building surfaces, constructed from modules that evoke the Kufic calligraphy of Islamic architecture. Most striking, perhaps, are the light chambers that Turrell designed for the entrances of the dormitory and adminstrative buildings. Turrell, perhaps just for his own edification, has given them names like Sky-Pond, Void-Circle and Big Open; names worthy of a Zen monastery. Away from a vast courtyard, there are other features that inspire pause, including a boardwalk oasis planted with royal palms and a trapezoidal mosque with water pools and oblique light shafts.
Will Kuwait become home to the calmest, most enlightened police in the world? Some may never want to graduate.
-
Contemporary Magazine
-----------------------------------------------------