Hi all, here are some pics I took yesterday while wandering through several of the different eastern neighourboods near downtown. I started by taking the SkyTrain to Commercial Drive, then gradually made my way west into Strathcona, Chinatown, the Downtown Eastside, Gastown, and the ended up in the eastern part of the CBD.
This is Part 1 of 2
Part 2:
http://www.skyscrapercity.com/showthread.php?t=892164
A rough map of my approximate route: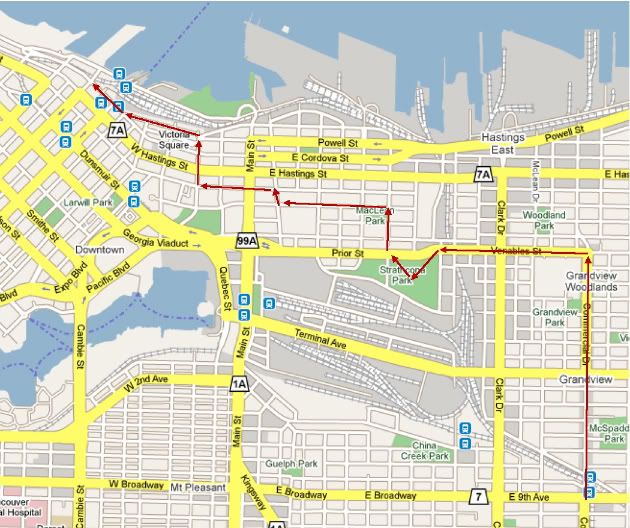 Riding the SkyTrain to Commercial Drive from downtown
View from Broadway/Commercial Station looking towards downtown
Residential side street
Quick jaunt down a residential side street
Back on Commercial
Looking towards downtown
And now I turn down Venables into a more light industrial part of town
A woman giving somebody directions
Residential side street looking down to the port
A pleasant day for a walk
I would've sworn "logotized" isn't a real word
I love this place. They practically have every flavour imaginable, including some I have zero desire to try. It is in a strange location but still manages to draw a crowd.
And suddenly the industrial gives way to a pleasant residential neighbourhood as I reach Strathcona
That is the end of Part I. See Part II here:
http://www.skyscrapercity.com/showthread.php?t=892164