Simón Bolívar International Airport
Simón Bolívar International Airport (IATA: CCS, ICAO: SVMI)
(Spanish:
Aeropuerto Internacional de Maiquetia Simón Bolívar
) is an international airport located in Maiquetía, Venezuela, about 13 miles (21 kilometers) from downtown Caracas.
Simply called 'Maiquetia' by the local population, it is the top international air passenger gateway to Venezuela among the twelve international airports in the country.
It handles flights to many important cities in the Americas, the Caribbean, Europe and the Middle East.
Number of runways: two
runway one:
Direction: 10/28
Length: 11.483 feet-3.500meters
runway two:
Direction: 09/27
Length: 9.930 feet-3.027meters
Statistics
In 2011, the airport handled 9,509,874 (Up to 12/19/2012).
Destinations and airlines:
Central America:
Havana
Conviasa, Cubana de Aviacion
Oranjestad
Aserca Airlines, Avior Airlines, Gol Airlines, Laser Airlines, Venezolana
Panama City
Copa Airlines, SBA Airlines, Venezolana
Port of Spain
Caribbean Airlines
Punta Cana
Aserca Airlines, Gol Airlines
Santo Domingo
Venezolana
San Juan
American Airlines
San Jose
LACSA
Willemstad
Avior, Dutch Antilles Express, Insel Air
Europe:
Frankfurt
Lufthansa
Funchal
TAP Portugal
Lisbon
TAP Portugal
Madrid
Air Europa, Iberia
Paris
Air France
Porto
TAP Portugal
Rome
Alitalia
Tenerife
SBA Airlines
Middle East:
Damascus
Conviasa
Northamerica:
Atlanta
Delta Airlines
Dallas
American Airlines
Houston
United Airlines
Mexico City
Aeromexico
Miami
American Airlines, LAN Airlines, SBA Airlines
New York
American Airlines
Toronto
Air Canada
Southamerica:
Barcelona (Venezuela)
Aserca Airlines, Avior Airlines, Conviasa
Barinas
Avior Airlines, Conviasa
Barquisimeto
Aeropostal, Aserca Airlines, Avior Airlines
Bogota
Avianca, Conviasa, Copa Airlines Colombia, TAME Airlines.
Buenos Aires
Aerolineas Argentinas, Conviasa
Ciudad Bolivar
RUTACA Airlines
Cumana
Venezolana
El Vigia
Conviasa, LASER Airlines
Las Piedras
Aerotuy, Aserca Airlines, Conviasa
Lima
LAN Peru, TACA Peru
Los Roques
Aerotuy
Maracaibo
Aeropostal, Aserca Airlines, Avior Airlines, Conviasa, Venezolana
Maturin
Aeropostal, Aserca Airlines, Conviasa, RUTACA Airlines, Venezolana
Medellin
Copa Airlines Colombia
Porlamar(Margarita Island)
Aeropostal, Aerotuy, Aserca Airlines, Avior Airlines, Conviasa, LASER Airlines, RUTACA Airlines, Venezolana
Puerto Ayacucho
Conviasa
Puerto Ordaz
Aeropostal, Aserca Airlines, Avior Airlines, Conviasa, RUTACA Airlines
Quito
TAME Airlines
San Antonio del Tachira
RUTACA Airlines
San Tome
Conviasa
Santo Domingo del Tachira
Aserca Airlines, Conviasa, LASER Airlines, RUTACA Airlines
Santiago de Chile
LAN Airlines
São Paulo
Gol Airlines, Tam Airlines
Valencia(Venezuela)
Aserca Airlines
Valera
Conviasa
Photos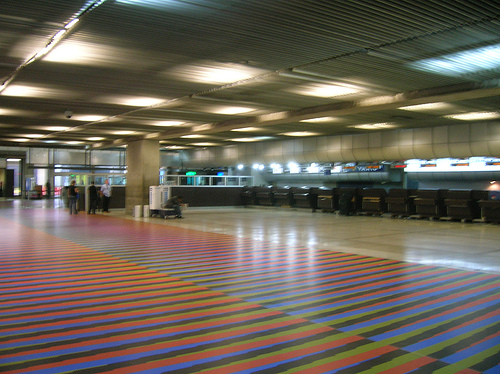 all right reserved