Discussion Starter
•
#1
•
Herzog & de Meuron plans London towers

16 January 2009
By Will Hurst
Swiss practice is working with Shard developer on UK's tallest residential development
Herzog & de Meuron is working with the developer behind the Shard, Sellar Property Group, on credit crunch-defying designs for the tallest residential development in the country.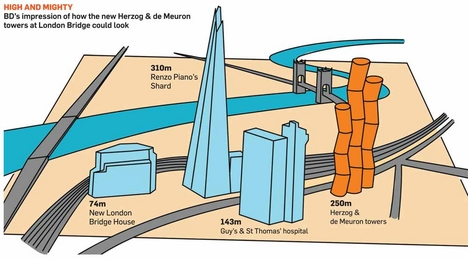 In an extraordinary move given Britain's worsening recession, the Swiss-based practice is proposing three slender and snaking towers with respective heights of 100m, 200m and 250m, close to the 310m-high Renzo Piano-designed Shard and soon-to-be-redeveloped London Bridge station.
If successful, the glazed scheme, dubbed the Three Houses project and masterminded by Sellar managing director James Sellar, who also commissioned Herzog & de Meuron for the proposed new Portsmouth FC stadium, would signal the emergence of a long proposed cluster of skyscrapers at London Bridge to rival those of Canary Wharf and the City.
The towers, which would dwarf Ian Simpson's proposed 175m-high Beetham Tower at Blackfriars, would boast 380 apartments, along with a hotel, and retail and cinema space. But the sheer scale of the project is already dividing opinion among the select few who have seen it.
Fashion designer Zandra Rhodes, whose home and studio would be overshadowed by the proposed skyscrapers, has seen early plans and backs the scheme, but said it needed modification before being submitted for planning.
"This would fit in with the Shard," she said. "These blocks would be good for the area and will tie in with other things going on. At the moment, this area is only car parks and needs reworking."
But Rhodes also called for the scheme to include parkland, and for the tower nearest to the Bermondsey Street conservation area to be modified to lessen its impact. "You don't need blocks annihilating Bermondsey Street," she said.
New London Architecture director Peter Murray also gave the scheme his support.
"It's quite a brave thing to be proposing at the moment," he said.
"But they are looking at a very long-term plan, which is always a good thing."
However, officers at Southwark Council are believed to have serious reservations about the height of the towers, a view echoed by local developer and conservation specialist Russell Gray.
"High-rise buildings have a place," he said. "But this is slap bang next to buildings of consistent character and scale. I'm not impressed by this brash, brazen, in-your-face approach.
"If it got permission, it would establish a precedent… and you could do something a lot cheaper and nastier."
The tallest tower, which would be 65 storeys, would include 121 flats along with the hotel, while the shortest, at 31 storeys, will boast 144 flats. The other tower will have a total of 115 flats contained within 51 storeys.
Sellar Property Group declined to comment, but is due to unveil the project officially with Herzog & de Meuron in mid-February.
The Shard itself is set to be the tallest tower in Europe. Work on the skyscraper — part of a wider £1.4 billion complex — is due to begin this month after a vital investment was made last month by Middle Eastern developer Qatari Diar.
JAMES SELLAR
The 35-year-old managing director of Sellar Property Group has emerged from his father Irvine's shadow as a patron of high-quality architecture. He has commissioned Herzog& de Meuron for a stadium for Portsmouth FC and appointed David Chipperfield to work up plans for a major office scheme in the City of London.