Discussion Starter
·
#1
·
AMIGOS ESTAMOS EN LA OBLIGACIÓN MORAL DE VOTAR A FAVOR DE LO NUESTRO, ORGULLO SURAMERICA. YA ES HORA QUE EL TURISTA PONGA LOS OJOS EN SURAMERICA!!!!!!!!!!!!!!!!!
¡¡CAEMOS EN EL RANKING....!!!!
Esto si que es una noticia desalentadora, estamos a la cola, increíble.
Los extranjeros se sienten maravillados por nuestras riquezas nacionales. Es nuestra oportunidad ahora de demostrar al mundo el gran amor que sentimos por lo nuestro, por Macchu Picchu. Sigamos haciendo campaña en favor de Macchu Picchu y los que aún no han votado, por favor, ¡¡háganlo ya!!!
1º: La Gran Muralla China
2º.-El Taj Mahal
3º.-El Coliseo Romano
4º.-La ciudad de Petra
5º.-El palacio Alhambra
6º.-La pirámide de chichen Itza
7º.- Macchu Picchu
8º puesto sigue creciendo (Los monolitos de Stonehenge) Parece ser que Macchu Picchu, esta sentenciada a salir de la lista, ya que es la que menor voto diario recibe en este momento.
Y la de 8º puesto sigue creciendo (Los monolitos de Stonehenge). Y esta a pocos votos de alcanzarnos.
Aquí están los candidatos con menor oportunidad de la lista y que nos conviene votar, ¡si queremos salvar a nuestra candidata...!!
1.- Timbuktu.
2.- Opera House de Sydney
3.- La estatua de la Libertad
4.- the Kremlin and Red Square
5.- The Hagia Sophia
6.- Cristo redentor
Si no nos preocupamos por apoyar a Macchu-Picchu, quedaremos fuera.
Todos tenemos acceso a la página. Es muy fácil ingresa:
http://www.new7wonders.com
http://www.new7wonders.com/
SÓLO QUEDAN 25 DIAS.
ES AHORA O NUNCA
Conéctense aquí de frente,
http://www.new7wonders.com/index.php?id=409
,
luego consignen su correo 2 veces, una en cada campo. Después eligen sus 7 maravillas. Ojo, votar x los menos votados y por Macchu Picchu, haciendo un total de 7 elecciones pues sino no se computa el voto. Luego, en la parte inferior hacer click en "Click to submit". Y eso es todo.
¡PASEN LA VOZ !!
BUENO CHICOS ESTO ME LLEGO EN UN E-MAIL CIERTO O NO IGUAL DEBEMOS DE SEGUIR VOTANDO POR MACCHU PICCHU
[/QUOTE]
http://www.new7wonders.com/index.php
some pictures are from Foro Peruano-Incascrapers
I made this theard to show you guys how beautiful is Machu Picchu.
Here you have Some pictures that i found of the Inca city. I hope you guys enjoy it and vote for it.
Ah! DONT FORGET TO VISIT IT.
Machu Picchu is Peru's main tourist destination and it is magnificent. It is never a disappontment. It is definitely one of the world's great sights.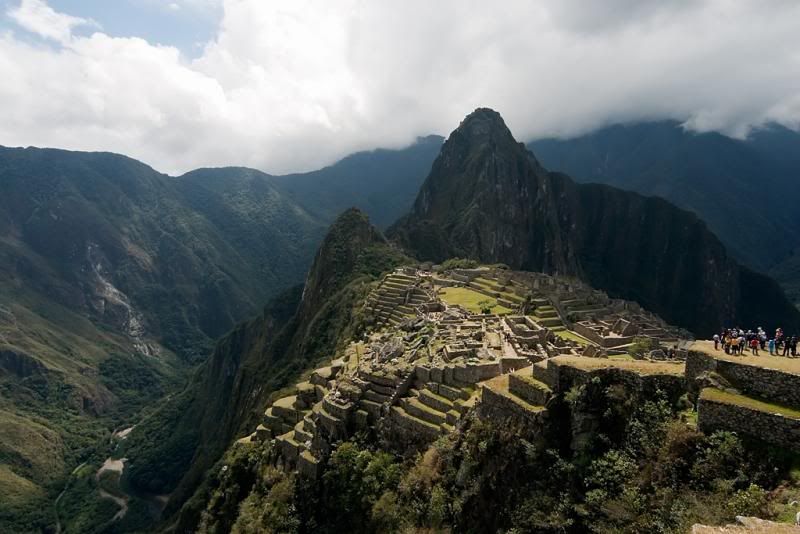 HERE A TURIST:lol:
Cuzco is a city where past and present collide in an uneasy mix. This mythical capital of the Inca Empire, preserves with pride its wall and battlements of stone, which evoke the greatness of the sons of the sun. Cusco is a city plentiful of historical monuments and relics and of myths and legends. Visiting Cuzco is an unforgettable experience that permits to unravel some of the mysteries of the Incas, because Cusco was the center, the navel of the Andean world.
view of the city, cuzco.
Today, Cuzco is the archeological capital of Peru and
the Americas
PICTURES OF SOME TURIST
Visit Machu Picchu, you wouldnt regret it.:banana:
some pictures are from Foro Peruano-Incascrapers