Old Thread:
http://www.skyscrapercity.com/showthread.php?t=715976
There is currently talk of a new 60,000 seat multi-purpose stadium at Kitchner Park, a redevelopment to the W.A.C.A. Ground up to 30,000 seats with the inclusion of 4 towers, and also a rectangular stadium, whether that be an upgrade to Members Equity Stadium or a new one at another site is yet unknown.
Proposals
W.A.C.A. Ground
http://www.waca.com.au/news/detail.asp?offset=50&ID=745
WACA GROUND REDEVELOPMENT Q&A
•
What does this mean for the future of the WACA Ground?
Under this proposed redevelopment the WACA Ground will be transformed into a world class 30,000 seat cricket venue as well as being home to two residential towers, two office blocks and a retail and entertainment precinct.
•
Where will cricket be played under this proposal?
This proposal enables all cricket, both domestic and international, to be played at the WACA Ground.
• What about the new stadium or a redeveloped Subiaco Oval?
The 30,000 capacity proposed for this redevelopment will cater for the majority of cricket fixtures however the WACA will consider moving blockbuster matches such as a Twenty20 international against England or a 2015 World Cup match to a new stadium or a redeveloped Subiaco Oval should either of these occur.
• What will the capacity of the WACA Ground be with this proposal?
The WACA Ground will be able to hold 30,000 people which is some 2000 more than the capacity at Lords.
• What corporate facilities will there be with this proposal?
The corporate facilities of the WACA Ground will be significantly upgraded with approximately 80 corporate boxes to be built in the new stand on the northern side of the ground. The number of function rooms and facilities are yet to be finalised.
• Where is the funding coming from for the project?
This project will be financially backed by Ascot Capital Limited, a property development company. The State Government will be approached for some comparatively modest support to upgrade the lighting facilities at the redeveloped ground for the benefit of neighbouring residents and to create a Centre for Cricket Excellence at The University of Western Australia's Sports Park in Floreat as the development would take our entire existing training facilities at the WACA Ground.
• Who is Ascot Capital Limited?
Ascot Capital is a global property investment and development house which has developed approximately 150,000m2 of offices, 200,000m2 of industrial space and 100,000m2 of retail space, in Australia, United Kingdom and South Africa. It has recently purchased the lease on Jandakot Airport and is in the process of developing 160 hectares of office, warehouse and distribution facilities.
• Will it be a noose around the WACA's neck like the last redevelopment in 2002?
No, it will be quite the opposite. The proposed project is expected to generate a long term revenue stream which will help to ensure the Association is financially viable into the future.
• Have you sold the WACA?
No. The title to the stadium remains with the WACA. The balance, namely the offices and the towers, will be held with the joint venture.
• What time frame will this project be completed in?
Subject to zoning approvals the entire redevelopment is expected to take three to four years.
• Will there be any interruption to cricket fixtures at the WACA Ground during this time?
No. Development will not affect the playing arena.
• Who has been briefed about the proposed redevelopment?
The WACA has had discussions with the Premier, Government and Opposition representatives and departmental heads, the Major Stadia Taskforce as well as the East Perth Redevelopment Authority and Trinity College to brief them on the proposed redevelopment.
• Will Government support be required?
Yes. A major issue will be the zoning required. The residential towers would need to be some 17 storeys for the project to be viable. This height is in alignment with the Raffles development and could be favourably compared to the 25 storey towers earmarked for along the Marina in the Riverside project.
• What is the proposed Centre for Cricket Excellence?
Part of the redevelopment proposal requires the existing practice facilities (both indoor and outdoor) at the WACA Ground to be removed. These therefore need to be replaced and we have been working on a proposal to relocate them to a state of the art facility at The University of Western Australia's Sports Park in Floreat. The WACA Administration could also be relocated there.
• What does it cost and what's in it for the WACA?
$250m provided by the developers. A long term revenue stream, new northern grandstands and an increase in capacity to 30,000.
Perth's Multi-purpose Stadium
http://www.perthstadium.com.au/index.php?id=1
Development Timeline
Since the latest State Election this porject and come into deep trouble and is looking unlikely to be built.
Planning for Perth's new, multi-purpose stadium is already underway.
Because Perth Stadium is such a large and complex undertaking, the important planning phase will take two to three years prior to the staged construction starting in 2011. During this period the Project Team will work closely with all stakeholders, including the Subiaco Redevelopment Authority and the Subiaco City Council, to prepare the site for development.
Construction will occur in two stages. The existing oval will remain in operation with a capacity of around 40,000 seats while the new stadium is being built adjacent on Kitchener Park. In 2014 the new stadium will host its first AFL games. The old Subiaco Oval will then be demolished and the last 20,000 seats of the new stadium built and parkland developed.
When the stadium is fully completed in time for the 2016 football season it will have a total capacity of 60,000 seats.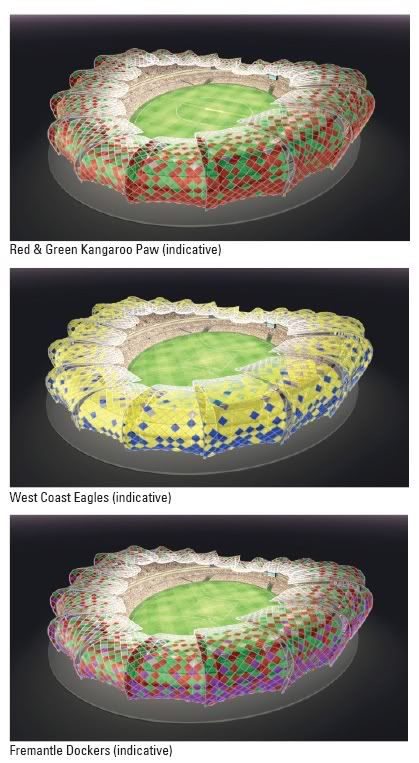 current Subiaco Oval
Stage 1 of new stadium
Stage 2 of new stadium
Final Development of new Stadium
video
Most recent News...
WAFC in cash hunt to rebuild Subi Oval
MARK DUFFIELD and ROBERT TAYLOR
The WA Football Commission is poised to push ahead with an ambitious plan to redevelop Subiaco Oval to hold at least 50,000 in the wake of the State Government's indefinite shelving of the $1.1 billion stadium project.
The WAFC has begun "sounding out" government representatives on a range of funding options for the project, including part-private, part-public arrangements or government guarantees for private investors or lenders.
The State Government has said it would not look at the multi-purpose stadium project for at least two years and all sports are now sceptical that the stadium will be built. Premier Colin Barnett favours a gradual rebuilding of Subiaco Oval.
Treasurer Troy Buswell left the door open this week, saying: "The Government is always willing to listen to alternative ideas and approaches for getting the stadium plan off the ground."
Western Force has committed to play at Members Equity from next year. Funding at least part of Rugby WA and the Town of Vincent's proposed $75 million upgrade of the rectangular stadium has some support in the Government.
WAFC chairman Neale Fong said that with cricket committed to staying at the WACA Ground, football could not sit still for two years hoping that the Government would change its mind.
"We are talking to the Government and people in the private sector about possible options," Dr Fong said. "It really comes down to a matter of funding for a staged rebuild."
But he made it clear football would not be happy running second to rugby in a funding battle. "If the Government were to pour $40 million into Members Equity Stadium without consideration to football that would be outrageous," he said.
"Have we a final proposal? No. We are exploring all options. about a funding model where footy pays its way."
Although the final proposal will depend on what, if any, State Government support was available, any redevelopment would include the replacement of the 40-year-old three-tier stand at the western end of the ground. Replacement of the 30-year-old two-tier stand alongside it would also be a high priority.
The WAFC will consider putting third tiers on top of the 10-year-old two-tier stands in other. areas of the ground, with a focus on re-vamped and upgraded entrance areas and toilets, bar and catering facilities to bring it up to modern standards.
Member's Equity Stadium
http://www.watoday.com.au/sport/stadium-upgrade-could-be-done-in-18-months-claims-mayor-20090127-7qvn.html?page=-1
Stadium upgrade could be done in 18 months, claims mayor
* Tim Clarke
* January 28, 2009 - 7:58AM
The state government will consider plans to upgrade Members Equity Stadium. Photo: Town of Vincent
Despite a global financial crisis, a player mutiny and another stadium in Perth demanding a billion dollars of government funds, Mayor of Vincent Nick Catania has boldly predicted the Western Force could have a new home, seating 25,000, within 18 months.
Force fans sent a massive message to the state's sporting and political leaders last Friday, with around 18,000 packing Members Equity Stadium for a trial game against the Crusaders, despite most of the side's international stars sitting the game out.
The timing of the sellout was perfect for the club, who had used the fixture to lobby the state government on plans to increase capacity from 18,000 to 25,000 - if Colin Barnett's administration accepts a $75 million redevelopment proposal.
And unveiling plans for a three-tier grandstand on the eastern side of the ground, Catania told gathered dignitaries, including state and federal MPs, that if the money was there, his council would deliver the upgrade in a year and a half - if the state government came to the party.
"Anyone who has dealt with it will know when we say we will deliver we do, and we intend to deliver 25,144 seats with the help of the state government," Catania said.
"With the proper management of funds we can ensure no burden is placed on government, we can create about 200 jobs on site and about 1,000 jobs off site, and that helps in tough economic times.
"We can help, sport, help the community and help the economy by creating immediate jobs.
"And you may not believe that (we can finish it in 18 months) but we built the original in about 11 months and had it open in 15. We will deliver."
Such is Force fan dissatisfaction with Subiaco Oval, RugbyWA's board has already committed to move to Members Equity next season, despite it being too small for expected crowds, and not having corporate or media facilities needed for Super 14.
The Force believe they need a revamped rectangular stadium to secure their place in the WA sporting landscape - and the Super 14 competition - with the Victorian Government forging ahead with a $275 million project ahead of an expected aggressive bid for a Super 14 franchise.
"This is something the fans and the supporters are demanding, and is needed to ensure the future growth and development of rugby in this state," RugbyWA chairman Geoff Stooke said.
"We strongly believe Perth needs and serves a quality rectangular stadium for rugby union, soccer and rugby league.
"And it should be remembered that Melbourne has the MCG, Telstra Dome and they are currently spending $275m on a rectangular stadium adjacent to the MCG - for a Storm rugby league team which averages crowds of less than 10,000 and no representative rugby union team.
"They are suffering like every other state and commonwealth in regards funding … but the Victorian government has decided to spend, and hopefully our government sees it the same way."
Sports minister Terry Waldron said he would be speaking to premier Barnett and treasurer Troy Buswell about the proposals this week - but would need much more detail before a decision is made.
"We recognise there is a need for a new stadium … but with the current world conditions the government is considering all infrastructure over $20 million," Waldron said.
"We will look at the proposal put forward, and it will be considered along with the other infrastructure projects.
"If government were going to consider to Member's Equity Stadium, we will still be looking for quite a lot more detail than what we were given the other day.
"We have got no details of costings, and if government was to spend money there we have got make sure the i's are dotted and t's crossed. But we are not going to turn a blind eye."
Waldron said a decision on the Subiaco development would have to be made by the time the May budget came down - and a delay of that project could mean the plans for the former Perth Oval could still be considered.
"Everyone is assuming (the Subiaco Oval redevelopment) is not going ahead - that decision has not been made yet," Waldron told radio 6PR.
"If that stadium was delayed, I have been keen to look at what could happen at Members Equity Stadium because I am very cogniscent of the needs of rugby and soccer.
"With the possibility of it being delayed you may look at what else you could do in the meantime."
Under Construction Projects
AK Reserve (Athletics, Basketball, Rugby)
http://www.akreserve.com.au/
The State Government is developing new sporting facilities for Western Australia through the construction of a new basketball stadium, athletics stadium and rugby facility at AK Reserve in accordance with the State Sporting Facilities Plan. The project is being delivered in partnership by the Department of Sport and Recreation and the Department of Housing and Works.
The project will provide world-class sporting facilities for all Western Australians, from community level to major national events.
The three new facilities will replace the dilapidated facilities at nearby Perry Lakes. They also add to the existing facilities at Challenge Stadium and UWA Sports Park (McGillivray Oval), creating a major new sporting precinct for Perth. As part of the project, an east-west bush corridor link will be retained to protect and provide for local fauna.
The sporting facilities, which are now under construction, include:
* a tailored athletics stadium with a 2000 seat grandstand and grassed banking with a total capacity of 10,000 spectators, office accommodation for Athletics WA and the capacity to host state and national events
* the stadium will meet International Association of Athletics Federations (IAAF) requirements
* a basketball facility with eight courts, including a 2000 seat showcourt, and office space for local clubs and Basketball WA
* rugby playing facilities with a grandstand, office accommodation for Rugby WA and some training facilities for the Western Force team
Latest Update
Some AK Reserve pics.

Athletics

- showing stand, track area, grass, etc.

Basketball

(photo order from east to west)