"It is one of the most wonderful urban celebrations found anywhere in the world"
Anthony M. Tung,
Preservation of the World's Great Cities
"She defies the storm" (Ancient Warsaw motto)
1.
This thread will start with the herculanean efforts of the
BOS
(
Biuro Odbudowy Stolicy
-
Bureau for the Reconstruction of Capital
) and the newly created
Pracownie Konserwacji Zabytkow
(
Ateliers for the Conservation of Cultural Property
) in the aftermath of World War II and its later incarnations and on reconstruction efforts during the communist era to liberation and to the present.
It is a testament and homage first of all to those architects, engineers, planners and everyday Varsovians who sacrifised the better part of their lives to rebuild Poland's capital, but will also recount tremendous efforts by Polonia and people from other countries around the world who assisted in the greatest urban reconstruction effort of the 20th century of this scale.
The results may be mixed and controversial, a reflection of the ideological, cultural and political ferment that existed in Europe and especially in then Soviet occupied Central and Eastern Europe between the survivors of the pre-war regime, communists, conservators of varying opinions on how to rebuild and Corbusian modernists. Not all that the BOS did was right viewed through the prism of the present-day, many surviving masterpieces of architecture were torn down under their direction post war for ideological reasons more than technical, no one knows for sure, and rebuilt in a "purer" earlier version or a socialist realist-inspired version and some were restored as modern buildings stripped of details, such was the thinking in those days. Far worse outcomes could have befallen Warsaw if those who advocated building an entirely new modern city had won the day. Atleast today we see before us an amalgam of many different architectural styles and urban design philosophies that manage to survive as a testament to Warsaw's turbulent and very rich history.
Anyone with knowledge and photos that document this period is welcome to contribute. Before and afters are welcome, but it would be great to see photos of actual construction and the methods they used.
Basic Facts
(taken mainly from A. Ciborowski's Warsaw A City Destroyed and Rebuilt):

In january 1945, the volume or rubble totalled 720 million cubic feet

98,000 mines and shells were removed from the ruins of the city and 1,000 buildings were cleared of mines by sappers, an additional several hundred thousand have been cleared since

War losses amounted to 800,000 people killed and 85 percent of the city destroyed
Assessment of Situation and First Works
Founding, Initial Directives and Organizational Structure of the BOS (Office for the Reconstruction of the Capital)
Every big journey starts with ....first page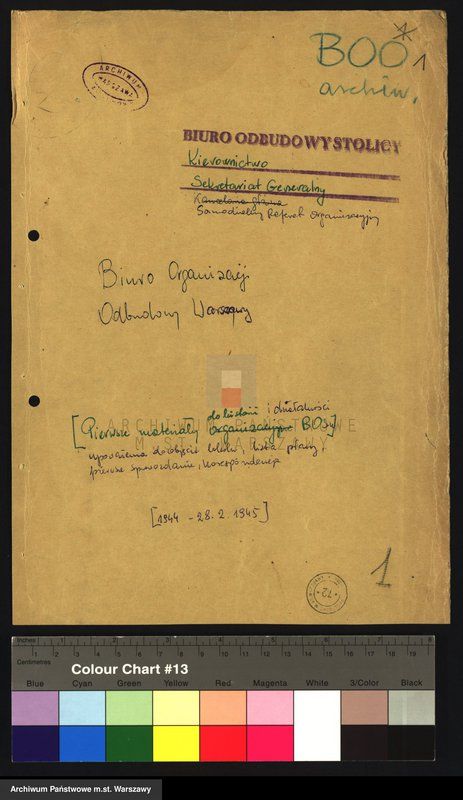 Nomination of Jan Zachwatowicz as Director of BOS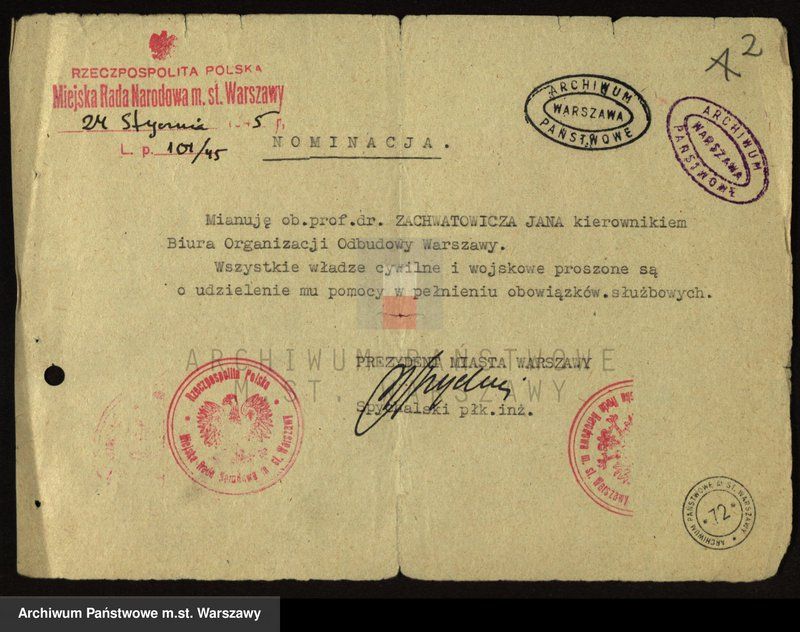 Call to Polish Architects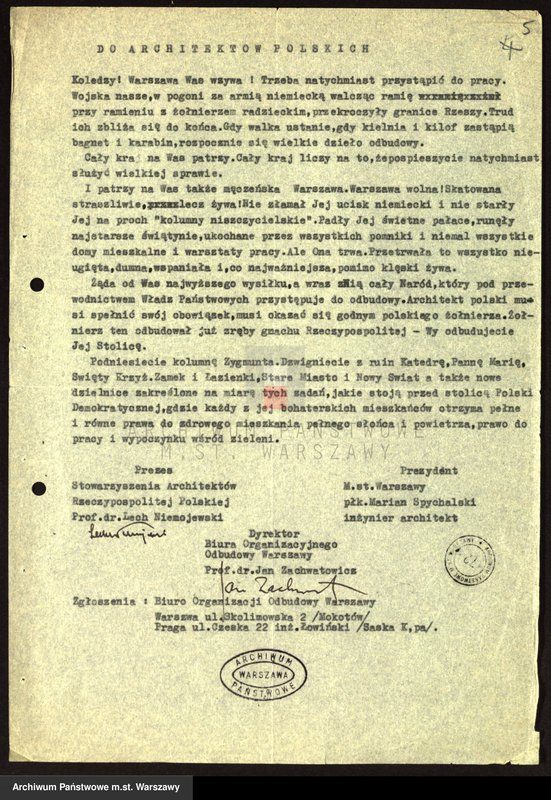 New headquarters established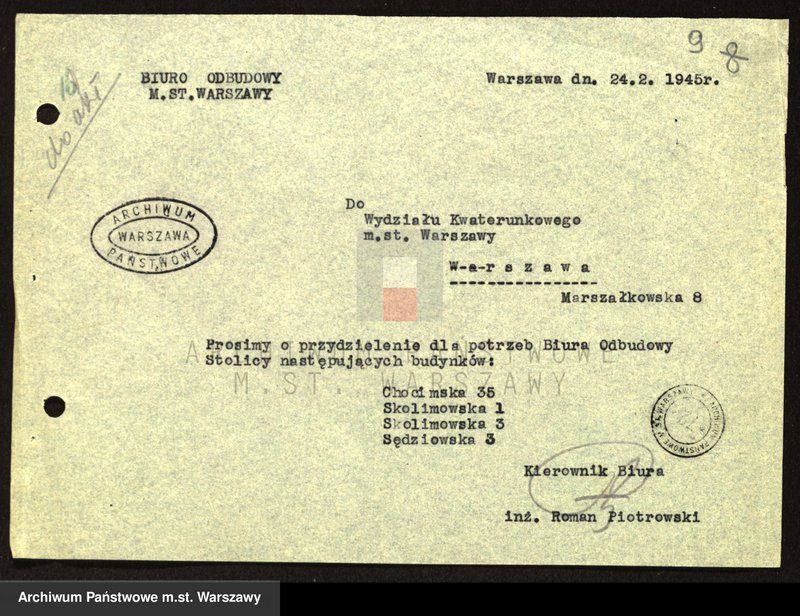 Initial Staff Roster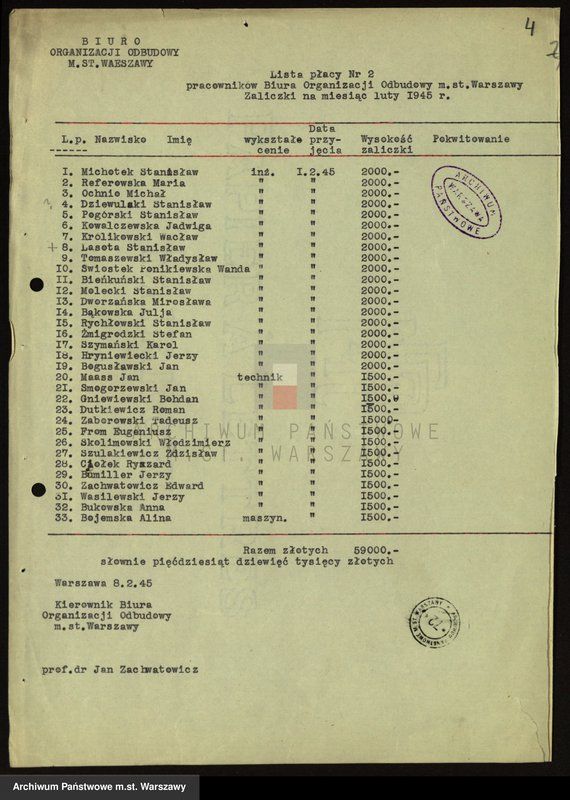 Organizational Structure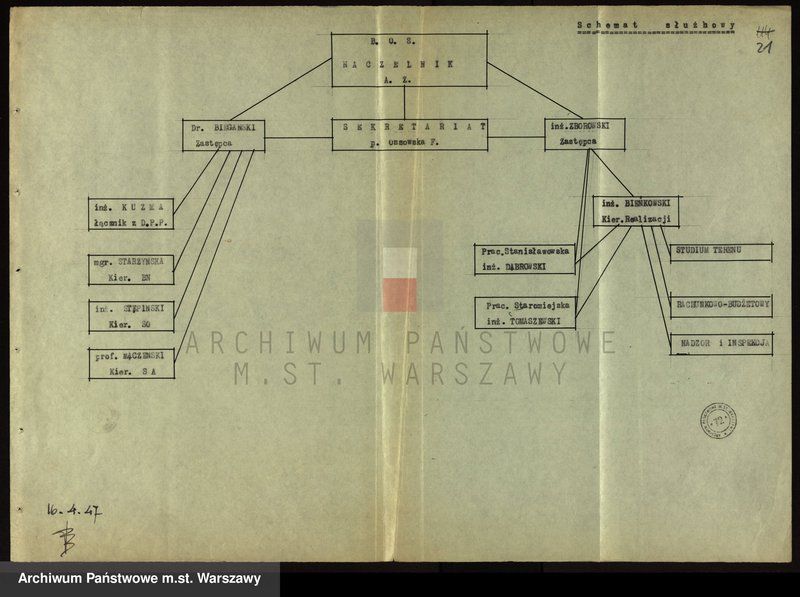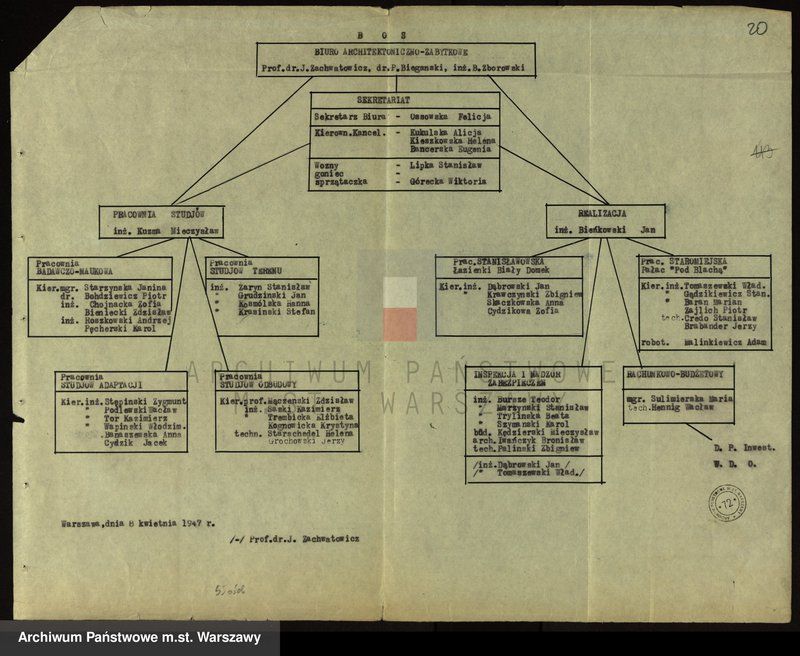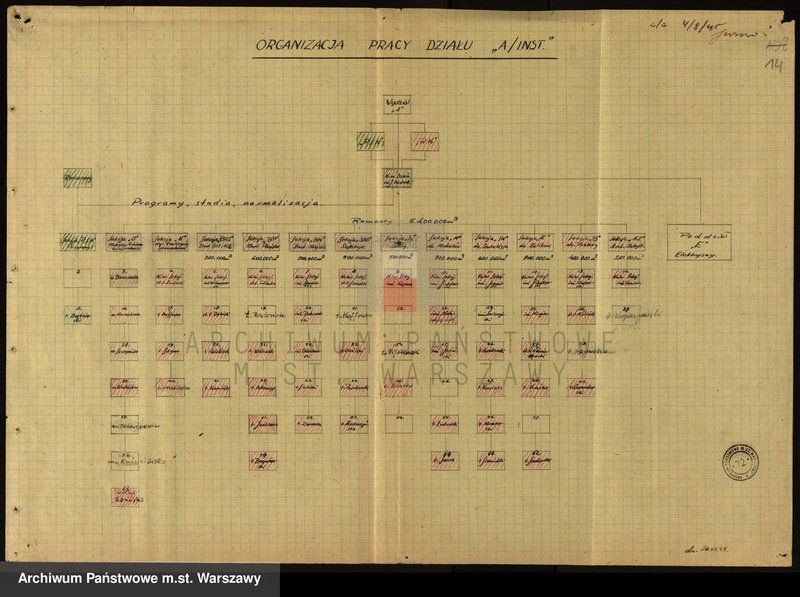 The first week