Brick Lane Market, May 2010
Brick Lane is one of 5 huge interconnected markets packing in hundreds of thousands every Sunday in Tower Hamlets, one of the poorest, densest areas in London. A hub of Bangladeshi, creative, and student communities it's said there are more artists living here than anywhere else in the world (though from rising rents seems they've all moved onto Hackney and Berlin). Still, they get lured back every market day.
It's said gritty old London is where
the First World and Third World meet
, this would be the epicentre.
Nb: Only Brick Lane Market (junk, stolen goods) and Upmarket (food, crafts and vintage) is covered here - theres also Columbia Rd market (flowers), Whitechapel (Bengali goods), Spitalfields (posh clothes n crafts), Petticoat Lane (cheap tat).
Sit back, play n njoi... Hope you like em
You may have to refresh the page to see all the pix
All pix are mine

Every Sunday the streets are transformed as thousands set up stalls or bedsheets loaded with tat, second hand clothes, stolen goods, food and art on hundreds of plots.

1991 is BACK

This girl setting up right outside some people's front door


street art everywhere, this the original breeding ground of Banksy way back, and endless imitators (-who really nicked the idea off Paris)

Vying for space and attention so much- they fade into background

Everything's for sale, from junk to karaoke to sex (a red light area operates round the corner)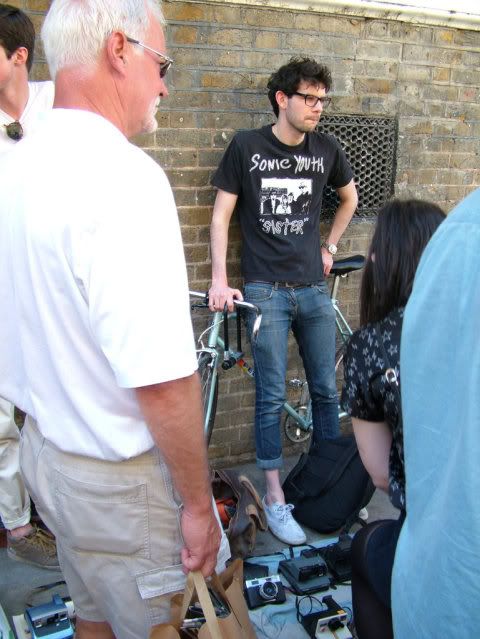 ...and a whole load of streetfood from every conceivable place- Ghanaian, Brazilian, Eritrean, Mauritian, Lao, Peruvian, Russian, Tibetan, Catalan, Kurdish, Grenadan. This is the Japanese octopus ball stall.

by the mid noughties massive bars started opening up in the industrial buildings, and the place got that commercial makeover - the carparks sometimes turn into beaches. This is a big place for drinking (and drugs), so the edge still remains, despite the dandies.
The streetlife is a photographers dream, haunt of art students and nerdy cameramen (like me)




Everywhere you go people sitting on the pavements


x

A few locals still brave it every weekend. The centuries old Jewish community here preceded the Bengalis.




this residential street round the corner from the food stalls doubles as the only place to eat, houses behind are over 200 years old



The Jamme Masjid is the world's only building that was a Church, synagogue, Methodist chapel and finally a mosque. Round the corner is the big Spitalfields Church, the only major landmark with ancient sidestreets once home to French silkweavers
Anyone can sell, the local police tolerate a lack of trading licences, here and only here




This felt weird, people were huddling together, then shouting - it seemed like some deal was going on...




Despite all the business there's always an element of history and grit




the arty crew (aka as Hoxton Twats) slowly give way to Brick Lane proper, the haunt of curry houses and the 'real' locals, the Bangladeshi community that first came here 150 years ago.


Tsingtao beer



trendy shops slot into local ones



visitor versus local, the guy on the right works an Islamic leaflet stall. The community hails from Sylhet, looked down on by other Bengalis as the poor, street-talkin characters of home - but who fit right in with the East End stereotype of duckin n a divin, doin a deal -innit geezer. Despite their dress theyre as Cockney as you can get.