·
Oh ma Lordee, lookee here
The idea is meant to be inspirational rather than city v city - so no poll (which would also impede contributions from the smaller cities). But feel free to express your opinion, and please, post in the many examples of cutting edge design around Australia I will have missed. I'm particularly thin on examples outside Melbourne ...
But I'll start in Perth, out on The Edge. Renders of the newly-announced $320 Perth Arena by Ashton Raggatt McDougall promises to be one of the best-looking stadiums I've seen:
Drawn from renders posted by Docker, Dilaz89 and earlier versions from Perth4life
Adelaide will have more than I know about. The spectacular tower proposed at 20-22 Currie Street (31 storey, 123m) by local architecture firm Tectvs is one of the few towers I'll use on the thread. It will put Adelaide back on the skyline map imho. Thanks to unrecorded posters...
A lot for Melbourne - I just know my way around here more. But I suspect it's leading this field in Australia at present.
There is a plethora of stunning pictures of Federation Square. These were published in the portfolio which won Lab Architecture Studio and Associate Architects Bates Smart a 'Best New Global Design' award at the Chicago Atheneum Museum of Architecture and Design's international competition last year.
photo by Trevor Mein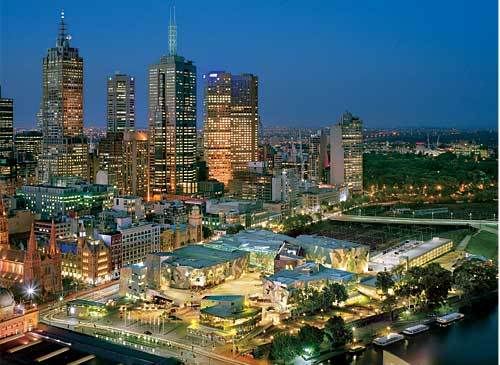 John Gollings
Peter Clarke
REPRESENTING Docklands, and its host of cutting edge design features, an image by a cutting edge photographer, Mugley, of the footbridge and marina in front of the Yarra Edge towers.
Invincible posted this picture of the immigration sculptures on the Queen Street Bridge, but confused me with a crediting reference to CC-BY-SA 2.5.
Melbourne Recital Centre and MTC complex
now rising on Southbank Boulevard, by Ashton Raggatt McDougall again.
Southern Cross Station, by London's Nicholas Grimshaw, associate Daryl Jackson. Odd (to me, anyway) how much of the cutting edge architecture is appearing through public building projects.
By The Olderfleet
Adamonline
silvermb
Now I'm in a quandary. I don't know what to post for Sydney. SOH of course has remained at the forefront of cutting edge architecture for 34 years, and it 's just timeless.
I haven't been up there for a while, so please fill the gap.
Meantime, not sure whether it's cutting edge in bridge construction terms, but - because it's a fabulous looker, I'm posting Anzac Bridge.
Completed in 1995. Designed by the not-very-wild-sounding Road and Traffic Authority of NSW, no other name given on Wikipedia, anyway. Australia's, and one of the world's longest cable-stayed bridges.
Japanese visitor's image
My Kanji is no longer good enough to read his/her signature up there on the top of the bridge:
Similarly I'm in a spot with limited street knowledge of Brisbane. I choose the curvy 283m Vision by the Buchan group to represent all the great and innovative design towers about to go up there.
Over to others. Thanks. Bronte