Discussion Starter
·
#1
·
Addis Merkato (Amharic for "New Market", popularly just Merkato or Mercato, from the Italian for "market") is the name for the large open-air marketplace in the Addis Ketema district of Addis Ababa, Ethiopia, and for the neighborhood in which it is located.
Merkato is the largest open air market in Africa, covering several square miles and employing an estimated 13,000 people in 7,100 business entities. The primary merchandise passing through the Merkato is locally-grown agricultural products — most notably coffee.
The Addis Merkato was instituted by segregationist policies of the Italian occupational government. They restricted the historic St. George Merkato to Europeans, causing the mostly Arab tradesmen to relocate a half mile to the west. Over time, local shopkeepers displaced the Arab merchants and, since the 1960s, the Addis Merkato has had a mostly local flavor. Source: wikipedia encyclopedia
http://en.wikipedia.org/wiki/Addis_Merkato
Current Picture of Mercato: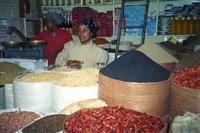 See satelite image of Mercato:
http://maps.google.com/maps?hl=en&ie=UTF8&ll=9.031006,38.742149&spn=0.010108,0.018926&t=h&z=16
Facts about Mercato
Located in the heart of Addis Ababa
For all consumer products it is the main market center in whole Ethiopia
Merkato's area is between 1-2 million meter square (1-2 km2) with very few buildings which has 1 floor (less than 25%)
There are more than 7,100 business entities in this market
It may look like a slam, but in terms of economic value per land area, incomparably it's number 1 in any part of Ethiopia, How? good question:

It's land lease value is the highest about 10,000 birr per square meter
shop rent is also the highest going as far as 500 birr per meter square per month
Total Daily transaction is in 10s of millions of birr
All kinds of merchandise products, services can be found in this market. There is nothing you cant find in this market
Now my question is: If Mercato has these economic values why not we dont see that much construction booming in this area? We all know most renown business men, richest men in Ethiopia bases their richness from this market for example: Yemiru Nega (Dembel city center), Yesu enterprise (owns half a billion birr steel factory), Getu commercial, Al-sam (B-29 soap and alsam chelelek building mexico square) Duguma Hunde (DH-Geda) Natran company and among others......
Obviously to develop mercato we need money in billions of birr which will be difficult to achieve by an individual. From other countries experience large constructions are made not by just individuals but by shares. Doing business in share is at empahancy level in Ethiopia. However, there are many Ethiopian Successful companies which managed to attract share valued in 10s of millions of birr. One recent good example is Habesha Cement factory, as of now which managed to get shares valued at 400 million birr. So if Habesha Cement factory can mange to attract that much money, there is no way Mercato's development cant get that much money, if it has some educated and renown business men in its organization.From the following simple calculation you can easily calculate Return on investment for Mercato development:
Why don't we Develop Mercato, us Ethiopians instead of foreigners?
Plan is to construct only shopping complex with a land area of 50,000 meter square, having 4 floors and total built up area of 50,000 x 6 floors (including ground and ground for parking) = 300,000 meter square
Therefore total built up area is 300,000 meter square
Land Cost
According to Addis Ababa city administration, last land lease auction in Mercato was auctioned as far as 10,000 birr per m2, so we will take 10,000 birr/m2 as land lease cost. For the 50,000 m2 land area first payment will be 10 million birr and the remainder to be paid over 20 years
Construction cost
Here is 2006 construction cost for Ethiopia:
Apartment G+4 & tower building with elevator facility: 2,300 birr-2,800 birr per m2 source: http://ethemb.se/ee_investment_files/Eth_Inv_Factor_Costs.pdf
Condominium G+4 : 1,110 birr per m2
Therefore lets take the maximum 2,800 birr per m2, if contruction cost increase by 15% per year then after 5 years (in 2011) it will be 5,630 birr/m2
Total cost
So for this project we need a total of 1.7 billion birr
land: 10 million birr
Construction cost: 5,630 birr x 300,000 m2 = 1.689 billion birr
Revenue and profit:
Total Annual revenue would be 628 million birr
Currently minimum rent in Mercato is 200 birr/m2
Total area to be rented for shops (250,000 m2 x 85%)= 212,000 m2. So if rent price increase by 10% each year by 2011 it will be 242 birr/m2
Total area for parking= 50,000 m2 (5,000 cars) parking fee will be 1 birr/hour
Revenue from rented shops: 212,000 x 242= 51.3 million birr/month
Revenu from parking: 1 million birr/month
Therefore total annual revenue will be 52.3 x 12 = 628 million birr
Pay back time: 1.689 billion birr/0.628 billion birr= 2.69 years

Financing the project
Financing this project should come 50% from loan and 50% from investors. Based on Habesha Cement factory's experience (so far collected 400 million birr) in my opinion it is also possible to attract as much as 845 million birr. If the project is launched the first share buyers will definitely be Mercato's business men, they are definitely the first beneficiaries (especially for those one who cant afford to build their own shops by comparing with the bigger investors)
Other useful informations can be found below: