Location:
Winnipeg, MB, Downtown Exchange District Campus
Architect:
Number TEN Architectural Group and Diamond Schmitt Architects inc.
https://www.numberten.com/projects/innovation-centre-at-red-river-college
Client:
Red River College
http://blogs.rrc.ca/edc/
Size:
100,000 sq. ft.
Completed:
2020 (targeted)
Budget:
$95 M
Video:
INNOVATION CENTRE @ RED RIVER COLLEGE
Red River College is in a period of growth, with current demand for innovative programming pushing the limits of its physical infrastructure. To compliment and enhance existing programs, improve its overall competitiveness, and better meet the needs of small to medium enterprises in Winnipeg's downtown, the college secured funding for a new Innovation Centre at its Exchange District Campus.

Number TEN Architectural Group in joint venture with Diamond Schmitt Architects Inc. has been working with a diverse group of Red River College stakeholders to develop the design for the new facility. Living up to its name, the new Innovation Centre @ RRC will be one of the most advanced and forward-thinking buildings of its kind in Canada. Targeting net zero energy, the Innovation Centre will emit little to no net carbon emissions – an ambitious goal considering Winnipeg's extreme prairie climate.

Inspired by its site context, the 100,000 sq. ft. Innovation Centre is designed to look to the future while respecting the past. The project includes the adaptive re-use of the historically designated Scott Fruit building adjacent to Red River College's existing Roblin Centre, a state-of-the-art four-storey addition, and an above-ground pedestrian walkway connecting to the Roblin Centre. The skin of the new building addition is comprised of photovoltaic glass that generates energy and changes colour according to weather and the angle in which it is viewed.

Inside, a wide array of unique light-filled programming, circulation and multi-purpose collaboration space is designed to inspire students, create a sense of wonder and encourage idea sharing between students, staff, and industry partners. Indigenous design elements and artwork will form a deeper connection with the site, its history and the surrounding community.

Currently in the construction phase, the Innovation Centre @RRC is on track to welcome up to 1,200 new students in the fall of 2020 and is anticipated to provide an economic boost to downtown Winnipeg and the surrounding Exchange District.
Location: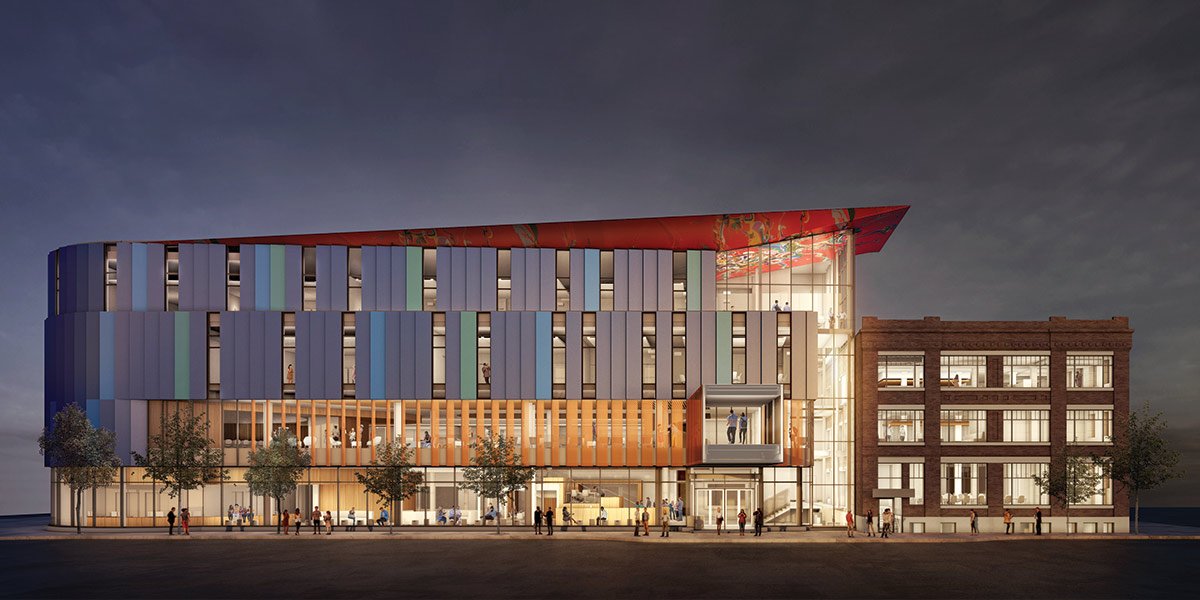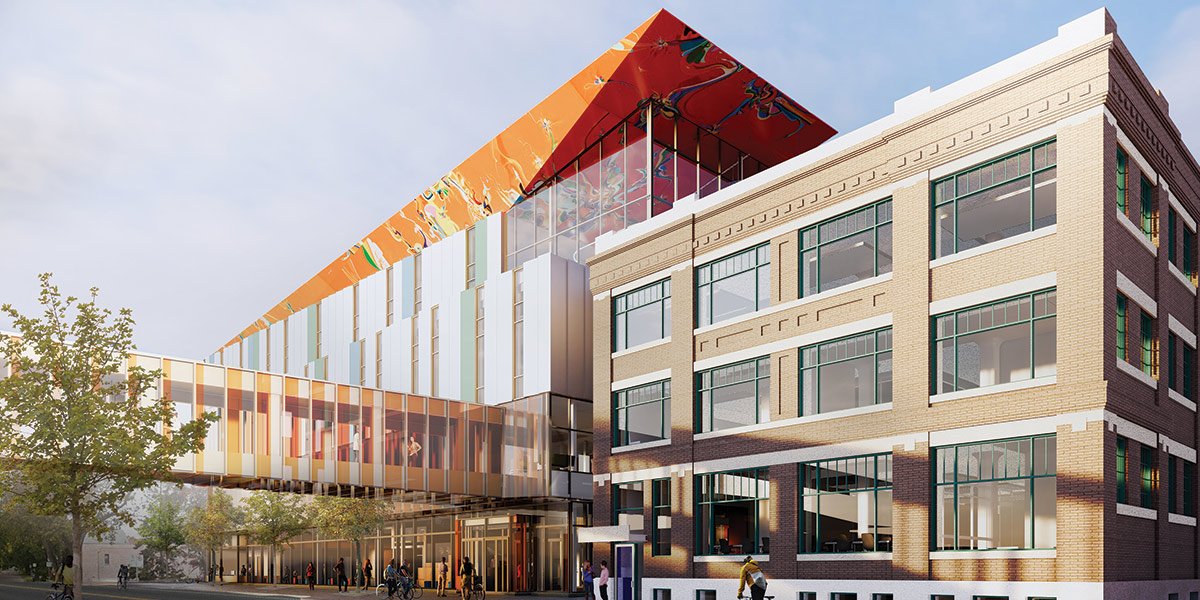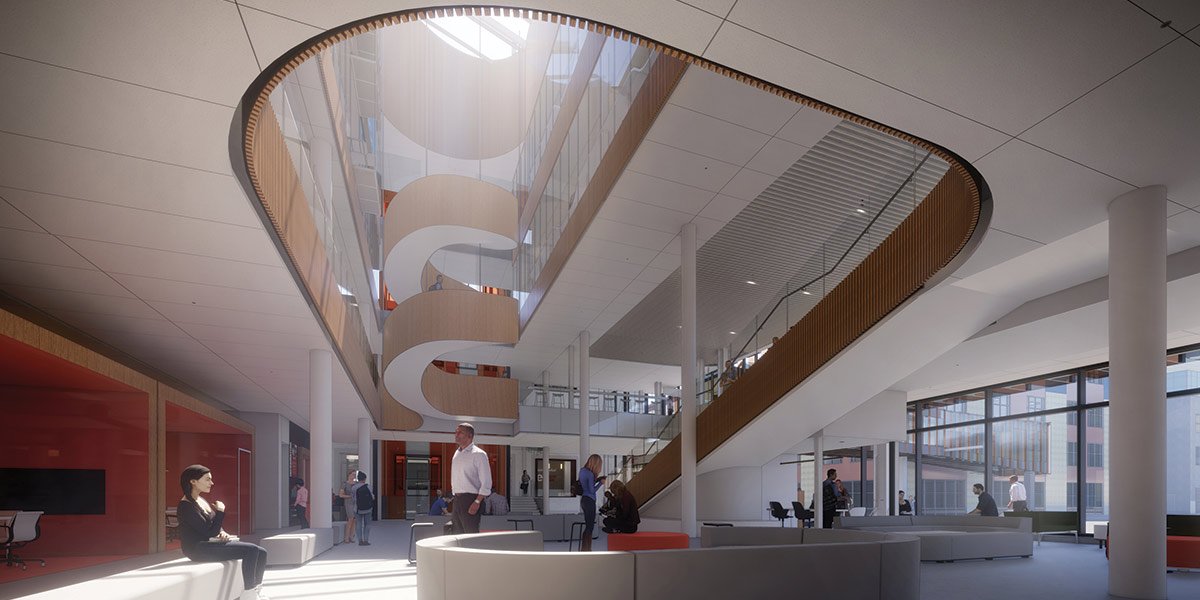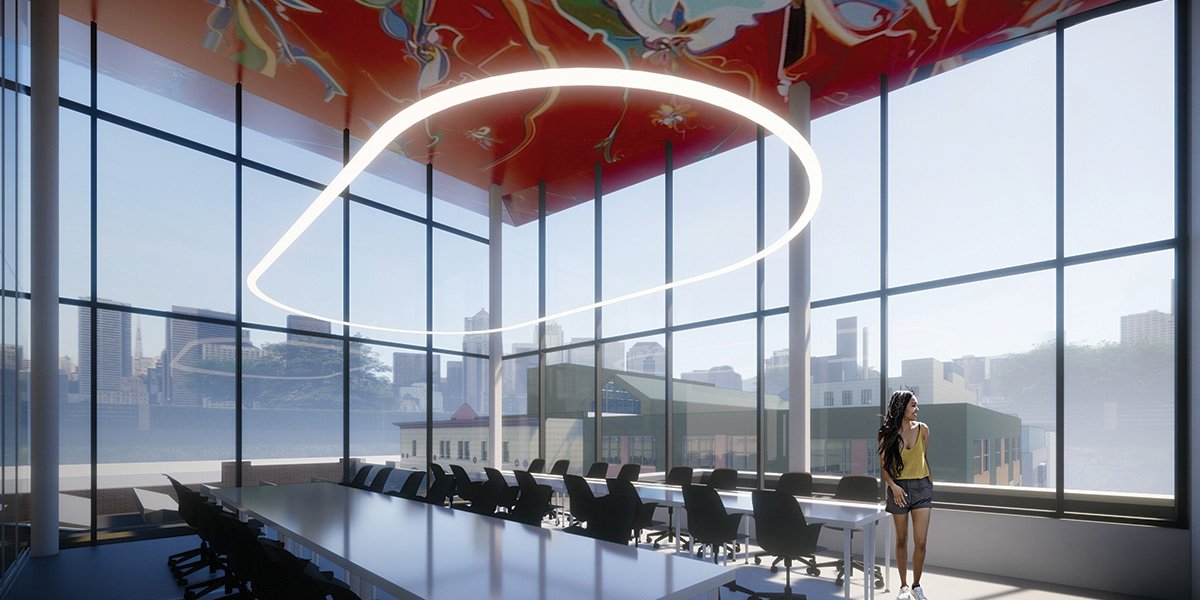 RED RIVER COLLEGE'S NEW 100,000 SQ. FT. INNOVATION CENTRE BREAKS GROUND
Published: Wednesday, 18 July 2018 10:30
Shovels hit the ground Wednesday July 18 at Red River College's Exchange District Campus, on the site of what will become the new Innovation Centre @ RRC. In front of a distinguished audience of dignitaries and project stakeholders, RRC executive director of Indigenous strategy Rebecca Chartrand blessed the site on behalf of campus elders.

The new Innovation Centre is designed to foster collaboration between students, faculty, industry and the community, leading to new ideas and partnerships that support the college's goal of preparing students for the job market and moving local industry ahead of the curve. Designed by Number TEN Architectural Group and Diamond Schmitt Architects inc. in joint venture, the facility's striking design features will capture the imagination of both building users and passersby.

"During the design process, we proposed that wonder, Imagination, empathy, mystery, being startled, and engaging in passionate search are the key experiences underpinning innovation," said Number TEN partner-in-charge Doug Hanna in his address to the audience. "In our search for additional layers of meaning that complemented the project charter, it was our intention that the Innovation Centre @ Red River College inspire these qualities in students and faculty."

The Innovation Centre's project charter – a set of established and agreed upon project objectives – includes the following goals:
• Community connectivity, inclusion and collaboration
• Socially responsible programs and initiatives
• Agility and adaptability to enhance innovation
• Unique architectural design relevant to innovative learning and teaching
• Heritage adaptive re-use sensitive to the exchange district
• Leading edge sustainability

Among the project's most ambitious goals is its net zero emissions energy target – a first for a project of this scale in Manitoba. A net zero building is one where the total energy consumed annually is approximately equal to the amount of renewable energy created on the site and returned to the grid.